Women Engineering Students
Annette Hernandez Uddameri, Ph.D., P.E
Associate Professor of Civil, Environmental, and Construction Engineering
Welcome to the Whitacre College of Engineering at Texas Tech. The faculty, staff, and students are passionate about engineering and helping our students succeed. In fact, Texas Tech was recently recognized by the American Association of University Women as one of seven schools that empower women.
If you are a prospective student, please check out our Prospective Student page. To learn more about our services and opportunities to help you succeed, and to explore our different programs, please check out the Undergraduate Students or Graduate Students pages. Of course, we hope you will come to Lubbock and check us out!
Profiles
Click on a photo and read below for a profile of an alumna, a current student, or a student organization.
Student Profiles
Alumni Profiles
Student Organizations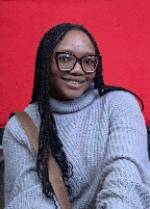 Precious Elele
Coming to college as a first generation student can be terrifying. Personally, I felt a lot of pressure because I knew that I would have to make every second of my time here count. It wasn't really easy to achieve this at first because I came from a small high school where getting involved and making friends wasn't too difficult. However, at Tech, it was a bit overwhelming for me and with the pandemic it felt even worse. This is where joining the FIRST program significantly helped me. I was able to attend social events which helped me meet people in my classes and make connections with them. We were even able to talk about tips on how to succeed in those classes. Through this program, I was able to attend several workshops such as interview basics, how to connect with teachers, study skills and time management. At the beginning of my first semester, I attended the workshop on how to communicate with your professors. In high school, I communicated with my teachers often in person, and did not need to email regularly. In college, I've learned it's really important to be professional and considerate when contacting professors through email; this workshop was extremely helpful.
My mentor is amazing and she has taught me so much. She has helped me in achieving my educational goals by giving me tools and resources needed. Being that she's in the same major, she's given countless advice on class recommendations and has helped me when I had questions about homework. She has also been a source of accountability for me by constantly checking in. I have truly benefited from her and I am grateful to have someone who can offer support and help me become a better person.
Even though this year wasn't the ideal year for first-year students, I have been able to set a strong foundation for myself in order to succeed throughout my remaining years at Tech. I did this by utilizing all resources given to me at FIRST, such as attending office hours and SI sessions so that I could do better in my classes. All of these aided in making my first-year transitioning to Texas Tech a lot more smoother.
David Munoz
Taking part in the FIRST Mentorship program has had a drastic impact on my life while at Texas Tech. As a transfer student, it was challenging for me to adapt to a new environment. When I first arrived at Texas Tech, various thoughts ran through my head. Traveling away from home and family was a tough experience, as it is for most students. The biggest challenge was feeling that I was on my own with no guidance, but I quickly found out that was not the case after joining FIRST.
I want to begin by thanking the FIRST Mentorship program for all its help. I am extremely humbled and thankful for the support that FIRST has aided me with. The program has helped me develop skills that have made me outperform in every way. With their help, I have improved skills like communication, problem-solving, time management, leadership, and the list is endless. Also, I extremely grateful for the help that my mentor has provided me with. Daily collaborations with my mentor have allowed me the opportunity to reflect on myself and realize my strengths. Having someone that has already gone through the path that one is beginning, allows you to be guided and directed. Through the workshops and flyers that FIRST provides, I have had the opportunity to become informed of the incredible recourses that Texas Tech has to offer to its students, like tutoring, resume critiques, and other career services.
With the help of FIRST, students will flourish and outperform both in their academic careers and in the workforce. Further, while helping students become the best versions of themselves, the program also reminds their students that they are not alone. Joining the program has easily been one of my best decisions at Texas Tech.
Ashley Gordy Richardson
When I was deciding what to major in, I knew that I wanted my career to challenge me, force me to learn something new every single day, and to be something that I could enjoy. Engineering was exactly that for me. Being a woman in engineering adds an extra little piece of challenge in the mix. Deciding to step foot in a male dominated industry is somewhat terrifying, but Texas Tech recognizes exactly that. There are so many amazing organizations and communities at Texas Tech, specifically intended to prepare women for our future. Being around like-minded women was just what I needed going through school. Additionally, Texas Tech brought in many industry women to provide advice, guidance, and most of all, to calm our insecurities. Tech understands the importance of perspective when it comes to stepping out into the real world. As an alumni who received her Bachelor's Degree in Mechanical Engineering and is currently working at ExxonMobil, I can guarantee you that I would not have been prepared for this career had it not been for Texas Tech's many resources. I am so grateful for a wonderful university that treats each student as an individual and understands the importance of helping one another. Strive for Honor!
Ashley Gordy Richardson
College is a big deal. You typically have no idea what you are getting yourself into. But first generation college students, feel this reality on an entirely new level, at least I know I did. I came to Texas Tech with as much drive and excitement as any aspiring engineer, but I was not sure I had all the resources that the other students had to succeed. That's where Texas Tech came in. Their FIRST program allowed me to get involved with other first generation college students at all grade levels. I was able to completely relate to the incoming freshmen, while still being able to ask the seniors all of my many questions. FIRST provides an atmosphere that allows students to express their concerns and work through them together. In fact, my ladder years, I had the privilege of mentoring other students that found themselves in my exact shoes freshman year. I was able to coach them through so many things that other students may receive naturally because of their family background. I am so grateful that Texas Tech provides FIRST as a resource for students. This university truly understands the value found in mentoring one another and is able to utilize that to better help the students. As an alumni, I am forever indebted to the resources that Texas Tech offered me throughout my college career. Rather than use my insecurities and doubts to hold me back, Texas Tech was able to better prepare me and utilize me to better prepare others. Strive for Honor!
Dr. Mica Endsley
In her senior year of high school, Dr. Mica Endsley, was asked by a good friend to go to a weekend retreat on engineering hosted by the Society of Women Engineers. She saw many opportunities in the field of industrial engineering to shape systems and products to benefit people's lives. At Texas Tech, Mica learned about optimization and human-systems integration, which she considers very valuable in all aspects of the engineering field. Mica graduated from Texas Tech Magna Cum Laude with a Bachelor of Science in industrial engineering in 1982. Through her hard work and dedication to her education, Mica went on to earn a Master of Science in industrial engineering from Purdue University in 1985. Moving to Los Angeles, she worked as a research scientist for Northrop Grumman and stayed within the Northrop Corporation until she completed a Doctor of Philosophy in industrial and systems engineering from the University of Southern California in 1990. Mica was recently named chief scientist of the United States Air Force. As the first female chief scientist, Mica encourages young women to pursue careers in the STEM (sciences, mathematics, technology, and engineering) fields. Reflecting on her own decision to pursue engineering, she believes there are many elements of engineering that are appealing to women. Those key elements include the many opportunities for creativity in the engineering workplace and the need to tackle problems in a team environment. She feels that women often do not realize that as engineers, they are solving real problems for society. "For many girls, they just don't know a lot about engineering. It really is a great field for women and I think more would be interested in it if they really understood what engineers actually did," says Mica.
Taylor Hickman
Texas Tech University has opened many doors for me. Being a first generation college student pursuing a double engineering major (petroleum and mechanical) has not been an easy task, but Texas Tech has helped me in many ways. Being a part of the red raider community has allowed me to meet other raiders in the same degrees, volunteer around the community while taking advantage of the extensive educational aid that the engineering college provides.
There are also a plethora of industry focused opportunities from on campus mock interviews, resume critiques and internships to helping with mentoring programs. Getting involved in various organizations allows for me to get out of my shell, while networking with industry professionals around the country. During my time I have been involved with the American Association of Drilling Engineers, Ladies in Petroleum, Engineering Ambassadors, Society of Petroleum Engineers, Alpha Delta Pi sorority, Society of Women Engineers and the American Association of Mechanical Engineers.
My time at Texas Tech has taught me a lot of life lessons and how to excel in my career, I have no regrets about my college experience. My main advice to prospective students is to get involved and enjoy what you do.
I will forever strive for honor!
Alpha Omega Epsilon
Alpha Omega Epsilon (A.O.E.), is a social and professional sorority for women in engineering and the technical sciences. Through the bonds of sisterhood, we promote the ideals and objectives that help our members grow both professionally and personally. We are leaders in our classes, industries, and communities. Our girls are not only leaders within A.O.E., but in other on campus organizations such as: Engineering Ambassadors, SPE, AlChE, ASME, SHPE, Tau Beta Pi, and Pi Tau Sigma. We strive to build a supportive environment full of enriching activities. This year we hosted events such as Mom's Weekend, Spring Formal, a What-Not-To-Wear Fashion Show, Mock Interviews and many philanthropic events. We are a diverse group of girls that have found a support system through A.O.E. Being a member means that you have sisters that will be sitting next to you in your classes, a built in study group, and connections in industry with alumnae of A.O.E.
Society of Women Engineers
The Society of Women Engineers is an organization that stimulates women to achieve their full potential in careers as engineers. At Texas Tech, the society's purpose is to provide support, promote diversity, and unite women in science and engineering. SWE focuses their events on professional development and outreach. Through travel to regional and national conferences and welcoming companies for campus information sessions and presentations, women in SWE have countless networking opportunities with other women in engineering throughout the U.S. For outreach opportunities, SWE volunteers with middle and high school girls through events such as Catch the Engineering Bug and Night at the Science Spectrum to encourage young women to pursue engineering in the future. In addition to being a place to grow professionally, SWE is a great place for women in engineering to become involved, have fun, and meet lifelong friends!
Merveille Kimpiab
Being in the First Mentorship Program has been very beneficial to me as a transfer student. Going to university made me realize the intensity of the workload comparing to college. My challenges were that all seemed new and were going fast, on top of the fact that it was a completely different environment. However, after joining the program, things got better because I had a great support system, my mentor and I learned some tips from workshops. I have improved many skills such as efficient team work, communication and management. I can now work individually or in a group which I really enjoy the collaboration and the team spirit. In addition, I have become more discipline in terms of respecting my schedule. I am now able to adapt rapidly and efficiently to various aims and demands in challenging environments.
Personally, as a woman, the program has had a positive impact on me. I have to admit at first, I was a little intimidated because engineering is a male dominated field. However, after attending info sessions, I was motivated. During the info sessions, successful women shared their experience about some obstacles they faced, but most importantly gave us strategies to be successful in engineering. Personally, their stories inspired me and I learned from them. I told myself that if they did it, I can do that too. I believe now that success does not depend on gender, but rather on how much effort you put on your work.
I consider being a mentor as an opportunity for me to give back what I have received. I can relate with my mentees because I know exactly how they feel, I have been there myself. I will help them be familiar with the school and show them that there are people who care for their success. In addition, I will show them all the resources Texas Tech offers and how to take advantage of them. As a mentor my responsibility will be to help them be successful at Texas Tech and make it their home.
Arif Ahmed
Traveling 8500 miles from my home, I was a little scared to come to Texas Tech University. I knew that being a first generation college student, my Texas Tech journey would be filled with a lot of obstacles. There were times, I wanted to give up. However, the support from the Engineering Opportunities Center (EOC) of the Whitacre College of Engineering (WCOE) not only helped me enjoy my Texas Tech journey, but also helped me to succeed. In my freshman year, I joined the FIRST Mentorship Program of WCOE. Through various workshops and activities, FIRST helped me to develop soft skills, make friends, give back to the community, and learn more about my major and the vast resources available in the WCOE to succeed. The best part of FIRST was the mentors who always guided me.
Along with FIRST, the career services offered by WCOE helped me to learn about professionalism, network with industry professionals through numerous company informative sessions, and prepare me to talk to recruiters during career fairs. EOC also allowed me to become an Engineering Ambassador for the college, which helped me to learn about leadership and become a servant leader. Without the help and support from FIRST and EOC staff members, my Texas Tech journey would not have been a successful and memorable journey. Thanks to WCOE, I can proudly say that coming to Texas Tech was one of the best decisions of my life.
Nayely Cruz-Hernandez
Being a first-generation student and being the first to leave the house despite being the youngest, arriving at Texas Tech was nothing short of terrifying. I knew that behind the University there were great people willing to help me because of the endless kindness that was shown to me at every visit from the faculty down to the very last student I met. However, I had no idea how to thrive and find myself in a swarm of amazing people. Questions plagued my every move: Who do I turn to when I need this or that? How do I exceed not only in my classes but in developing myself for my future? Do professors really wear plaid and not care about their students? While my family are supportive, I only had TV shows to form my ideas of what college would be like until I attended the FIRST Mentorship Program meetings.
FIRST Mentorship Program, helped me flourish and thrive in my first year of college. Their point system was developed to create an incentive for being a well-rounded student from meeting your professors during office hours all the way to volunteering in the community. Meeting my professors made me realize that they can be caring and want to help you exceed if you are willing to put the effort in your classes. Volunteering for engineering events around campus offered me the possibility to meet tons of engineering students that inspired me to become a better human being because we are all in the same boat and we should try to help each other. For every point I gained through workshops I attended at the EOC (Engineering Opportunities Center) I became a force to be reckoned with through my resume, LinkedIn account, and refined interview skills.
My mentor was admirable and every day I tried to be as strong-willed as she was. Every fear I had I shared with my mentor and she extinguished them by giving me advice/resources that helped me thrive as a student. FIRST Mentorship Program, is a program I would recommend to all first-generation engineering students. The program is one that will make long-lasting impacts on students' academic life and life after college. FIRST Mentorship Program, will never allow a student to feel isolated and gives students an opportunity to reach out to any resources they need to flourish.
Patricia Kernan
Growing up, my family and I always loved traveling and spending time outdoors. Being able to meet people from different backgrounds and explore National Parks across the US led me to have a profound love for people and the natural environment. By studying Environmental Engineering at Texas Tech, I am able to channel my passion for improving human and environmental health while being part of a supportive community that pushes me to do my best. The faculty and staff here at Tech are not only knowledgeable of their profession but are eager to help us achieve our goals as students, leaders, and aspiring Engineers as well. Working alongside other students striving to help make our world a better place has also encouraged me to pursue my passion of helping people and the environment. This passion has led to be involved with the Engineers Without Borders Chapter here at Tech, and it has been one of my favorite student organizations because it challenges me to apply what I have learned in my engineering classes to find sustainable solutions for those in desperate need. I am very thankful that I am able to pursue an Environmental Engineering degree here at Texas Tech, and I look forward to advancing in my education so that I am more able to positively contribute to our society after graduation. Wreck 'Em!
Marche Matthews-Noel
When I was younger, I knew that when I grew up, I wanted to be a person that helps people live healthier lives and that I loved the beauty of nature. As a female, first-generation university student with a Caribbean heritage, I have discovered that pursuing a career in environmental engineering makes me unique in a male-dominated field. Texas Tech is a university that promotes an inclusive environment that produces leaders, and the Whitacre College of engineering encapsulates this. Throughout my time in the engineering college, I have felt nothing but support and encouragement from the engineering departments, my professors, peers, and faculty. The confidence that I have gained through these experiences has allowed me to pursue leadership roles. I was selected to be an engineering ambassador for the past two years, and I was elected to be the president of the organization during my last year. What makes this experience so incredible is that my entire executive board is comprised of women, which is the first time this has happened in the history of the organization. It is experiences like these that allow me to feel comfortable within my position as a female engineering student. I know that the skills I have gained from TTU permit my goal of working for a company that strives to effectively improve environmental conditions to be obtainable. If you are someone that wants to utilize math, science, and creativity to solve problems, engineering is the perfect field for you to pursue. For the girls out there who are considering engineering, believe in your goals and never feel that you cannot take the path that leads you to your passion. The future holds a lot of promise for female engineers and that is something that is truly invaluable to keep in mind.
Resources
Edward E. Whitacre Jr. College of Engineering