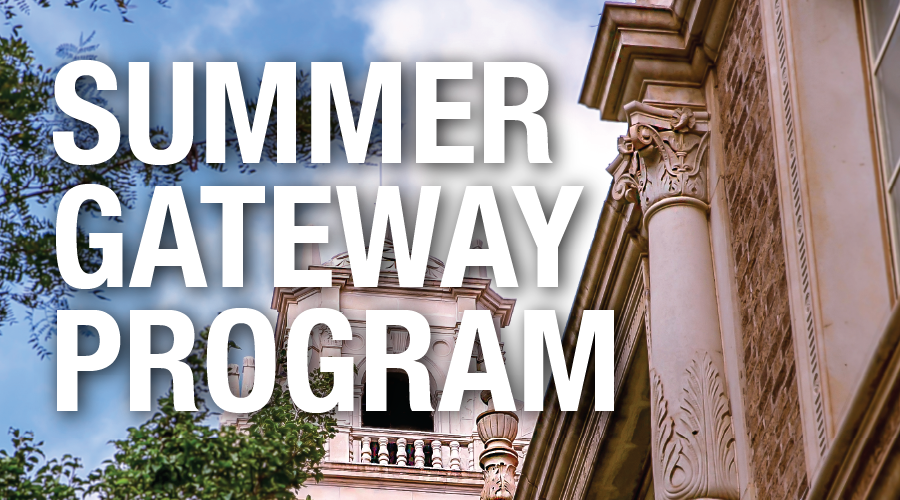 Summer Gateway is an excellent alternative for high school students wishing to gain admission to Texas Tech University. Students who successfully complete this program will be guaranteed admission to Texas Tech for the following fall.
Information Session
Watch the virtual information session to receive helpful information about navigating the Summer Gateway alternative admission program at Texas Tech University. During the presentation we will discuss the purpose of the Gateway program, the requirements, choosing summer courses, how transfer advising can assist, helpful transfer resources, housing sign up for fall, and transferring credit to Texas Tech.

Summer Gateway Program
Watch the information session below to learn more about the program.

Participation Requirements
Complete six hours of transferable coursework with a minimum 2.5 GPA on that coursework during one short summer term at any accredited community college. Some community colleges may require satisfaction of Texas Success Initiative (TSI) requirements prior to enrollment. For additional information about TSI requirements, visit TSI Compliance.
We recommend that you enroll in core courses to satisfy Gateway requirements. Online and hybrid courses may be used for these purposes. View the core curriculum requirements here.
If you are unsure about course selection, please contact our office at 806.742.1480.
The Office of Undergraduate Admissions must receive grades on your coursework before an admission decision can be made. We recommend that you make an early request to have your transcript sent to Texas Tech as soon as you complete your college coursework. If your community college is not able to send an official transcript as soon as your coursework is complete, contact our office at 806-742-1480, admissions@ttu.edu, or through chat on our website for details.
It is your responsibility to ensure that the transcript is sent to Texas Tech ASAP.
If you meet the requirements of the program, you will be notified via email that you have been admitted and will be required to register for and attend Red Raider Orientation at Texas Tech University.
If you do not meet the requirements of the program, we encourage you to continue taking courses at a community college partner and reapply to Texas Tech for a future semester after meeting the transfer requirements.
If you are fully admitted through the Gateway program and do not attend Texas Tech in the Fall term, you must reapply for transfer admission.
FOR STUDENTS GRADUATING FROM HIGH SCHOOL AFTER THE START OF SUMMER I: Please contact us at 806.742.1480.
Program Benefits
You will not be required to reapply to the university for the fall semester.
In anticipation of your full admittance and enrollment for the fall term at Texas Tech, Summer Gateway students will be eligible to register for on-campus housing beginning in April. Shortly before housing sign-ups become available for students who have signed up for the Summer Gateway program, your eRaider account will be activated to allow you access to apply for housing at www.housing.ttu.edu. First, you will sign a housing contract and pay all required fees and deposits. You will then be able to select a room fro the provides list of housing choices and dining plan.
Please note, if you sign a housing contract and pay all required fees and deposits but, you do not successfully complete the Summer Gateway program requirements to gain full admission to Texas Tech University, you will forfeit any paid deposits. Alternatively, you may choose to signup for housing after you are accepted to Texas Tech later in the summer and we will guarantee you on-campus housing.
Contact University Student Housing for any questions regarding the housing process for Summer Gateway students at (806) 742-2661 or housing@ttu.edu.

Registration Instructions
Log in to your RaiderConnect
Click on the Resources and Forms tab
Click on 'Start a Gateway Application'