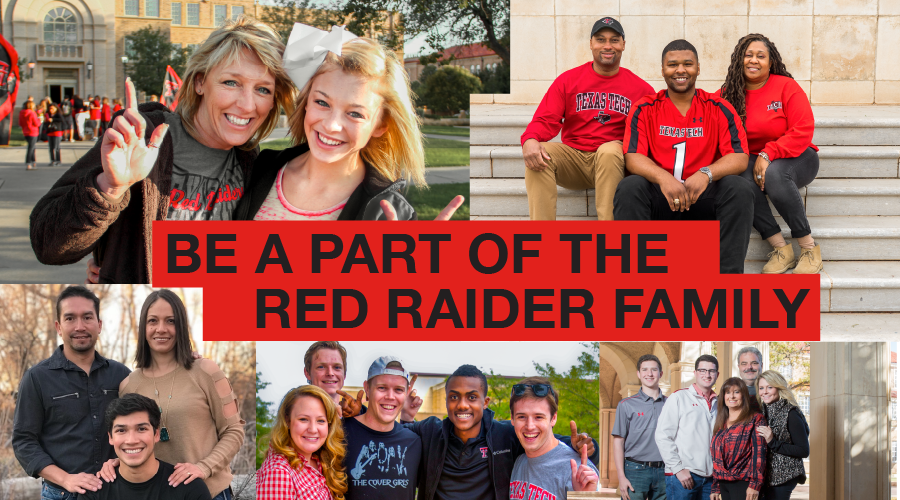 Joining the Red Raider family is about much more than sending your student to college. It's about sharing experiences that your family will talk about for years to come, from Red Raider Orientation to the annual Family Weekend to Graduation.

Our website is written for your student, but we also have you in mind. We have included information and links below to help you prepare your student for a bright future and help you navigate our admission process. Most of all, we'll show you what makes our spirited university so special—and why your family should join ours.
Quick Links
| | | | | |
| --- | --- | --- | --- | --- |
| Academic Majors | Paying for College | Find your Counselor | Find your Financial Aid Advisor | Campus Tours |


Get Connected



Office of Parent &
Family Relations


Texas Tech
Parents Association
Steps to Apply for Admission
View admissions.ttu.edu/recommended for detailed information regarding curriculum requirements for the state of Texas. The items listed below are required for admissions consideration. Notification of decision takes 2-4 weeks.
My student has been admitted.
What's next?


Frequently Asked Questions
University Student Housing offers a "Self-Select Move-in Program" which allows students to select their own move in date and time. This will reduce capacity in residence halls during the move-in process and will allow for optimal physical distancing. Students must complete the contract addendum before selecting a move-in date and time.
Log in and select a move-in time here
.

Texas Tech University has implemented a number of measures to ensure the safety of our students, faculty and staff. Each residence hall is secured by electronic access systems, as well as security cameras in entrances and public spaces. The Texas Tech Police Department has officers patrolling campus at all times. Some of the additional resources for campus safety include:

Blue Light Phones - 120 phones that automatically connect to TTUPD.

TechAlert! - sends texts, phone calls and emails to students, faculty and staff. Students can enter up to 4 phone numbers, including parents. Make sure your student's number is the primary number for text alerts.

For more information on campus safety including safety statistics, please visit or call the Texas Tech Police Department.

Students can request a particular roommate when they complete the housing application. Visit
housing.ttu.edu
to learn more about the housing registration process.
RRO dates depend on your student's academic major. Visit the
RRO website
to register and view available dates. Yes – parents and family members are strongly encouraged to attend; we have programs and activities for you too!
Yes. Students are allowed to bring vehicles to campus. Students living on campus can purchase a Residence Hall Permit. Students living off campus have the option to purchase a Commuter Parking Permit.
View parking options and costs here.

On-campus buses transport students from residence halls or commuter parking to classroom buildings.

Holiday Bus Trips – Parent & Family Relations collaborates with BreakShuttle to provide bus trips home to Dallas, Houston, San Antonio, Austin and El Paso* for Thanksgiving, Winter Break, and Spring Break (*Thanksgiving only).

Raider Ride - A service that is offered seven days a week from 6 p.m. to 3 a.m. using the TapRide app. Rides are free if ride begins or ends on campus; $5 off campus.

Lime scooters, Zip cars are available on campus.

Citibus – students may use their student ID to use the bus system around town at no additional cost.
Texas Tech University has many resources available to support students in their academic coursework.
The Learning Center
offers free peer tutoring and academic coaching to provide students with skills in test-taking and time management.
The Writing Center
provides one-on-one tutorials and assistance to undergraduate and graduate students. Tutors are available on-site and online.
Supplemental Instruction
offers free, peer-led review sessions for historically challenging courses.
The TECHniques Center
provides supplemental academic support services to meet the needs and to promote the retention of undergraduate students with learning disabilities.

Parent and Family Relations (PFR) is here to provide you with information and resources that are available at Texas Tech University to support student success, provide opportunities for you to learn how to best support your Red Raider, and connect you with a university department that is dedicated to serving Texas Tech students and their families.

Texas Tech Parents Association is made up of parents connecting parents with local activities, informative programs and services. We create lifelong memories and invaluable experiences. Most importantly, we are family bringing Texas Tech to you!
Texas Tech University is committed to access and engagement.
The Office of Access & engagement
is committed to student success by preparing learners to be ethical leaders for a diverse and globally competitive workforce. In support of the university's priorities, we strive to create collaborative partnerships among Texas Tech faculty and staff, community organizations, and students through programs, activities and events that develop students' professional skills, individual creativity, personal excellence and social awareness.
Student Health Services – Full-service primary care clinic and pharmacy. Academic health plan insurance is also available.
Student Counseling Center
– Offers individual, couples, and group counseling along with other counseling services; like the MindSpa for stress relief and relaxation. 24/7 Crisis Line at (806) 742-5555.
The Office of Undergraduate Admissions has a team of advisors that can provide an evaluation and degree plan that is tailored to your student's academic and career goals.
Schedule an appointment here.
FERPA, the Family Educational Rights and Privacy Act, gives students the right to inspect their own education records, the right to prevent disclosure of their own education records, the right to amend their records, the right to be notified of their rights and the right to file a complaint if they feel like their records have been violated. For more information on how your student can grant you access to their educational records,
click here
.
Fall tuition statements are available approximately 30 days prior to the payment due date, once the student is registered for classes. Payment due dates can be viewed on the
academic calendar
; payment arrangements need to be confirmed at least seven days prior to the first day of class.
Parent Resources


Admissions & Enrollment
Helpful Links
Parent & Family Relations
Texas Tech Parents Association