LA students and faculty engage with community through applied research
By: Norman Martin
Deep in a Heart of Lubbock neighborhood, Debra Carol Robinson is looking out on a significant upgrade to her front yard this spring – including the addition of two 10-foot mature mesquite trees – thanks to the hard work of a special group of students and faculty from Texas Tech University's Department of Landscape Architecture.
"This project exemplifies all of the best parts of a community-based service-learning course within the context of a landscape architecture curriculum," said Leehu Loon, chair and professor within Texas Tech's Department of Landscape Architecture.
The 16 students in the Infrastructure in Action class (cross-listed with Environmental Engineering) began the project by conducting research into the neighborhood and it's context, finding that 25% of the parcels are in the 100 year FEMA flood plain. Working closely with Daniel Phillips, an assistant professor in the Department of Landscape Architecture, the students developed their design utilizing hydrological models.
The students also worked closely with Robinson and the City of Lubbock to finalize their design. Then, the students embarked on installing the green infrastructure improvements, which included running a small excavator on site.
A two-decade veteran of her home in the Heart of Lubbock, Robinson can expect to see the start in the coming months. It's an effort that will also afford her significant stormwater runoff capture capacity, say Phillips and Travis Neel, an assistant professor in Tech's School of Art.
Robinson's new waterwise front yard features a green stormwater "treatment train" consisting of rain collection barrels, infiltration basins holding the transplanted trees, and a "hellstrip" bioswale in the median with curbcuts to manage excess flows from and to the street. Amid these interventions are a range of naturalistic plantings, seating elements, and signage to engage passersby. In addition, there are new landscape berms comprised of the soil dug out of landscape basins, creating a contrast and visual interest.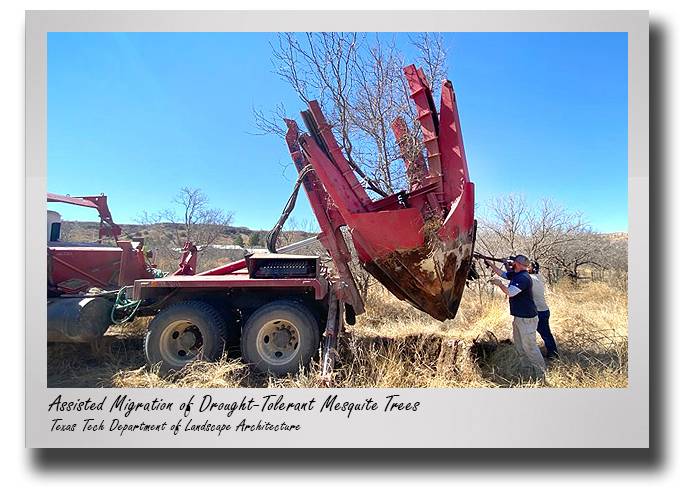 A focal point of the project is the "assisted migration" of drought-tolerant Mesquite trees (Prosopis glandulosa). The team now has several pilot sites with mature mesquites transplanted from agricultural land, where they're considered a nuisance into Lubbock's urban core where they can provide multi-functional benefits. For Robinson's yard, the team is working with unwanted Mesquites from university-owned land on the outskirts of campus (near the corner of Quaker & 4th Street).
"They've saved several trees that would otherwise be destroyed to make room for new development in the area," Phillips said. "The focus on the mesquite as an iconic species in this region, and the Heart of Lubbock as a 1x1 square mile neighborhood is the origin of the project's title: The Mesquite Mile."
Phillips points out that these simple actions when replicated at the block and neighborhood scale can build urban resilience necessary to meet a hotter, dryer and more flood prone future. "It's a win-win on both sides, and provides a possible model for future urban afforestation in this region and beyond," he said.
"Mesquites planted in conjunction with Green Stormwater Infrastructure (GSI) in the Heart of Lubbock neighborhood provide a range of ecosystem services that include increased thermal comfort and flood risk mitigation," he said, "and we will continue to monitor these impacts over time and demonstrate the social, ecological and spatial possibilities of engaged scholarship."
CONTACT: Leehu Loon, Chair and Professor, Department of Landscape Architecture, Texas Tech University at (806) 834-5215 or Leehu.Loon@ttu.edu
0324NM23