Prototype Designs
Masks were initally printed in either PLA or TPU. Both types were sent to TTUHSC for testing and the feedback received was that the PLA material was too rigid making it not only uncomfortable for the wearer, but also prevented the mask from making a good seal along the bridge of the nose and chin. However, its rigidity makes for an excellent filter cover.
All prototypes, whether MERV 13 or HEPA, utilize PLA as the filter cover (white in color) and TPU as the mask (blue in color).
MERV 13 Face Mask
This mask/filter combination is being tested in two ergonomic designs (below). The one on top is a smaller mask, while the type at bottom is larger covering more of the face. Mask straps are inserted into the holes near the faceplate of the mask.
Mask CAD design credit: Reusable Air Mask Respirator (top), COVID-19 Mask v2 (bottom)
An example of user fit is shown below. As one can see, the current anchor placement of the mask straps pulls heavily on the ears causing discomfort and does not form an adequate seal at the bridge of the nose.
Part of this team's unique contribution to mask design is changing the anchoring points to better support comfort and seal, which is currently being tested.
HEPA Face Mask
Single-layer Filter
The use of a HEPA filter is extremely effective, offering 99.97% removal efficiency of 300 nm particulate and larger. There are, however, challenges to fitting a typical HEPA filter meant for home air filters into a mask as outlined below in the Unique Contributions section. R&D has thus far been conducted on two filter options. The type shown below utilizes a piece of HEPA filter that has been carefully cut and glued into the external filter cover.
The cutting of the filter in this manner can be problematic if one is not careful, as HEPA filter consist of several layers of material that are easily perforated by a sharp object, such as scissors. Another option - described further down on this page - consists of keeping a larger section of filter intact rather than delicately excising a small section.
The filter cover is then placed into the mask and glued into place to prevent gaps between the cover and mask. This mask utilizes a pricier strap thatcan be purchased on Amazon and provides superior comfort while improving the seal of the mask against the face. However, this strap will most likely not be necessary pending our adjustment to anchor points and the use of ear strap anchors often referred to as ear savers (the team will print our own ear savers to mitigate cost in high volume mask production, but they are commercially available on Amazon).
Bulk Filter
As previously discussed, HEPA material can be difficult to keep intact when trying to remove portion to be used as a mask filter. The photos below show an intact Honeywell HEPA filter (left) and a chunk that was cut out (right).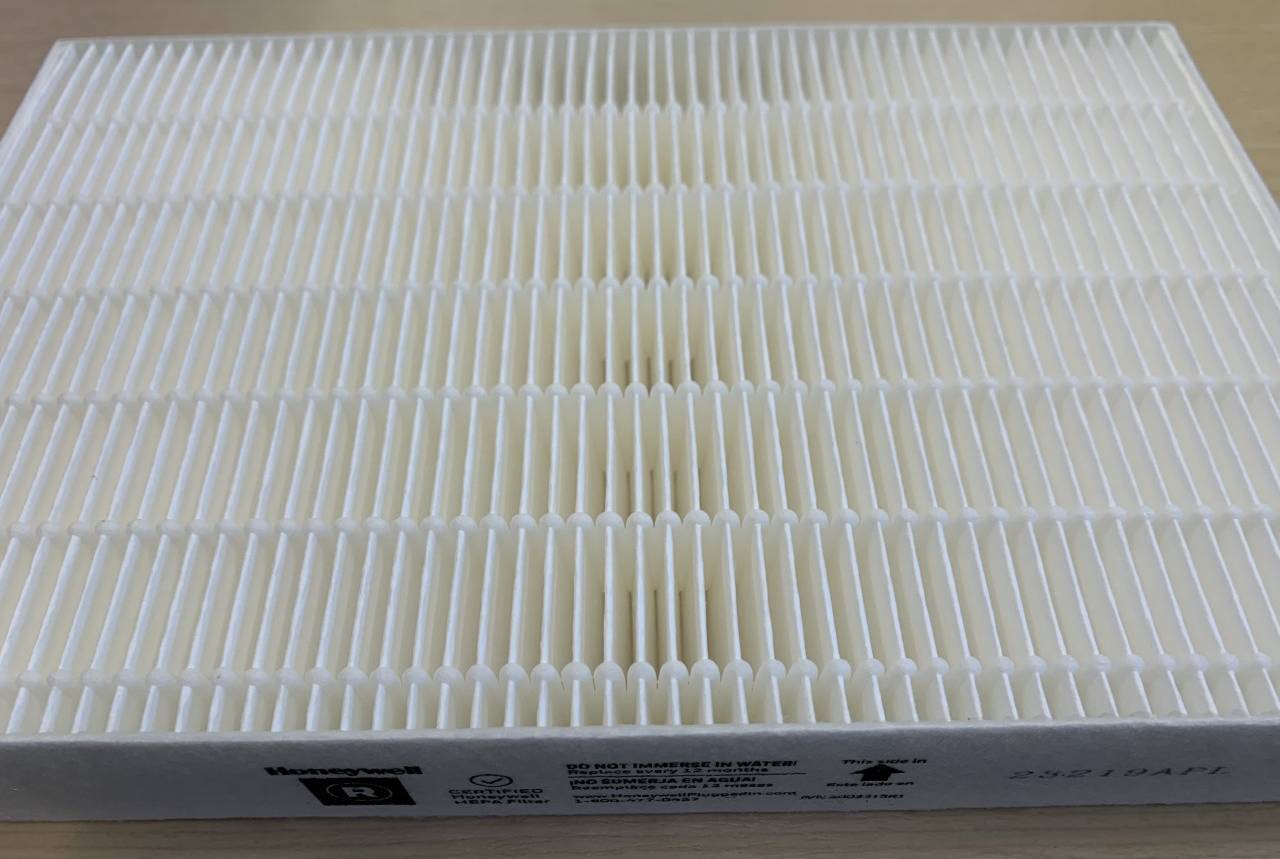 When excising a single layer of the material, one must cut the acrylic binding without puncturing the layer. Therefore another option is to simply cut out a large piece of the material with several layers and install it into an extended filter cover (below).
Even though the sides of the filter are damaged when cut, the bulk remains intact and the damaged sides are covered with glue. Therefore, respiration is forced through the bulk filter material. An example of a HEPA mask with the extended filter cartridge and bulk filter is shown here. This extension is another unique development generated by this team.
Department of Physics and Astronomy
Address

Texas Tech University, Physics & Astronomy Department, Box 41051, Lubbock, TX 79409-1051