¡Noticias! News!
2022 - June: We are excited to hear that one of our recent publications at Geoderma was selected as "Editors' Choice" for the month June.
The manuscript can be seen on their Twitter banner and has complemtary free access for six months. Congratuations, Emma and the whole team!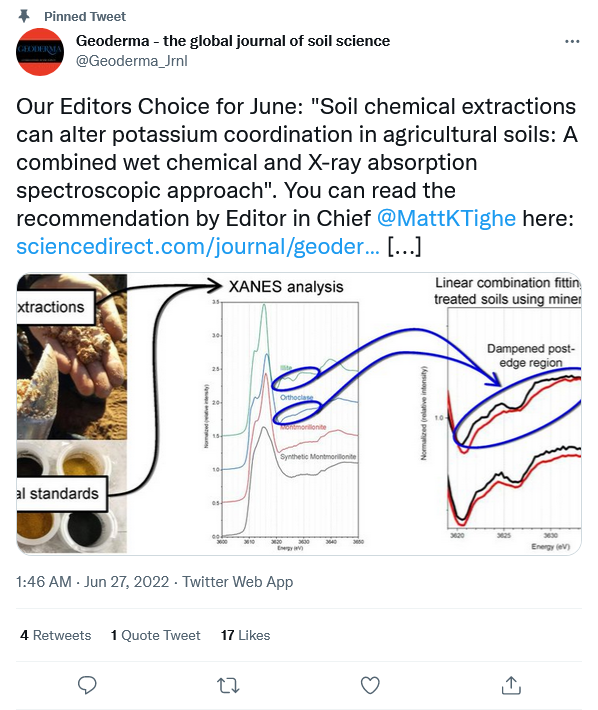 2022 - April: Congratulations to Danira Garcia Gutierrez for claiming 1st place at our annual Department of Plant and Soil Science research symposium! Danira has been in our group for over 3 years now and is co-author on one of our publications. We are so proud to have her in our group and will miss her when she graduates this year! Danira is an undergraduate researcher.
2021 - April: Lauren Hicks from Western Texas College gave a wonderful presentation the Texas Tech University Department of Plant and Soil Science research symposium. Great job, Lauren! Lauren presented work on the effects of flooding and increased temperature on elemental cycling in soils used for swine waste application. This work with Western Texas College has been a successfull research collaboration between our two institutions! Many other scientists, including undergraduate students, graduate students, faculty, and staff at our two intutusion came together to make this happen.
2021 - April: Congratulations, Amanda Jo for placing 3rd at the 2021 Texas Tech University, Department of Plant and Soil Science research symposium! Great job, AJ!
2021 - April: Excellent job, Kindall for your poster presentation at the American Chemical Society's (ACS) annual Spring meeting! Her poster was selected for the SciMix event by the Geochemistry Program Chair! Kindall's research is on the reduction kinetics of manganese oxides with naturally derived dissolved organic matter. This interaction is critical to understand the large scale biogeochemical cycling of carbon.
2021 - March: Congratulations, Danira for being an Outstanding Presenter at the 2021 Texas Tech Undergraduate Research Conference! Danira has been instrumental to our success in researching arsenic-enriched titanium dioxide waste in soils! Click here for more details.
2021 - March: New Funding! We are extremely fortunate here in the Environmental Soil Chemistry group to have been recently awarded two excellent research grants. The first grant is from Cotton, Inc and is for $14,000. The second grant is from the United States Department of Agriculture (USDA) National Institute of Food and Agriculture (NIFA) and is for over $330,000 USD. This work, apart from training new scientists in the field of Environmental Soil Chemistry, will advance our understanding for how potassium can become bound to newly formed minerals in soils. Future updates to come – including the hiring of a new post doc! Click here for more details.
2021 - February: Congratulations, Emma for placing 2nd for her oral presentation at the 2021 Texas Soil Survey and Land Resource workshop! This was a workshop hosted at Texas A&M. Emma did a wonderful job explaining her research on potassium chemistry and related X-ray absorption spectroscopy!
2021 - January: Congratulations to Amanda Jo for getting her first paper accepted for publication in a peer-reviewed journal! We are so excited to share this research related to arsenic contamination in sediments. Arsenic in drinking water is a huge problem in many areas in the world: learn more here.
2020 - November: Congratulations, Amanda Jo for earning 2nd place in her oral presentation in the Graduate Student Oral Presentation competition! Way to go, AJ! This competition was in the Soil Chemistry Division of the Soil Science Society of America's annual 2020 meeting. AJ spoke about her research related to arsenic contamination and chemistry in titanium dioxide filter waste produced during drinking water filtration.
2020 - August: Science in action: Our research on arsenic contamination in Guanacasta, Costa Rica is resulting is some important action and hopefully plans for remediation. Last year, we identified high levels of arsenic in titanium dioxide waste produced via drinking water filtration. The waste has been transported through neighborhoods and soils. This is important work to determine potential environmental and human health hazards associated with arsenic redistribution in rural and urban environments. See the story HERE.
2020 - June: Dr. Siebecker presents an invited lecture to a group of interested citizen scientists and community members on the importance of soils to humans and the environment. This was organized by the Hand Coaching organization (based in Santiago, Chile), as part of a webinar/workshop series. A goal of the series is to provide scientific and expert opinions, information, and online interaction to the public about various topics while people are practicing social distancing the covid-19 pandemic. It was a real pleasure to share this experience with them!
2020 - June: Dr. Siebecker Visits Western Texas College (Snyder, TX) to for a Research Summit and to discuss future collaborative research projects between WTC undergraduate students and Texas Tech University graduate students. We also recruited a new Environmental Soil Chemistry team member - Snowy.
2019 - September: Dr. Siebecker travels to University Dynamic (UDC) in Foz do Iguaçu to participate in the 12th International Congress of Agronomy - Developing Rural and Agricultural Sustainability conference (interview in Spanish)
2019 - September: College of Agricultural Sciences and Natural Resources welcome video.
..
Department of Plant and Soil Science