Recent Events
Applied Linguistics | Arabic | ASL | Classics | French | German
Italian | Japanese | Russian | Spanish & Portuguese
Classical & Modern Languages & Literatures
In Memoriam Janet Pérez
The Department of Classical and Modern Languages and Literatures (CMLL) recently lost one of its most outstanding and cherished members. Dr. Janet Isabel Pérez passed away of complications from pancreatic cancer on Wednesday, May 18, 2016.
Dr. Janet Pérez (Ph.D. Duke) started at Texas Tech University in the fall of 1978. She was the Paul Whitfield Horn Professor of Romance Languages (1989) at Texas Tech and held the Qualia Chair of Spanish at CMLL from 2001 until her retirement in 2013. Aside from her multiple responsibilities as Full Professor at Texas Tech, she was Associate Dean of the Graduate School from 1985 until 2000, when she left the post to take over the duties of Editor of Hispania, the scholarly journal of the American Association of Teachers of Spanish and Portuguese (AATSP). Among the many awards and recognitions she received throughout her distinguished career were her selection as Corresponding Member of the Spanish Royal Academy of Letters, and having been elected "Miembro Honorario" of the Academia Norteamericana de la Lengua Española. Other awards included the Distinguished Leadership Award of the AATSP, the Texas Tech President's Academic Achievement Award, and the Barnie E. Rushing Faculty Distinguished Research Award, also at Texas Tech.
Her research covered several areas of Hispanic Literature, but her primary focus and energy was within the orbit of Contemporary (from 1898 to present) Spanish Peninsular Literature. In this area she was a true trailblazer. She was arguably the first American scholar to conduct research and write extensively on the literature of post Civil War Spain written by women and on Spanish literature of exile. All this work was done at a time when research in these areas was practically nonexistent. In this manner, her work impacted what was known in the United States about Spain at the time. These are some of the reasons she earned a well-deserved reputation as one of the nation's top scholars of Spanish Literature and helped carry forward the name and reputation of Texas Tech and the Department of CMLL.
Indeed, Dr. Pérez was one of the most accomplished and distinguished scholars to walk the halls of CMLL. Through her quiet and tireless scholarship, she built an amazing legacy that shall remain in the annals of Literary Research; yet to those who knew her in person, her most memorable legacy may have been her modesty and selflessness. Her role as mentor and friend to faculty and students has left an indelible mark on the academic and personal lives of many, particularly those who studied under her guidance and tutelage. She often said that one of her primary sources of inspiration was her students, and that she liked to think of herself as a "compulsive mentor". "I like 'people projects'," she would say, "speaking to incoming students, especially nontraditional students, making them aware of graduate school and its potential [. . .], letting them know that it is not something beyond their reach ...". Her colleagues were also beneficiaries of her mentoring and friendship. She always had time to reach out to them with advice, recommendations and support. Indeed, her impressive professional resume (which "abbreviated" version runs over 70 pages) would easily be matched and perhaps surpassed by her countless acts of friendship, kindness and consideration.
Dr. Pérez leaves a remarkable scholarly legacy, but perhaps her most memorable bequest is her exemplary humanity: Janet Pérez, scholar extraordinaire, amazing individual, invaluable colleague, and friend: Requiescat in Pace.
The Dr. Janet Perez Memorial Fund for the Texas Tech Spanish Graduate Program has been set up in memory of Dr. Janet Perez's for those who would like to make a gift in honor of her life and work. To make a memorial donation, click here.
Click here to read an article titled "Reflections from Dr. Perez", which appeared in Issue 3 of the CMLL Newsletter, Fall 2012.
Language Olympics 2016
The 1st Annual Language Olympics were held at Texas Tech University's Department of Classical & Modern Languages & Literatures (CMLL) on February 13, 2016. This amazing event had a direct impact on approximately 130 high school and middle school students from Lubbock and the surrounding area. Middle school participants were: Irons, Atkins, and Slaton Middle Schools. High school participants were: Spur High, Monterey High, Robert E. Lee High (Midland), Midland High, Tascosa High, Ascension Academy, Palo Duro High, and Lubbock High.
The Language Olympics were an opportunity for Texas Panhandle youths to showcase their skills in French, German, Spanish, and Latin. This event was also an opportunity for CMLL at Texas Tech to reward and promote foreign language study in west Texas. Students competed in four fun language competition events: Jeopardy, Impromptu speech, Power Word (like Taboo), and Gisting (listening & reading).
The prize winners were:
PlaceNoviceIntermediateAdvanced
| | | | |
| --- | --- | --- | --- |
| 1st ($200.00) | Ascension Academy | Palo Duro High | Ascension Academy |
| 2nd ($150.00) | Irons Middle School | Lubbock High (French) | |
| 3rd ($100.00) | Irons Middle School | Palo Duro High | |

The schools will use the prizes to enhance their language program through materials or events.
Ambassador Nagy was the keynote speaker and addressed the importance of language in chosen careers. We believe foreign language ability is an essential job skill in the 21st century, and that foreign language study promotes the development of inter-cultural competence in a unique way.
The 2016 Language Olympics celebrated the linguistic and cultural diversity of our campus, in our state, our country, and around the world.
La Représentation du Loser Conference
Last March, Drs. Carole Edwards, Starra Priestaf and David Larmour, co-organized an international symposium to explore the Representations of the Loser in French and Francophone literature and film. Scholars and researchers from all over the world defined how the figure of the loser was represented in different cultures, times and genres. The conference also featured three panels, Classics, German and Russian to foster dialogue among between different linguistics and literary traditions.
Philip Powrie, Dean of Faculty in the College of Arts and Sciences at the University of Surrey, was the Plenary Speaker for the conference. Marina Balina, Funk Professor of Russian and German at Illinois Wesleyan, was a distinguished speaker.
The conference, hosted by CMLL and sponsored by many organizations and individuals across campus, was a huge success and it received international attention. It triggered a very positive report from the French Consulates in Houston and New York. Many agreements between TTU and other universities and ongoing collaborations among participating scholars have resulted from this event, and various publication projects are underway.
Querencia: The Sacredness of Place and Identity
In collaboration with the Texas Tech Humanities Center, department of Journalism & Electronic Media, Institutional Diversity, Equity & Community Engagement, Harris Institute for Hispanic and International Communication-Journalism & Electronic Media, College of Arts & Sciences, the Department of Classical & Modern Languages & Literatures sponsored a presentation entitled, "Querencia: The Sacredness of Place and Identity" by New Mexico Centennial Poet Laureate Levi Romero and Spencer Herrera, Professor, New Mexico State University on March 7th. Levi Romero and Spencer Herrera presented their book "Sagrado: A Photopoetics across the Chicano Homeland" accompanied by a photo slideshow. The presentation was free and open to the public.
Italian Artist Ezio Gribaudo Donates Painting to the Department
Photo credit: Mark Umstot
Italian artist Ezio Gribaudo gifted the Department of Classical & Modern Languages & Literatures with one of his paintings, Teatro della memoria/Theater of Memory (2015). An audience of friends, faculty and staff were awe stricken during the unveiling ceremony on April 1st. This piece of extraordinary art will be permanently housed in the 2nd floor lobby of the Foreign Languages Building.
Archeology of knowledge and of the human experience are the main themes of the beautiful painting which Gribaudo began to develop around 1965 and continues to this day. Dr. Victoria Surligua notes that the painting "reflects his experimentations with materials and print which bring to light archaeological remnants in the context of intense chromatic studies. A specific line of his work is called logogrifi ( a term of Greek origins evoking fishnets and objects that are caught in a specific moment in time). They can be understood as a verbal commentary that incorporates ancient texts, maps, and artifacts within the painting's visual space."
His works are based on the engraving of white surfaces in numerous ways including: using compositions that frame memories of daily objects in visual renderings reminiscent of Duchamp's ready-mades, as a philosophical concept whereby incisions and collages reference the human and animal experience and incorporating craft and ability with the use of a manual press.
Comparative Literature Program

The 48th Annual Comparative Literature Symposium took place from April 22-23, 2016 at Texas Tech University. Keeping in mind the notion of 'carrying across' or crossing boundaries from the Latin word tanslatio as being fundamental to effective human communication, translation requires more than just moving between two languages. It requires the crossing of many kinds of boundaries – political, linguistic, geographic, and gendered that require reliable interpreters to carry across their intended meanings. Papers addressed questions such as: When a literary work, a piece of art, an idea, or a system moves across boundaries, what is left behind? What resists translation? What is added? What new associations are activated? And what are the political and cultural consequences of these losses and gains?
The Keynote Speakers were Christopher Merrill, Director, International Writing Program, University of Iowa; Steven Yao, Edmund A. LeFevre, Professor of Literature and Creative Writing, Hamilton College, New York.
Presenters from CMLL:
Irina Mozuliova, "A Translation of a Byronic Hero into a Female Lyrical Voice: Gómez de Avellaneda's 'Conserva tu risa' ('Keep Your Smile')"
Dora G. Aranda, "Chican@ Language in Borderlands / La Frontera: The New Mestiza"
Sponsors: TTU Graduate School, TTU College of Arts & Sciences, TTU College of Visual & Performing Arts, TTU Department of English, TTU Department of Classical & Modern Languages & Literatures, TTU Humanities Center.
Language Learning Laboratory and Research Center
The Language Learning Laboratory and Research Center (LLL&RC) is a specialized learning center and library serving both students and faculty. It provides many resources to facilitate language learning which include New Online Practice websites, the Digital Humanities Lab which is available to all CMLL instructional and graduate students for research, pedagogical and creative endeavors. The facilities/areas of the LLL&RC are quite extensive: the Central Practice Theatre, Help Desk, 16 station computer lab, private study booths, Qualia Room, a special theatre-style room containing a full stage and lighting and sound equipment, Digital Humanities Lab, Video & Demonstration Lab, Language Library, Room 105 (multi-media classroom), Equipment Room, Media Processing area, and Psycholinguistics Lab.
In addition, the LLL & RC has an expansive collection of educational materials which spans thousands of video titles, books, maps, gloves, periodicals and newspapers, language games, teaching ancillaries, realia, and professional development materials. These materials are available to all CMLL instructional personnel. Many of the materials are available for check-out for use within the facility to undergraduate students.
Building bridges through language is one of the main focuses of the Department of Classical & Modern Languages & Literatures.
For complete information go to http://www.depts.ttu.edu/classic_modern/langlab/.
CALICHE 2016
5th Annual Conference on Applied Linguistics and Intercultural Communication in Higher Education
The Applied Linguistics and Second Language Studies section of the Classical and Modern Languages and Literatures (CMLL) Department at Texas Tech University organized the conference on April 1, 2016 in the Foreign Languages building. The conference achieved its goals in promoting applied research on second and foreign language teaching and learning, and by providing a venue in which graduate students and faculty members in applied linguistics, and second and foreign language, could present their research.
Presenters from Texas Tech Department of Classical & Modern Languages & Literatures:
Takehiro Iizuka, Kimi Nakatsukasa, Andrew Farley, Aaron Braver, "Bridge between Syllabic and Moraic Languages: Does gesture help language learning?"
Dustin Florence, Greta Gorsuch, "Evaluating and Improving Rater Training for ITA Performance Tests"
Junyao Wu, "The Experience of a Beginning Second Language Instructor at University"
Taichi Yamashita, "The Effects of Focused and Unfocused Written Corrective Feedback on Japanese Orthography and Learners' Perception"
Hsiao-Hsuan Hung & Taichi Yamashita, "The Investigation of Strategies Used by American Learners of Hanzi and Kanji"
Karlissa Black, Elizabeth Burow Carroll, Dustin Florence, Mitchell Gries, Astrid Sierra, and Rachael Winfrey, Stefanie Borst, ""From Anywhere, It's Possible" – Adapting Traditional Courses for Distance Learning"
Farewell Dr. Joe Price
Graduate students in Joe Price's Applied Linguistics courses bade farewell to him during a party in April. Price enriched the Applied Linguistics program during his 9 year tenure at Texas Tech as well as the French program. The majority of CMLL teaching assistants benefitted from his popular course on Intermediate Teaching Methods.
Arabic Student Organization Formed
The Arabic Language Student Organization kicked off the semester on January 21 as a participant in the Winter Raider Welcome Student Organization Fair. The fair was held in the SUB red Raider Ballroom during which current TTU students were introduced to the myriad of TTU student organizations to which they could join. The first Arabic Language Student Organization meeting of the semester was held on January 29th. Continuing weekly throughout the spring semester, members engaged in a variety of activities and events.
Rula Al-Hmoud, Coordinator of the Arabic Program, encouraged student to organize an Arabic language student organization. Meetings and activities draw students to be more involved in learning more about the language and culture.
On February 26th, the Arabic Club set up a table in the TTU Free Speech area to enhance awareness of the Arabic language student association.
Arabic Club
The Arabic Club met Thursdays from 3-4 PM in the Barnes & Noble Bookstore located in the SUB. Study sessions, conversations, games provided excellent opportunities to build communication skills.
Participation in the First CMLL Language Olympics
The Arabic Club, with the goal of presenting Arabic culture and customs, participated in the CMLL Language Olympics on February 13th in the Texas Tech Foreign Language Building. Members of the organization set up a colorful and informative display for the area high school participants to stop by and try writing their names in Arabic, to taste some delicious snacks and to engage in a conversation with the members.
Arabic Movies
On March 1st, the Arabic Language Association screened the film, "Theeb" (Wolf), an internationally acclaimed film, in the Foreign Language Qualia Room. "Theeb", nominated for an Oscar as the best foreign language movie, was filmed in Wadi Rum, Jordan.
On April 28, the Arabic Language Student Organization screened the 2016 documentary, "Oriented" (a film by Jake Witzenfeld) in the Media and Communications building. The documentary follows the lives of three gay Palestinian friends confronting their national and sexual identity in Tel Aviv.
Ralda Chebib was a guest speaker at book club meeting on March 10th.
Hands-on Cultural Experiences
Food is one of the most powerful introductions to culture which the Arabic classes regularly integrate into the curriculum. When Arabic food is the theme of the lesson, a dining experience in an Arabic restaurant is often included. However, this semester instead dining in a restaurant, students actually learned how to make their own dish in class. Humus is a favorite of everyone.
ASL Tours Southwest College Institute for the Deaf
On April 21st, American Sign Language (ASL) professor Melissa Hays took a group of six undergraduate students to the Southwest College Institute for the Deaf (SWCID). Located in Big Springs, Texas, SWCID was established in 1979 and is one of three major colleges for the Deaf in the U.S. educating less than 200 students.
SWCID was an immersive experience for the students as they had to communicate in ASL all day. The students and Professor Hays had the opportunity to observe two ASL classes as well as tour the college. In the afternoon, the students experienced an interpreting class given by Buddy Bauer, an Assistant Professor in the Interpreter Training Program, where they learned fingerspelling and voicing techniques.
Alex Marie Baez, "Having the opportunity to interact with students and faculty at SWCID was an eye-opening experience. I learned a lot more about the culture than I expected, such as the importance of signing while speaking in a Deaf environment. Even though I am not fluent in ASL, I tried my best to keep up. I would love to see more schools for the Deaf emerge in order to give more higher-education opportunities to those who communicate in ASL and for those who wish to learn more about ASL and Deaf Culture, such as myself. My experience at SWCID fueled my desire to work with the Deaf Community and showed me that this really is what I want to do with my future."
SWCID offers a two-year interpreting program to prepare students for certification as well as a Deaf Support Specialist program for students interested in working with the Deaf Community. If you're interested in the Deaf Community, a visit to SWCID is recommended because the warm and welcoming environment provides an opportunity to better understand Deaf Culture and how wonderful it can be working with the Deaf Community.
Panel Discussion
The Silent Raiders hosted a panel discussion on April 14 in the TTU Student Union Building. The panel comprised of Deaf students at Texas Tech.
Classics Program Spring Lectures
March 22: The Classics program and the Center for Archaeology and Ancient Studies with the support from the Classical Society, the Department of Classical & Modern Languages & Literatures, Arts & Sciences, the College of Media and Communication, and the Texas Tech Humanities Center hosted the lecture, "99 Columns and a Niche in Each One" by Dr. Andrew Riggsby, University of Texas at Austin in the Foreign Languages Qualia Room.
April 7: Dr. Charles Stocking presented a lecture title, "Ancient Greece and the Cult of the Body in Western Civilization" in the Senate Room of the TTU Student Union Building.
April 5-8: Olympics Ancient & Modern Symposium took place in the Formby Room in the TTU Southwest Collection.
Faculty Presentations & Debates
Horn Professor David Larmour and Dr. Stephen Balch led a debate after the screening of Chariots of Fire. Directed by Hugh Hudson.1981. Burbank, CA: Warner Bros.
Horn Professor David Larmour gave a presentation titled, The Demands of Genus: The Body in the Roman Arena".
Dr. Charles Stocking (Western Ontario) presented two papers entitled, "Ancient Greece and the Cult of the Body in Western Civilization" and "How to Kill an Athlete: Beyond Limit Experience in Ancient and Modern Sport".
Dr. Peter Miller gave a presentation titled, "Illuminating Shadows: Losers in Pindar and Bacchylides".
Dr. Michael Poliakoff (Washington D.C.) presented a lecture titled, "What was Exceptional about the Olympics of Ancient Greece?"
Cait Mongrain presented a paper titled, "The Spectacle of the Page: A reassessment of Novelty in Roman Arena Narratives".
AIA Spring 2016 Lectures
February 11: Revisiting a Late Bronze Age time capsule: first results from the 2014-2015 excavations at Pyla-Kokkinokremos (Cyprus) by Simon Jusseret, Université catholique de Louvain
March 31: "Reconstructing and Firing a Greek Kiln: a Project in Experimental Archaeology" by Lisa Kahn, George Mason University
April 6: "Cultural Commodities: Oil and Wine in Pre-Classical Greece" by Catherine Pratt, University of Western Ontario
April 20: "Layers of Meaning: A Stratigraphic Analysis of the White Shaman Pictorial Narrative" by Carolyn Boyd, Shumla Archaeological Research & Education Center in Comstock TX in conjunction with the Texas Tech School of Art
Awards Ceremony

The Classics program recognized numerous graduate and undergraduate students in Classics for their outstanding work at the annual awards ceremony on March 24th in the Foreign Languages, Qualia Room. Don Lavigne, master of ceremonies, rewarded the following students with the highly sought after Classics Awards after the faculty had to make the difficult choices because all of the students are excellent and worthy of theses honors.
Elizabeth Fox Hartman Scholarship
This scholarship comes from the Department of CMLL to support summer research projects.
Hali Johnson
Kristine Mallinson
Jackson Vaughn
SCS Outstanding Student Awards
Brett Stine and Kristine Mallinson
Given to the two first-year MA students who exemplify the mission of the SCS here at TTU, namely, excellence in their coursework, but also dedication to the field above and beyond their official duties. Awardees receive complimentary membership in the SCS. This year's recipients have both gone well above and beyond what is required of them in taking their contributions to the discipline here on campus and in pursuing avenues through which to further their knowledge of the Classical World.
CAMWS Award for Outstanding Accomplishment in Classical Studies
Given to the senior undergraduate major who has exhibited exemplary command of the tools of the Classical scholar.

Campbell Roper is a graduating senior and double major in Communication Studies and Classics, with a very impressive 3.97 GPA. His hard work has paid off and he has become a very talented young Classicist.
The Leonid A. Jirgensons Scholarship in Latin
Named after one of the first Classicists to live and work in West Texas, Jirgensons' dedication and hard work is not an insignificant factor in our being here today. The scholarship is awarded to a student pursuing a major in Classics with advanced Latin or teaching certification in Latin. Applicants must have a minimum of 3.0 GPA, and participate in Classics programs and activities sponsored by the department.
Brennen Rossi, a first year Classics major with a GPA of 3.75 shows great promise as a Latinist.
The Julian F. Suppe Classics Study Abroad Prize
Fred, as Dr. Suppe is known to his faculty colleagues in Classics, former Chair of CMLL, is a strong supporter of Classics at the University. This prize of $500 is awarded to an undergraduate major in Classics who is going on an approved Study Abroad program, as determined by the Classics Faculty.
Chloe Morris, a first year undergraduate who is majoring in both Classics and History (and has an impressive 4.0 GPA so far), will attend Dr. Friedman's Archaeological field school in Italy this summer.
The Howard and Fotini Perlmutter Scholarship
This endowed scholarship is awarded in memory of Dr. Howard Perlmutter and in honor of Dr. Fotini Perlmutter, to be designated for an undergraduate student majoring in Classics.
The prize is awarded to the student with the best essay or project on Ancient Greek or Roman Civilization as selected by the Classics faculty.
Miles Pedretti-Allen with Dr. David Perlmutter, Academic Dean Media & Communication
Pedretti-Allen, a junior Classics major (3.65 GPA), is well on his way to mastering the intricacies of Ancient Greek even as he begins to learn Ancient Latin. His project offered a well-written and considered examination of several prominent mythological women in comparison and contrast to heroic men.
Annual Prose Composition Competition
The annual prose composition competition, is awarded each year to Classics' graduate students in honor of David S. and Elizabeth Larmour (parents of Dr. David Larmour, Horn professor). This year awardees were announced on May 4, 2016.
Greek
First place: Hali Johnson
Second Place: Brett Stine
Latin
First Place: Grace Self
Second Place: Jackson Vaughn
The TTU French Club met throughout the semester on Tuesdays in FL 121 where students gathered to play games, engage in French conversation with students of all levels.
Loup-Garou is among one of the favorite board games students enjoy playing in French. Once again, students had the opportunity to play this all-time favorite during French Club's meeting on February 23.
Crêpes Workshop
In celebration of la Chandeleur (French Crêpe Day), around 40 students attended the first French Club meeting of the semester on February 2nd to learn the art of making French crêpes. Students gathered around various stations to mix, flip, fill, and savor fresh homemade crêpes while learning the meaning of la Chandeleur.
French Mardi Gras
A celebration of French Mardi Gras drew students to FL 121 on February 9th for conversation, games and traditional French pastries: crêpes, madeleines, and beignets.
Slam Poetry Workshops
The first French Slam Poetry workshop which provided an initiation to Slam was held on February 16th. Due to its immense success, a second workshop was presented on March 2. The theme of this workshop was Success/Failure with a motto, "There is no success like failure". Students were invited to practice their French through writing and speaking in a fun light-hearted way. This workshop served as a prelude to the CMLL Conference "La Representation du Loser".
On March 8th , the French Club prepared "un petit bac", a group of exams sat by French teenagers when they are 18 and as such, could be said to be roughly the equivalent to a high school US diploma for the members. A French student cannot graduate from high school without passing these exams so members of the French Club had the opportunity to experience a taste of what French students must complete.
The French Club presented, "Soirée Open Mic" on May 2 at J&B Coffee. As part of the last meeting of the semester, all language levels of students discovered some words and expressions from different French and Francophone regions based on the theme, "Dix-moi dix mots"(2016), sponsored by the service of Cultural Affairs of the French Ministry.
French Club Officers Elected
During the French Club meeting on April 12th, new officers were elected for the Academic Year 2016-2017:
President - Elizabeth Hammond
Vice President – Daniel Bass
Secretary - Raphinos Uragu
Treasurer – Jerry Cuellar
Pi Delta Phi
On Friday, April 15, the Beta Xi Chapter of Pi Delta Phi held its annual initiation ceremony in Qualia Room of the Foreign Languages Building. This year marks the 60th year of the Beta Xi chapter. The Ceremony was led by the executive board, consisting of Emilie Mathis (President), Gauthier Petit (Vice President) and Melissa Shadix (Secretary). Newly inducted into Pi Delta Phi were CMLL French graduate students Marine Roussat and Aleksandra Aleksic, and undergraduates Brigitte Marie Buckel, Holly Bennett, Melissa Pavelka, Raven LaFave, Josh Parsont, Megan Dillon and Chase Callaway.
Front Row (from left to right): Beta Xi Chapter Executive board: Emilie Mathis, Gauthier Petit, and Melissa Shadix. Back Row: New Inductees, 2016
Graduating Members of Pi Delta Phi were recognized at the ceremony, and were presented with an honor cord by Dr. Christopher Bains.
Chase Callaway
Victoria Howard
Lacye Levine
Daniela Macias
Emilie Mathis
Melissa Pavelka
Gautier Peiti
Melissa Shadix
Marina Sol-Diangui
Emeline Tetevuide
Dr. Carole Edwards awarded the 2016-17 scholarships in French.
French Scholarship Awards Academic Year 2016-2017
French scholarship and fellowship recipients, 2016
Wendell McClendon Scholarship Recipients:
Anastasia Kenessey
Patricia Gilmer
Maria Sanabria
Beatrice Alexander Scholarship, made possible through the generosity of Mr. Larry Gill and Mrs. Mary Gill, Recipients:
Aleksandra Aleksic
Elizabeth Hammond
Dorellyn Jackson
Daniela Macias
Marine Roussat
Emeline Tetevuide
Tessa Vaughan
Beatrice Alexander Fellowship, made possible through the generosity of Mr. Larry Gill and Mrs. Mary Gill, Recipient:
2016-2017 Pi Delta Phi Election of Executive Board
Following the induction ceremony, elections were conducted for the executive board for the 2016-2017 academic year. Members present voted by secret ballot, which were then counted.
President - Marine Roussat
Vice-President - Holly Bennett
Secretary - Raven LaFave
At the end of the ceremony, Dr. Joe Price reflected on 8 years of service as the Pi Delta Phi faculty advisor and on the contributions and many years of service of his predecessor, Dr. Diane Wood, professor emerita of French. Dr. Price will be replaced as Pi Delta Phi faculty advisor by Dr. Andrea Jonsson, starting fall 2016.
On April 8, the German Club met at the Underwood Center for the Arts to screen F. W. Murnau's 1992 film, "Nosferatu", with a live orchestra accompaniment playing the newly composed original music score by Drs. Christopher Smith and Roger Landes, Texas Tech University. The Landes/Smith Nosferatu score employs orchestral techniques as experimental and avang-garde, in their way, as did Murnaus's film. Adding to the already rich cultural experience, original artwork by Dr. Ghislaine Fremaux, Texas Tech University was featured.
The German Club members attended the Texas Tech University School of Music Opera Theater's performance of Mozart's "The Marriage of Figaro (Le Nozze di Figaro) opera written in 1786 on April 9 in the Texas Tech Allen Theater. The performance was set in the turbulent times of U.S. President J.F. Kennedy but was presented in the original Italian with electronic English subtitles displayed over the stage.
deutschesFrühstück! Taste of Germany Bake Sale
Students had the opportunity to enjoy breakfast treats and coffee during the "Taste of Germany" bake sale on April 12th in the foyer of the Foreign Languages building.
German Club provided weekly gatherings for Kaffeeklatsch and Stammtisch throughout the semester at a local coffee shop and restaurant. Students practiced their skills.
German Club Activities
Beginning in January and continuing throughout the semester, the German Club met each Thursday evening at a local restaurant for Stammtisch where students engaged in German conversations. Kaffeeklatsch also met each Tuesday afternoon at a nearby coffee shop for conversation and games. The opportunity to further develop listening comprehension skills were made possible through screenings of a variety of German films (from zombie to drama) throughout the semester. The German Club concluded the spring semester with the annual German Grill Party at Wagner Park on April 24th.
German Awards
Left to Right: Madeline Joiner, Elaine Tveit, Heather Kneisel, Brittany Herrin, Raenelda Rivera, Shannon McCown, Nigel Noah, Chad Campbell, Kristen Haertline, Camille Kirk, Harrison Hawkins, Braden Russell
Exhibition of Student Group Projects: GERM 2312
On May 9th, students enrolled this semester in Belinda Kleinhans' GERM 2312, Literature of the Holocaust class, presented an exhibition entitled, "Representing the Holocaust in the 21st century: A student project". Students' projects reflected answers to questions: How did the Holocaust happen? Who was victimized? Was there any resistance? How can we represent the Holocaust adequately today, 70 years after Auschwitz?
| | | |
| --- | --- | --- |
| | | |
| I Never Saw a Butterfly Again | Identity Lost | The White Rose |
Ezio Gribaudo's Theaters of Memory
Courtesy of Matteo Imbriani
The Louise Hopkins Underwood Center for the Arts (LHUCA) and the Department of Classical & Modern Languages & Literature's Italian Program at Texas Tech University hosted an exhibition of the works of Italian artist Ezio Gribaudo: Ezio Gribaudo's Theaters of Memory April 1-May 28, 2016.
Photo credit: Mark Umstot
The event was sponsored by The CH Foundation and endorsed by the Consulate General of Italy in Houston, Italy in US, The College of Arts and Sciences, and the Department of Classical and Modern Languages and Literatures at Texas Tech University, in collaboration with the Italian Cultural Institute of Los Angeles. Sponsors for the promotion of the Gribaudo exhibition include The City of Lubbock, as recommended by Civic Lubbock, Inc. and Texas Commission on the Arts.
This exhibition brought together a series of works called Teatri della memoria (Theaters of Memory) that Gribaudo began to develop around 1965 and continues to this day. The exhibition included some earlier works as well as recent paintings to show the continuity in Gribaudo's discourse. Archeology of knowledge and of the human experience are the main themes of Gribaudo's Theaters of Memory. Based on conceptual and chromatic associations, they display a set of images that trigger memory and recollection. In this cluster of works, Gribaudo revisits the mnemonic practices used in the Renaissance and summarizes his artistic research by bringing together the main themes and techniques that have marked his artistic career.
Photo credit: Mark Umstot | Left to right: Honorable Consul General of Italy, Houston Elena Sgarbi; Artist Ezio Gribaudo; Valeria Rumori, Director of the Italian Cultural Institute of Los Angeles; Publisher Paola Gribaudo; Associate Professor of Italian and Curator Victoria Surliuga; Publisher Marta Hallett; Dean Brent Lindquist, College of Arts & Sciences, Texas Tech University
On March 31, Ezio Gribaudo received two prestigious awards: the honorary citizenship of the City of Lubbock during a private preview with opening remarks delivered by the Honorable Consul General of Italy in Houston Elena Sgarbi; the Director of the Italian Cultural Institute of Los Angeles Valeria Rumori; the Dean of Arts and Sciences at Texas Tech University Brent Lindquist; the executive director of LHUCA Jean Caslin; publisher Marta Hallett; art publisher Paola Gribaudo; and Victoria Surliuga, Associate Professor of Italian at Texas Tech University and The IIC (Istituto Italiano di Cultura) Lifetime Achievement Award, that recognizes Italian excellency in the world.
The White Magic of Ezio Gribaudo, a documentary directed by Marco Agostinelli and Andrea Liuzza in 2015, will be screened at the preview event and throughout the exhibition.
Ezio Gribaudo's work is included in the permanent collections of many museums across the world: The Museum of Modern Art in New York (MoMA); the Peggy Guggenheim Collection (Venice, Italy); Ca' Pesaro (Venice, Italy); Musée des Arts Decoratifs (Paris, France); Museum of Imagination (Hudson, NY); Robert McDougall Art Gallery (Christchurch, New Zealand); Museu de Arte Moderna do Rio de Janeiro (Brazil), among others.
Study Abroad Fundraiser
The Italian program hosted a fundraiser on February 29th in order to be able to award scholarships to students studying abroad with the TTU faculty-led Italian study abroad program during Summer 1. The Italian Garden restaurant supported the fundraiser by donating 15% of the proceeds from meals purchased with reference to the program.
The Genki Club met frequently throughout the semester to provide conversation practice, academic support, games, and cultural events in order to enrich the skills of Japanese learners.
February 11: Mythology Day! The agenda covered included a presentation on myths, Japanese vocabulary, small information cards on myths, some animes based on myths.
February 26: Yamashita-sensei guided the group through a competitive anagram game.
The Japanese Club participated in the Language Olympics and provided area high school students the opportunity to learn about Japanese culture and the language program at Texas Tech University.
March 3: Learning through games was the focus of this club meeting. Students engaged in a game of Assassin.
March 25: The club met and looked at Japanese Shrines and Bonsai Trees.
April 8: Board Game Night where students tried their hand at a game called Hanafuda.
April 15: Students drew manga during the club meeting.
May 11: The end of the semester dinner took place at Tokyo Seafood and Steakhouse.
The Taming of the Shrew
Students of Russian profited from a lecture in conjunction with the performance of The Taming of the Shrew performed and broadcast from the Bolshoi Ballet on January 22 and 24. The lecture giving historical information and fun facts about the performance was presented by Elizabeth Johnson, Visiting Assistant Professor TTU School of Theater & Dance. The event was sponsored by the Texas Tech University Institute for the Study of Western Civilization, Fathom Events, By Experience and Pathé Live.
Celebration of the Life of Vladimir Vysotsky
On January 25th, students engaged in an in-depth talk presented by Dr. Anthony Qualin on the life and work of Vladimir Vysotsky during a celebration commemorating his would-be 78th birthday. To complete the birthday celebration, students enjoyed listening to Vysotsky's music while sharing a piece of chocolate cake in honor and memory of Vysotsky.
Pinocchio's Adventures in the Soviet Wonderland
Members of the Russian Club attended a multi-media lecture titled, "Pinocchio's Adventures in the Soviet Wonderland: Contexts and Challenges of Soviet Children's Literature" presented by Dr. Marina Balina (Illinois Wesleyan University) on March 5th in the Qualia Room.
Russian Spring Festivals: Maslenitsa (Cheese Fare Week) and Easter
Cultural experiences are an integral part of language learning for each language program at Texas Tech. The Russian Club hosted an introduction to two culturally rich Russian spring festivals on April 27th. Students and guests experienced first-hand how Maslenitsa and Easter are celebrated through food, local customs and entertainment which reflect not only the arrival of spring but also the Russian spirit.
Russian Awards and End of Year Celebration
Lyudmila Kise
Ten deserving students were inducted into the National Slavic Honor Society Dobro Slovo on May 10th during the Russian Awards and End of Year Celebration. Everyone present gave special thanks to Lyudmila Kise, GPTI for Russian, for her investment in the Russian program and bade farewell to her and to each of the graduating seniors.
2016 Inductees to the National Slavic Honor Society Dobro Slovo
Irina Drigalenko
Alex C. Eddy
Joseph T. Jeffrey
Lennart Manthei
Amos J. Nugent
Jared Opperman
Melissa A. Shadix
Christian C. Thomas
Matthew V. Vloutis
Ezra B. Wood
Emil Zhiltsov
Certificate of Honor for Academic Achievement Recipients
Nicholas Acosto
Jacob Guinan
Matthew Horn
Julia Kemmer
Ashley Edling
Jared Opperman
Melissa Shaddix
Emily Shiemann
Vasilis Vloutis
Certificate of Honor of Academic Achievements for Russian
The XVII Annual Conference on Latin American and Iberian Languages, Literatures, and Cultures, Identidad, Frontera y exilio" took place at Texas Tech University on April 1 & 2. Welcoming remarks given by Erin Collopy, Chair of CMLL and Jorge Zamora, Céfiro's Advisor, Texas Tech University.
Presenters from the Department of Classical & Modern Languages & Literatures:
Michael Martinez, Jr. - "Gonzalo Torrente Ballester and the criterio lingüístico"
María Luz Bateman - "Fronteras de tiempo y espacio: Las voces de los oprimidos en Vidas Secas y Martín Fierro"
Isabel Ojeda - "'Medusa calza stilettos" y "Las medias según San Juan'" & "Elementos femininos e feministas em O Quinze"
Josh de la Rosa-Prada - "Enhancing Sociolinguistic awareness through community engagement the case of Spanish Heritage speakers in West Texas"
Dr. John Beusterien - "The Curious Case of the Armadillo in Early Modern Europe"
Gustavo Costa - "A aceitaçao da religiao do outro em O Guaraní de José de Alencar"
Dora Grisel Aranda - "As Repercussões da Honra Pessoal Masculina em Simão Botelho de Amor de Perdição"
Ricardo Schmidt - "Uma leitura mais profunda de 'A Rosa Caramela'de Mia Couto"
Zach Brandner- "Rigoberta Menchú y la historia de todos los pobres antropólogos extranjeros: Géneros literarios y literatura amerindia"
Magnolia Jurado - "Tres imágenes del mestizo"
Juan Morilla - "Dos perspectivas del mismo conflicto: La guerra del agua de Cochabamba desde lo global y lo local"
Ana Rodríguez Padial, Paola Guerrero y Gema Vela -"Socialization in online communities of practice: Wordreference"
Fabiola Fernández Doig - "Tecnología y cultura. Diseño de un proyecto para la clase de ELE"
Rubén Varona - Presentación de libros
A special Thank You to the TTU Graduate School, TTU Division of Institutional Diversity, Equity & Community Engagement, The TTU Student Government Association, TTU College of Arts & Sciences: Dean Dr. W. Brent Lindquist, Provost Dr. Lawrence Schovanec, and Sponsor Dr. Jorge Zamora.
Spanish Film Festival – March 2016
Five intriguing films were screened during the Spanish Film Festival on March 1, 3, 4,7 & 9 in Human Sciences. This year's selected films included: "I am from Chile" Chile, 2013; "Operation E", Colombia, 2012; "Open Cage", Mexico, 2014; "Mr. Kaplan", Spain, 2014; "The Facilitator", Chile, Ecuador, 2014 These films present powerful themes from immigration, solidarity, finding common ground in a new culture to family issues, adventure, economic collapse, and humanitarian rescue.
Sponsors for the festival included the Spanish Film Club by Pragoa, the Texas Tech Cross-Cultural Academic Advancement Center, the Department of Classical & Modern Languages & Literatures, the College of Arts & Sciences, and Thomas Jay Harris Institute for Hispanic and International Communication.
Baladas da Galicia Imaxinaria
Building bridges across cultures through music was magnificently demonstrated during a concert and conversation with Uxía Senlle & Fran Pérez ("Narf") which took place on March 22 in the International Cultural Center Auditorium. Uxía and Narf ,two of the most influential artists from Galicia (Spain), united for the first time to present a joint musical project that featured poems from writers such as Rosalía de Castro and Federico García Lorca, original compositions, and adaptation of traditional alalás, the oldest and best known form of Galician music. They created their respective repertoires after years of travelling and exchanging experiences with artists from Angola, Brazil, Mozambique, Portugal, Cape Verde, and Guinea-Bissau. Sponsors of the concert included: Texas Tech Office of International Affairs, The College of Arts & Sciences, Department of Classical & Modern Languages & Literatures, the CH Foundation, UCLA, Spain Arts & Culture, Spain/USA/Foundation, and Cultur Activa.
José Revueltas - Remembered 40 Years after His Death
CMLL hosted a brief reflection on the life and work of Mexican writer and critic José Revueltas and the relevance and significance of his work in today's Hispanic cultural and literary movements on April 15th.
Presenters:
Genaro Pérez
George Cole
Jorge Zamora
Rodrigo Pereyra
Second Annual Dead Day Readings
The 2016 CMLL Creative Writing Reading event took place on May 11th in the Qualia Room. Both faculty and students presented a variety of writings with Dr. Genaro J. Pérez as moderator.
Presenters:
Rubén Varona - Short story: "Los restos del Patriarca."
Allison Cattel - Poems: "Von Apfeln und Orangen," "Sprechakte im Künstlichen Raum," and "Tagelied."
Magnolia Jurado—Poem: "Binomio perfecto;" short story: "Fairacres."
Isabel Ojeda—Short poems and short story: "Meduza calsa stilettos."
Thomas Leverett – selected poems from e pluribus haikus, 2016
George Cole—selected poems from Hojas sueltas.
Genaro J. Pérez—selected poems from Ten Lepers and Other Poems and Estelas en la mar.
Susan Larson Presentation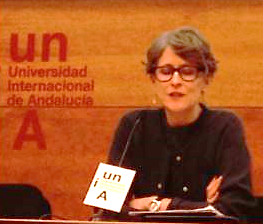 On January 29th, Susan Larson, PhD (University of Kentucky) presented a paper titled, "Towards a Poetics of Space in Hispanic Cultural Studies". Dr. Larson's lecture posed the following questions: Why does space have such a strong appeal right now in Hispanic Cultural Studies? What do metaphors of space contribute to Hispanic Cultural Studies criticism? What does this recourse to spatial metaphors tell us about the types of culture being analyzed? She argued that "space" does a good deal of theoretical work and that there are multiple spatialities at work in the different conceptualizations of culture that make up Hispanic Cultural Studies today.
Spanish & Portuguese Graduation Ceremony
Congratulations to the Class of 2016!
To honor the graduates of Spanish & Portuguese, the Spanish & Portuguese program organized the 2016 graduation ceremony on May 18th. After the opening remarks given by Dr. George Cole, Dr. Erin Collopy, CMLL Chairperson, welcomed the class of 2016. Dr. Juan Muñoz, Senior V. President from Institution Diversity Equity, and Community Engagement and V. Provost for Undergraduate Education & Student Affairs gave the keynote address. Dr. Mark Sheridan, Dean of Graduate Studies and Dr. Brent Lindquist, Dean of Arts & Sciences congratulated these students on their success and future endeavors. Diplomas were granted by Drs. Genaro Perez, Idoia Elola, and Jorge Zamora.
A special thank you to the sponsors: TTU College of Arts & Sciences, the Department of Classical & Modern Languages & Literatures, and the CMLL staff.
The list of graduates is found in the Academic Excellence section of this issue.
Spanish Tutoring in Seville, Spain
Wednesday nights were set aside in Seville for Spanish tutoring sessions to help students keep us with quizzes, tests and projects. A local café provided the perfect ambiance outside the classroom.
Sigma Delta Pi 2016 Anual Conference
Sigma Delta Pi 2016 Anual Conference (National Collegiate Hispanic Honor Society) was held on April 26 in the Education Building. The theme this year was "Spanish: A Bridge to a Global Society".
Classical & Modern Languages & Literatures
Address

CMLL Building, 2906 18th St, Lubbock, TX 79409

Phone

806.742.3145