Study Abroad
Winners of the 2017 CMLL Study Abroad Photo Contest
Maria Najera – 1st Place, Spain, "What Studying Abroad Means to Me"

Plaza de Plaza de España © Maria Najera, 2017
John Marquez – 1st Place, Mexico, "Out and About on Study Abroad"

Two Beautifully Illuminated Churches Showing off at Night in San Miguel de Allende © John Marquez, 2017
Summer 1, 2017, German in Munich, Germany
Dr. Charles Grair directed a study abroad program for thirteen TTU students this summer in Munich, Germany. In addition to immersion-style language courses, the students learned about the history and culture of southern Germany and Austria. They lived with local families which gave them the opportunity to become familiar with an authentic German lifestyle and engage with the local culture in ways that tourists never experience. The students traveled extensively and visited historical sites around Bavaria, including Neuschwanstein castle, the many palaces of the Bavarian dukes and kings, medieval and baroque churches and monasteries, and the beautiful German Alps. A highlight of the program was a weekend in Salzburg, the city of Mozart, which included a classical music concert in the grand hall of the thousand-year-old fortress. By experiencing Europe in such an intensive way, the students gained deep insight into foreign customs, developed a personal understanding of German language and culture, and made memories that will remain with them for a lifetime.
Summer 1, 2017, French in Reims, France
This past June, twenty-three students studied in Reims, France from June 2 to July 2, 2017 under the direction of Dr. Carole Edwards. On top of attending classes, students had the opportunity to learn about Champagne Vineyard tying! They spent a night at the Chateau d'Etoges where they experienced a once-in-a-lifetime seven course culinary experience! All participated in a historical treasure hunt around Reims as they learned about the importance of the city as the capital of a Roman province. Also students had an opportunity to participate in the following workshops: Drama, French songs, French art, and cheese tasting! Dr. Remi Fontanel of the University of Lyon Lumière came to present his work on actor Patrick Dewaere.
Some students enjoyed an optional week-end in Normandy where they toured the Memorial of Caen and D-day beaches. Everyone ended the trip in Paris with visits to numerous museums in the "city of lights".
"During my time here, I had a lot of learning experiences but one of my favorites was Utah Beach in Normandy. I loved learning about World War II and to have the opportunity to be at the place where the end of the war began." – Maria Sanabria, French major
"I loved seeing how dogs are part of French life EVERYWHERE!"- Ayushi Chintakayala
"One of the most impressionable cultural aspects I have encountered while in Reims, France has been the architecture. ... Being in Reims, it has come to mean so much more.... There are stories hidden in the architecture...from buildings that have been around since the fall of the Roman Empire to 16 Century Gothic cathedrals to modern day buildings with a German influence... the city is a mismatched piece of art that flows seamlessly." – Abigail Boudreaux, French major
Summer 2, 2017, Classics in Libarna, Italy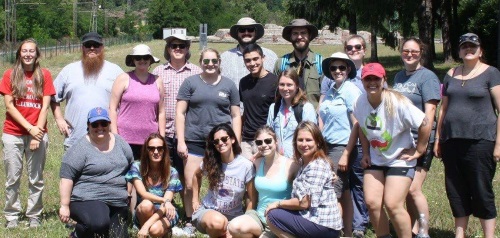 Six undergraduate Texas Tech students joined Dr. Hannah Friedman on an archaeological excavation of Libarna, a Roman town in Northern Italy from July 1-31, 2017. The multi-year project began this year with a geophysical survey of the site. Next year the survey will continue and excavation of a domestic quarter will begin.
Summer 1, 2017, Spanish in Mexico Field Course, San Luis Potosí, Mexico
From June 6 to July 8, 2017, twenty-two Texas Tech students journeyed to San Luis Potosi, Mexico with Drs. Corbett and Zamora where they earned six credits of upper level Spanish.
We are happy to report that the Mexico Field Course provided another successful and enjoyable immersion experience for 22 of our students this past summer. Dr. Zamora and Dr. Corbett, who have served as directors for the past several years, lead the group in their studies of Spanish and a variety of cultural activities in San Luis Potosí, and excursions to other parts of the country. For example, one Sunday we had breakfast in a 400 year old building that was the home of one of the rulers of Mexico and which now is a great restaurant, and then we attended a concert in the Teatro de la Paz, a majestic theater built over a hundred years ago in the European style. We also visited a variety of interesting museums, including the Museo Regional de Arqueología with its impressive collection of artifacts from ancient Indian civilizations that lived in that part of Mexico. One of the highlights of our stay was the 3 day excursion to visit various cities where Mexico's War of Independence from Spain began: Dolores Hidalgo, where Padre Miguel Hidalgo called the people to arms with his "Grito" (which our group, under the direction of Dr. Zamora, reenacted), San Miguel de Allende where Hidalgo was joined by Ignacio Allende and other soldiers who defected from the Spanish army, and finally Guanajuato where the first battle was fought and won by the revolutionaries.
We also enjoyed our excursion to Playa del Carmen where we enjoyed a visit to the ancient Mayan ruins of Chichen Itzá and studying the "beach" culture. Of course, the best part of the students' study abroad experience in Mexico was their homestay with their warm and amiable host families in San Luis Potosí. – Dr. Corbett
Dr. Ladeira and Dr. Corbett, the directors for the MFC 2018, have been actively engaged since August with recruiting students for next summer's program which tentatively will be from May 26th to June 29th.
Faculty-led Study Abroad Programs for Summer 2018
Arabic Language and Culture in Jordan – May 27-July 7, 2018
Students participating in this program will have the unique opportunity to explore the rich culture, history and language of Jordan. Students will enroll in one Arabic language course and one course on Arabic culture. Professor Rula Al-Hmoud will direct the program which includes excursions to markets, religious sites and more as a supplement the language and culture courses.
French in Reims, France - June 1 - July 1, 2018
The Reims-based study abroad program offers TTU students an opportunity to live in a beautiful French university town and take French classes taught by a Texas Tech professor. Students will live in the International Center. The program includes excursions to local and nearby historical and culturally rich places.
German in Munich, Germany – May 27- June 29, 2018
The Munich-based study abroad program offers TTU students the opportunity to immerse themselves in German in one of the most beautiful and culturally-rich German cities. Students will take language and culture courses and will live with families who provide breakfast and dinner.
Spanish in San Luis Potosí, México – May 26-June 29, 2018
Texas Tech and the Spanish program of the Classical and Modern Languages and Literatures department are thrilled to report that we hosted a very successful program during summer 2017 and are excited to offer the program again in summer 2018. This excellent program, which is the longest running study abroad program at Texas Tech University (46 years), provides a fast-paced, well-balanced experience, including total immersion while living with a friendly Mexican host family in San Luis Potosí; Mexican conversation partners provided as a part of the language courses; opportunities to attend theater, movies, concerts, and sport events; visits and stays at historical and archaeological sites in Guanajuato, San Miguel de Allende, Playa del Carmen, and the pyramids of Chichen Itza; and six hours of upper-level Spanish towards a minor or major.
Spanish in Seville, Spain TTU Center – May 19-June 25, 2018 & June 21 – July 29, 2018
This program offers a unique opportunity for students to live, learn, travel and enjoy the life, culture and Spanish language while they earn 6 hours of credit. The program is directed and courses taught by TTU Spanish faculty. Additional support is furnished by the TTU Center staff. Living with a host family, excursions to nearby sites are included in this full immersion setting.
Study Abroad Fair
The Texas Tech Study Abroad Office organized the annual Study Abroad Fair on October 4 in the SUB Ballroom. Students had the opportunity to engage in conversations with representatives from the vast number of affiliated programs and internships available. In addition, students learned of the growing number of TTU faculty-led programs, including the fabulous programs offered through the department CMLL.
Classical & Modern Languages & Literatures
Address

CMLL Building, 2906 18th St, Lubbock, TX 79409

Phone

806.742.3145