Recent Events
AL & ESL | Arabic | ASL | Chinese | Classics | French | German | Russian | Spanish
CMLL
Totally Surprised!
CMLL faculty and staff celebrated Dr. Erin Collopy's tenure as CMLL Chair at a surprise party on Wednesday, May 9th in her own home. Beyond surprise, she was deeply touched by the expressions of appreciation shown to her. Everyone present enjoyed a tasty potluck meal.
CMLL Study Abroad Fair
The Qualia Room was transformed into a festive global community during the first CMLL Study Abroad Fair on January 26th from 9 am – 3 pm in the Qualia Room. Beautiful tables adorned with cultural décor and music of the world filled the room with a sense of awe and adventure. Faculty and participants of faculty-led programs from CMLL, History and Global Studies along with representatives from the TTU Study Abroad Office and the Career Center provided program information to interested students. Presentations on personal experiences from former students and dance and music performances intensified this sense of adventure and desire to discover the world through travel and learning abroad.
Congratulations to Thomas Greer, grand prize winner of the 2 piece luggage set. Greer is a Senior Geosciences major studying Portuguese and studied abroad in Brazil. Approximately 300 student entered to win the grand prize as part of the CMLL Study Abroad Fair.
The Geocritical Moment with Dr. Robert T. Tally, Jr.
The departments of CMLL, History, English and Philosophy sponsored a lecture by Dr. Robert T. Tally, Jr. (Texas State University professor of English) titled, "The Geocritical Moment" on February 8, 2018 in the SUB Red Raider Lounge. Dr. Tally, Jr. discussed the significance of geocriticism at the present time, looking back at its critical precursors and forward to potential directions that geocritical research might take in the future. Tally argued that the geocritics emphasis on space, place, and mapping makes possible new ways of reading that are particularly timely and productive.
24th Annual Charles L Wood Agricultural History Lecture: From One Dust Bowl to the Other
Marc Elie (Centre d'études des mondes russe, caucasien et centre-européen, Paris, France) presented a lecture entitled, From One Dust Bowl to the Other for the Charles L. Wood Agricultural History Lecture on February 16, 2018. The lecture took place in the SUB Escondido Theater with a reception prior to it. The event was sponsored by the Texas Tech History Department, College of Agricultural Sciences and Natural Resources Southwest Collection/Special Collections Library, History Graduate Student Organization, Classical and Modern Languages and Literatures Department, Geosciences Department and the Honors College Humanities Center.
Identity and Resistance in Global Contexts Symposium
Undergraduate students were called to participate in the Identity & Resistance in Global Contexts Symposium on April 20-21, 2018. The symposium provided an intellectual forum to discuss issues of identity, conflict and resistance in the United States and around the world. It serves as a venue for student and professors to share theoretical and practical approaches from multiple perspectives.
Webinar: The Language Flagship
On January 25, The Language Flagship (Creating Global Professionals) hosted a webinar in the CMLL Qualia Room. Karen Evans-Romaine (University of Wisconsin-Madison) presented, "Applying Flagship Practices to Enhance Language Learning". The Language Flagship is an initiative to change the way Americans learn languages through a groundbreaking approach to language education. Evans-Romaine described the main features of the Russian Flagship Program at the university of Wisconsin-Madison and talked about ways in which aspects of Flagship programs can be implemented in other programs.
Lecture on the Hybrid Initiative by Dr. Thomas Garza
Dr. Thomas Garza (UT Austin) presented a lecture entitled, "It's All about Hybrid: Backward Design, Intensive Instruction and Transforming the Language Curriculum" on March 23rd in the CMLL Qualia Room. Dr. Garza is a University Distinguished Teaching Associate Professor, the Director of the Texas Language Center, the Director of the Arabic Flagship Program, and the President of the American Council of Teachers of Russian. He visited during Texas Tech Diversity Week as part of CMLL's initiative to develop all our first-year language courses into hybrid courses.
CMLL Showcases Languages and Cultures during Diversity Week 2018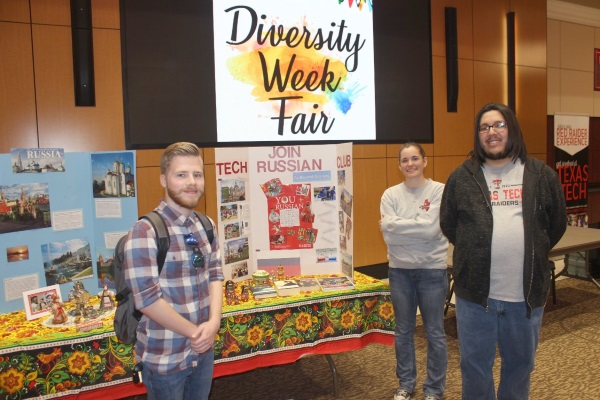 Faculty, staff, and students in CMLL took the initiative during Diversity Week 2018 to showcase what our department has to offer students at Texas Tech: A greater understanding of human diversity through the study of languages and cultures.
For instance, Dr. Belinda Kleinhans and Dr. Yanlin Wang opened their classrooms to visitors interested in learning about mechanisms of prejudice and persecution during the Third Reich and Chinese family culture, respectively. Dr. Alec Cattell hosted a film screening and discussion of Houchang Allahyari and Tom-Dariusch Allahyari's 1999 film "Born in Absurdistan."
Several CMLL student organizations participated in the Diversity Resource Fair in the SUB in order to reach a broader student audience about how CMLL's academic and extracurricular offerings can enrich undergraduate education at Tech.
Finally, CMLL welcomed faculty and students from the Department of Theatre and Dance onto the Qualia Stage for a dynamic, entertaining, and thought-provoking stage reading of Taylor Mac's play "Hir," which the New York Times included on its Top Ten Best Theater of 2015 List.
All in all, it was a week full of outreach activities focused on the celebration of human diversity through the study of languages and cultures!
Several CMLL professors opened their classrooms to visitors. On March 19, Dr. Kleinhans opened her classroom, GERM 2312 Literature of the Holocaust, to visitors for a lecture entitled, "The Banality of Evil" where they about how and why ordinary people participated in the oppression and persecution of diverse groups during the Third Reich. Dr. Alec Cattell organized a film screening and discussion on "Born in Absurdistan". Chinese 2302 opened their classroom to visitors for student presentations on Chinese culture topics: Opium Wars and Chinese Food and Snacks. Chinese 4300 Chinese Families opened the classroom to visitors to watch students' video clips (oral speaking projects). The theme of the presentations was Chinese family education and the concept of Chinese tiger moms and dads. A staged reading of "HIR", by Taylor Mac took place in the Qualia Room on March 22nd, and a fajita cookout on March 21st hosted by the Hispanic Student Society.
Teaching Culture in the Language Classroom Workshop
| | | | |
| --- | --- | --- | --- |
| | | | |
| Irina Drigalenko | Sylvia Flores | Marlene Selker | William Tortorelli |
A hands-on workshop to learn about and share techniques for teaching culture in the language classroom took place on March 8, 2018 in the Qualia Room. Participants gleaned techniques from experienced language panelists: Irina Drigalenko (Russian), Sylvia Flores (Spanish), Marlene Selker (German) and William Tortorelli (Classics).The workshop was facilitated by Alec Cattel, Avizia Long, and David Villarreal.
Caliche 2018 Conference
The 7th Annual Applied Linguistics and Second Language Conference on Learning and Teaching
This one-day conference was organized by the Applied Linguistics and Second Language Studies program of the Texas Tech Department of Classical & Modern Languages and Literatures on April 6, 2018. This year the theme was CALICHE: Language at Play on the South Plains. Aron Braver, Ph.D. (Texas Tech Department of English) gave the keynote speech entitled, "Gesturing Avatars in Computer-mediated Learning of Vowel Length contrasts". Josh Prada, Spanish ABD, gave the plenary speech entitled, "Educational Identity to Identity Education: Engaging the Bilingual Experience through Pedagogical Praxis". For the list of CMLL presenters go to the Academic Excellence section.
Language & Culture Conversation Groups
International, domestic students and the Lubbock community participated in the weekly Language & Culture Conversation Groups hosted by CMLL ESL faculty and graduate students. On Mondays, the Student Life Group met in the TTU Library to discuss topics relevant to integration into the Lubbock and TTU student body communities. Wednesdays were dedicated to Media and Culture with meetings being held in the TTU Library. Fridays afternoons provided a light hearted end to the week with Games and Gab held in CMLL 116.
Three Minute Thesis Mini-Conference
A mini-conference featuring thesis and dissertation research conducted by the graduate students in Dr. Olga Pahom's ESL 5317: Theses and Dissertations was organized on May 3 and on May 8, 2018 in the CMLL Qualia Room. All presentations followed the Three Minute Thesis format which involves describing the thesis or dissertation in an engaging way to a non-expert audience in three minutes or less using one static PowePoint slide. Presentations were followed by a brief Q&A.
Graduate students from several different academic domains among whom were several CMLL graduate students.
Fatimah Hamzi, "Arabic language learners' perception of the effect of direct and indirect corrective feedback in second language writing"
Marthevienty Soumokil, "Corrective feedback and its effects on students' prominence and intonation in correlation with their nonverbal features and gestures"
Matthew Horn, "On the acquisition time of second-language stress patterns by adult native English speakers"
Hisatoshi Fujino, "The relationship between foreign accents and music skills: A study on Mandarin ESL speakers using the profile of music perception skills"\
2018 Officers
President: Taha Taha
Vice President: Jeanette Magallanes
Historian: Kazim Mir
Secretary: Andrew Morales
Treasurer: Hannah Mayahi
Student Organization Representative: Jordan Stice
Social Chair: Shaima Aljawfi
CMLL Study Abroad Fair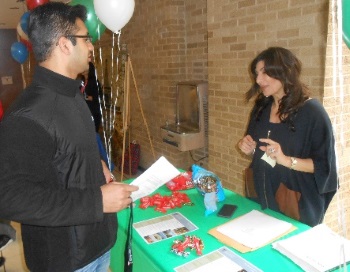 Interested students in and learners of Arabic gathered information on the upcoming 2018 faculty-led study abroad program to Jordan under the direction of Instructor Rula Al-Hmoud at the CMLL Study Abroad Fair. For details, go to the Study Abroad section of the newsletter.
Raider Color Run
The Raider Color Run was run by the American campus communities and was a free race with free food and prizes held at Buddy Holly Recreational area. The first male and female to finish the race each got $100 and the group with the largest attendance got $2500. Before and throughout the race, powder paint was thrown over everyone making a very colorful run. Members of the Arabic Language Student Association participated in this year's event.
2018 Worldwide Showcase
The Arabic Language Student Organization gave a great performance at the 2018 Worldwide Show Case, "A Common Thread", on April 21 at the City Bank Auditorium. The event was presented by the International Student Council during which International students shared aspects of their culture with the Texas Tech community. Student groups from around the world, danced and sang in this event as part of International Week at Texas Tech University.
Intramural Volleyball Team
Wreck 'em Arabic Language Student Organization! The Arabic Language Student Organization competed against other TTU student organizations in TTU intramural volleyball this spring.
Ramadan lftar Potluck
The Arabic Club members were invited to a potluck hosted by Arabs without Borders and the Muslim Student Association as part of a celebration of Ramadan lftar on May 17 at Christ in Action.
Silent Raiders held a Silent Dinner on February 22 at a local eatery. The dinners provide a positive learning environment where students can practice their language skills.
2018-2019 Chinese Language and Culture Association Officers
Selma Lara – President
Lindsey Van Horn – Vice President
Ryan Tse – Secretary
Don Cornito – Treasurer
Nicole Agu – Historian/Webmaster
CMLL Study Abroad Fair
The Chinese Program engaged students with the opportunities available to study abroad in China. Dr. Yanlin Wang has collaborated with established programs in China to provide rich cultural and language programs with funding opportunities.
Chinese New Year Celebration – Year of the Dog
On Friday, February 16th, the Chinese program celebrated Chinese New Year during classes and the Chinese club. Traditional New Year costumes were worn and traditional snacks were served. To continue the celebration, the Chinese Language & Culture Association organized a Chinese Lunar New Year Potluck Party on February 23rd with more than fifty students in attendance and with special guests from the K-Pop Club (Korean Pop musical), the Genki Club (Japanese Club and the Filipino Student Association and students and faculty associated with the Department of Classical & Modern Languages & Literatures.
Diversity Week
Chinese language courses opened their doors to student visitors on March 19 and 23 during diversity week. Chinese students in CHIN 2302 presented culture presentations on Opium Wars, Chinese Food and Snacks. CHIN 4300 students made video clips which were played in the classroom followed by a discussion on the theme of Chinese family, with an emphasis on education and Chinese tiger mom and dad. Students in CHIN 1502 demonstrated how to describe weather and seasons in Chinese as part of communicative activities used to teach language classes.
Ancient Greek and Chinese Poetry Lecture
Interested learners of Chinese had the opportunity to learn how Chinese poetry helps us to understand the Greeks better at a lecture hosted by the Institute for the Study of Western Civilization on March 22nd, with special guest speaker Alexander Beecrof (Jessie Chapman Alcorn Memorial Professor of Foreign Languages at the University of South Carolina). In his lecture entitled "Ancient Greek and Chinese Poetry," Professor Beecroft discussed the questions: how does Chinese poetry help us to understand the Greeks better, and vice versa? By looking at the forms, themes, and interpretation of the earliest Chinese poems, ideas were presented on how to analyze Greek poetry and archaic lyric.
Chinese Lantern Festival
Classes CHIN 4300 and CHIN 2302 brought culture to the classroom. Students played the traditional celebration game of Chinese Character Riddles to celebrate Chinese Lantern Festival on March 2, 2018, which is the last day of Chinese Spring Festival.
Chinese Character & Culinary Contest
Approximately 30 students from three levels Chinese classes attended the 2018 Chinese Characters & Culinary Contests on March 30th in the Qualia Room. This contest provided an opportunity for Mandarin Chinese learners to better understand Chinese writing system, calligraphy, and Chinese cuisine. It also stimulated learners' enthusiasm and interests in learning Chinese language.
Classic Society Events
Classics Society held movie nights throughout the semester beginning on February 27 with three short episodes of the television series, "Plebs" and ending with "Gladiator" on April 5, 2018.
Black History Month and Women's History Month Celebration
As part of the Division of Diversity, Equity & Inclusion's celebration of Black History Month (February) and Women's History Month (March), Dr. Sydnor Roy presented on "Medea as a Model for Resistance to Slavery: Euripides, Toni Morrison and N.K. Jemison" on March 8 for a thought-provoking presentation.
Guest Lectures
Professor Ellen Green (University of Oklahoma) gave a lecture to students in the Honors World of Greece class and opened it up to all students in Classics on March 8, 2018.
Dr. Jacob Morton (University of Pennsylvania and VAP Swarthmore College) presented a fascinating lecture entitled, "Practicalities of Ancient Greek Sacrifice" on March 28, 2018.
Dr. Joseph Farrell (University of Pennsylvania) presented a talk entitled, The Classical Period: Practical and theoretical reflections" on April 30, 2018. The talk was hosted by the Classics program and the Center for Archaeology and Ancient Studies with support from the TTU Humanities Center and the American Journal of Philology.
AIA Spring 2018 Lectures
Claire Novotny (Assistant Professor of Anthropology, Kenyon College) presented a lecture entitled, "Social Identity in the May Hinterlands: Ancient Daily Life Meets Modern Heritage in Aguacate Village, Belize on March 8th.
Jake Morton (Lecturer University of Pennsylvania and VAP Swarthmore College) presented, "Practicalities of Ancient Greek Sacrifice" on March 28, 2018.
John Dobbins (Professor of Roman Art, University of Virginia) gave a lecture entitled, "Advanced Technology Sheds New Light on the House of the Drinking Contest at Antioch" on April 5, 2018.
Classical Society Awards Ceremony - April 30, 2018
The Julian Frederick Suppe Classics Study Abroad Prize: Jared Gaum
This prize of $500 is awarded to a major in Classics who is going on an approved Study Abroad program as determined by the Classics Faculty.
Classical Association of Middle West and South Student Award: Jared Gaum
Howard & Fotini Perlmutter Classics Scholarship: Chloe Lowetz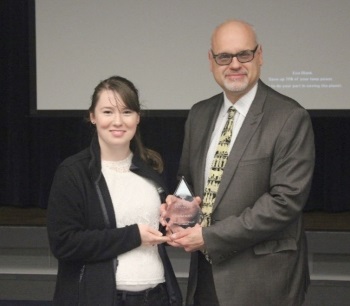 This endowed scholarship is awarded in memory of Dr. Howard Perlmutter and in honor of Dr. Fotini Perlmutter, to be designated for an undergraduate student majoring in Classics. The prize is awarded to the student with the best essay or project on Ancient Greek or Roman Civilization as selected by the Classics faculty.
The Leonid A. Jirgensons Scholarship in Latin: Chole Lowetz
This scholarship is awarded to a student pursuing a major in Classics with advanced Latin or teaching certification in Latin. Applicants must have a minimum of 3.0 GPA, and participate in Classics programs and activities sponsored by the department.
Society for Classical Studies Student Awards: Brett Stine and Brittney Proffitt
Special Commendation: Cait Mongrain
Cait Mongrain received a special commendation award from David Larmour, Horn Professor, for her exemplary work as AJP Editorial Assistant over the past 4 years in the presence of Professor Joseph Farrell who will succeed Larmour as Editor at the end of 2019.
CMLL Poetry Reading
On Thursday, April 19th, the Tech Classical Society hosted a poetry reading for CMLL. Students and faculty gathered for pizza and listened to each other recite poetry in Italian, Latin, Greek, Russian, and German. Readers included Dr. Surliuga, Professor Drigalenko, Dr. Tortorelli, Dr. Roy, Dr. Bishop, MA students Matthew Horn (Russian), Jackson Vaughn (Classics), and Brett Stine (Classics), and undergraduate students in Intermediate Greek and Intermediate Latin. We all agreed that the tradition should continue!
Classics End of Year Party
Classics faculty, graduate students, majors and minors, and lovers of Classics enjoyed an end of year party on May 5th at the home of Drs. Roy and Tortorelli. Everyone celebrated a great year with food and good cheer and bid farewell to the graduating students.
The French Club organized a semester full of fun ways to practice French and to increase their cultural astuteness! Game, movie and discussion nights were held several times throughout the semester in CMLL and at J&B Coffee.
Special events included a celebration of Mardi Gras which took place on February 15th.
The Texas Tech Institute for the Study of Western Civilization hosted a showing of Jules Massenet's Cendrillon performed by the Metropolitan Opera at a local movie theater on February 27th which drew out a few club members. Prior to the showing, students attended a pre-concert lecture given by Professor Stacey Jocoy (Texas Tech School of Music). On March 29, the club held a Fundraiser at Pita Pit, a local restaurant who generously donated 15% of every purchase that day back to the French Club. Ushering in spring, the members of the French Club packed picnics and headed to the park for Park Day on April 12! To end the semester with a favorite French delight, members gathered in the lower floor of the CMLL building on May 3rd for a lesson on crêpe making! No one had to teach them how to be enjoyed!
CMLL Study Abroad Fair
The French program heightened awareness to the faculty-led study abroad program in Reims, France under the direction of Dr. Carole Edwards in summer 2018 at table at the CMLL Study Abroad Fair.
2018 French Majors and Minors Essay Contest
The French section of CMLL awarded the Alexander-Conway Scholarships to two winners of the first short essay contest. Current French majors and minors, double majors, dual majors were encouraged to enter by submitting an essay between 400-600 words responding to the questions: "Why French?" This broad prompt was intentionally chosen to encourage creative explanations of why students chose to study French and what their French studies mean to them.
$350 First prize: French major, Abigail Boudreaux
$150 Second prize: French minor, Rachel Bleier
Pi Delta Phi Induction Ceremony
The Pi Delta Phi (French Honor Society) induction ceremony took place on May 3rd in the CMLL Qualia Room.
New Inductees
Morgan Ferrell
Patricia Gilmer
Victoria Blackmon
Maria Chavez
Yzabel Vazquez
Anastasia Kenessey
Laura Leigh Oualline
Kate Morales
Noémie Hamaide
Megan Yandell
Kailey Corpman
Abigail Boudreaux
Directly after the conclusion of ceremony, the election of Pi Delta Phi officers for 2018-2019 took place. The presiding officers did an outstanding service to Pi Delta Phi during the 2017-2018 Academic Year.
President: Noemie Hamaide
Vice-President: Megan Yandel
Secretary-Treasurer: Alex Smith
Faculty Advisor: Dr. Andrea Jonsson
French Club Officers 2018-2019
President: Jacob Gilmore
Treasurer: John Bishop
Student Council Representative: Megan Yandel
Beginning January 25th and continuing through May 3rd, members of the German Club gathered at Fuzzy's Taco Shop for Stammtisch. On January 26th, the German Club resumed Kaffeeklatsch on Friday afternoons through May 4th with a change in venue to the Barnes & Noble at Texas Tech.
CMLL Study Abroad Fair
The German program will lead a faculty-led study abroad program in Summer 1 in Munich, Germany under the direction of Dr. Belinda Kleinhans who was present to showcase the program during the CMLL Study Abroad Fair on January 26, 2018.
Opportunities in German afforded students practice in comprehension beginning with the film, Die Welle at the Alamo Draft House on March 28th. Other German films were screened throughout the semester in the Qualia Room during German Club. The weekend of March 30-31, learners of German were invited to the SUB Allen Theater to watch the famous German Opera, Hansel and Gretel.
German Breakfast
Friday, February 16th was a tasty day in the main lobby of CMLL with the German bake sale from 9-11 a.m. The proceeds help fund the German Club activities each semester.
Tag der Erde Piknik
The spring picnic for the German Club was held in Wagner Park on April 22nd.
Lubbock High School Visit
Twenty-five learners of all levels of German from Lubbock High School spent the afternoon learning about the TTU German program. Dr. Grair welcomed the students and shared information on the benefits of learning foreign languages and the variety of languages offered at Texas Tech.
Following an insightful mini lecture, students were divided into five teams and competed for prizes by correctly answering questions relating to culture, language, geography, monuments and flags.
The afternoon continued with participation in a German class led by Dr. Selker and learning about the study abroad opportunities they will have at Texas Tech from Dr. Grair. The afternoon concluded with the testimonies of four Arts & Sciences ambassadors who shared about themselves and their experiences studying abroad and learning foreign language. Dr. Borst and Jackie Manz delighted students with German chocolates, T-shirts, sunglasses and pens.
German Awards Ceremony
Awards for Excellence in German
First-Year Awards
Sam Chen
Thomas McCollom
Talisa Desiree Soto
Andrew Howell
Ryne Sepper
Robert Kinslow
Victor DelPrincipe
GPTIs: Dylan Lewis, Sarah Schiffecker, Caludia Schumann,
Instructor and coordinator of lower-division: Marlen Selker (not pictured)
Second-Year Awards
Daniela Barron (not pictured)
Jada Douglas
Bryce Capers
Maegan Hammill
Ben Craddock
Ryan Johnson
Faculty: Anita McChesney, Marlen Selker
Upper-Division Awards
Kristen Haertling
Sarah Constanza
Yana Romo
Pablo Freitas Britto (not pictured)
Hailey Hunt
Kate Rentschler
Faculty: Alec Cattell, Charles Grair, Marlen Selker,
GERM 2312 Holocaust
Jamie Simmons
Faculty: Belinda Kleinhans
German Scholarship Awardees for Study Abroad (Theodor W. Alexander and Qualia)
Kieran Foy
Mallory Hyatt
Emily Peek
Cassandra Poehlein
Blake Herrera
Sara Schiffecker
Dylan Lewis
Claudia Schumann
Vysotsky – Eighty Years!
On January 24, 2018, the eve of Vladimir Vysotsky's 80th birthday, the Russian Club celebrated (1938-1980) his iconic life, charisma, talents and career as a Russian singer-songwriter, poet and actor during a presentation by Dr. Anthony Qualin. Vysotsky had an immense effect on Soviet and Russian culture with his lyrics featuring social and political commentary in often humorous street jargon. Today, his legend lives on through numerous events, television and radio programs dedicated to him and his works throughout Russia and the world. What a great way to begin the spring semester Russian program events!
Valentine's Day was made extra romantic for learners of Russian during the lecture and party on Traditional Russian Wedding Customs by Irina Drigalenko on February 14. History, traditions, and superstition of the Russian wedding were the focus of the lecture with particular emphasis on the wedding traditions whether rooted in antiquity or recently devised, all target good luck for the couple. Making mock proposals brought many students to their knees! Everyone learned to sing, «Миленький ты мой», "Oh My Darling".
Dr. Thomas Garza Lectures
Dr. Thomas Garza, President of the American Council of Teachers of Russian (ACTR), Distinguished Teaching Associate Professor University of Texas, Director of TLC and Arabic Flagship Program, presented two dynamic lectures in the department of Classical & Modern Languages & Literature on March 23, 2018.
The first lecture entitled, "It's All about Hybrid: Backward Design, Intensive Instruction, and Transforming the Language Curriculum" targeted CMLL faculty. He emphasized creating hybrid language programs with flip classroom teaching.
Garza presented a second lecture entitled, "What's Putin got to do with it? Contemporary Russian politics, or Putin's 'Trump' card" to a packed house of Russian learners.
Volunteers for Tech to Town

Photo: Kaydee Jean, Russian Club Secretary
The Tech Russian Club volunteered their time in "Tech to Town" a campus-wide day of service for Red Raiders to come together and give back to the Lubbock community and say 'Thank you' on Saturday, April 7th. Club members braved the cold and mucky banks around Dunbar Lake to collect unwanted trash.
Russian Awards and Induction Ceremony
The Russian program ended the semester with a banquet on May 4th during which students enjoyed authentic Russian dishes and showed off their acting talent by participating in the friendly competition acting out popular folk tale, "Goose-Swans" and singing along with many Russian songs.
Kadee Jean, Benjamin Craddock and Brandon Kelly were inducted into the National Slavic Honor Society, Dobro Slovo.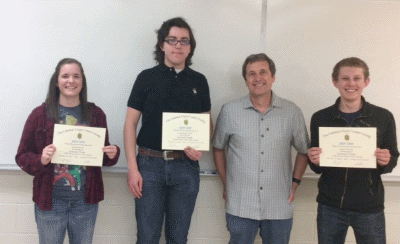 (left to right) Kaydee Jean, Ben Craddock, Dr. Qualin, Brandon Kelly

(left to right) Nikolay Kuzminas, Natalie Rosales, Matthew Leachman, Saryn Vryj, Kadee Jean, Brandon Kelly.
CMLL Study Abroad Fair
The Spanish program showcased the exciting possibilities to study abroad at the TTU Center in Seville, Spain, Costa Rica, and in Mexico at the CMLL Study Abroad Fair on January 26 in the lower floor of the CMLL building.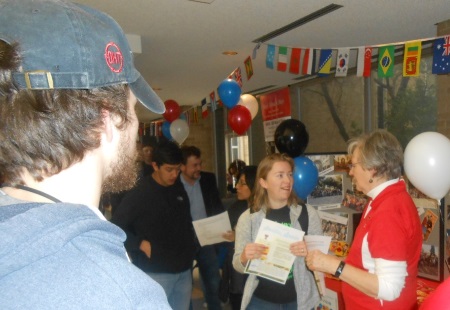 Donna Wright, Lead Study Abroad Advisor in the TTU Study Abroad Office, was on hand with detailed information about the Seville, Spain program.
Céfiro 19th Annual Graduate Student Conference - Alternative Realities in Language and Literature
The Department of Classical & Modern Languages & Literatures Spanish Program hosted the 19th annual Céfiro Conference, Graduate Student Organization, on March 30-31, 2018. Keynote speakers were Professor Ann Abbott (University of Illinois at Urbana-Champaign) and Professor Alexander McNair (Baylor University).
Alternative Realities in Language and Literature framed the use of language as part of our reality and it is always changing from contact with other languages, is being used by different people for different purposes and is being taught in different ways. Underlining the idea that language is the vehicle for literature whereas fiction is considered an "alternative reality", there are many other ways to present variations in the perception and construction of the world we inhabit. Pointing out the era of "fake news" and "alternative truths", provoking questions arose on how we consume information, how we communicate knowledge, and the very basis of what constitutes our beliefs.
The annual conference would not be possible without the generous sponsorship of our friends at Texas Tech University: Student Government Association, Texas Tech Graduate School, Department of Classical & Modern Languages & Literatures, Texas Tech University Division of Diversity, Equity & Inclusion, and College of Arts & Sciences.
Papers were presented in English, Spanish, and Portuguese on topics such as: instability, shifting viewpoints, unconventional forms of knowledge and legitimacy, connections between alternative and real spaces, languages and cultures, languages in contact, languages, Education and Technology, Heritage Languages, Lusophone Language and Literatures. For the list of CMLL presenters go to the Academic Excellence section.
Lecture and Concert by Bieito Romero
The Department of Classical & Modern Languages & Literatures European Studies and Céfiro, the Association of Spanish Graduate Students hosted a lecture and concert by Bieito Romero, leader of the internationally recognized Galician Celtic Group Luar na Lubre on April 21st in the TTU Escondido Theater. The lecture was entitled, "Lunar na Lubre, bridging Celtic and Latin American Music from Galicia" during which Romero talked about the transatlantic musical exchange between Latin America and Galicia due to the massive emigration since the 19th century. He also gave a concert to illustrate his talk using traditional instruments such as the bagpipe and the hurdy-gurdy.
Un Café con Sergio Pitol
On April 25th, Dr. Genaro J. Pérez gave a talk about the life and work of Sergio Pitol (1933-2018) based on his book, Rabelais, Bajtin y formalism en la narrative de Sergio Pitol in memory and honor of Sergio Pitol. Drs. George Cole, Jorge Zamora, Rodrigo Pereyra organized the event at J&B Coffee where attendees remembered the work, influence, and current relevance of this winning Mexican author, among other prizes and distinctions of the 2005 Cervantes Prize.
Digital Stories
The Spanish Program for Heritage Speakers held a viewing of the digital stories developed by TTU Spanish learners on May 4th in the Qualia Room under the direction of Dr. Diego Pascual y Cabo. The highly informative and entertaining stories are personal accounts of their experiences as bilingual, bicultural individuals. Students and faculty were invited to enjoy a snack while viewing the films.
An Invited-talk on Heritage Spanish with Dr. María Carreira
The Office of Diversity, Equity & Inclusion, Dr. Susan Larson, and the Department of Classical & Modern Languages & Literatures supported an invited-talk on Heritage Spanish with Dr. María Carreira (California State University, Long Beach) on May 2nd in the CMLL Qualia Room. In her presentation entitled, "The State of Research on L2-heritage learner Interaction: Mixed Results on Mixed Classes", she discussed the "hits" and "misses" of recent research on L2-heritage learner Interaction (Bowles, Adams & Toth, 2014; Henshaw, 2016) with a view towards identifying key ideas and realities that must drive the development of a pedagogy of mixed classes.
Ceremonia de Graduación del Programa de Español & Portugués
The Spanish & Portuguese program commemorated the Class of 2018 at a graduation ceremony on May 18th prior to Texas Tech Graduate School Graduation Commencement. Support for this event came from Texas Tech University Graduate School Division of Diversity, Equity, and Inclusion and. the Department of Classical & Modern Languages & Literatures. Dr. Erin Collopy (Chair of CMLL) welcomed everyone to the ceremony followed with opening remarks by Dr. Jorge Zamora. Dr. Mark Sheridan (Dean of Graduate Studies) gave the Keynote Address.
On behalf of the undergraduate & graduate students, Will Vaudry and Michael Martínez provided testimonials respectively.
Drs. Steve Corbett, Carmen Pereira-Muro and Jorge Zamora granted the diplomas. A reception followed the closing remarks given by Dr. Jorge Zamora.
Classical & Modern Languages & Literatures
Address

CMLL Building, 2906 18th St, Lubbock, TX 79409

Phone

806.742.3145