Study Abroad
Arabic Language and Culture in Jordan – May 27-July 7, 2018
Fifteen Texas Tech students headed to Jordan from May 27 to July 7, 2018 to participate in the first Texas Tech faculty-led study abroad program under the direction of Professor Rula Al-Hmoud. Each participant will have the unique opportunity to explore Jordan's rich culture, history, and language. Students will earn 6 credits at the completion of the program. Planned excursions to religious sites, local markets, guided tours and more provide students with a truly immersion experience.
Summer 1 in Reims, France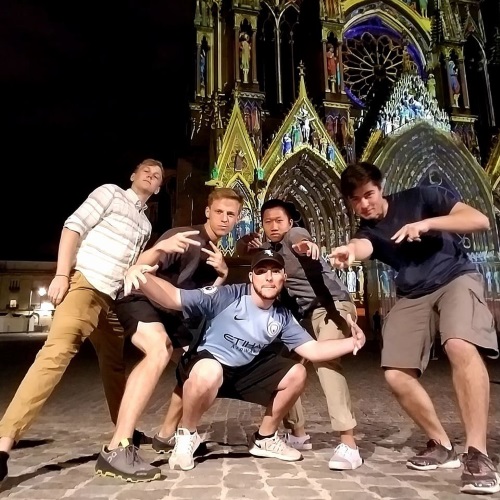 Dr. Carole Edwards and thirteen Texas Tech students will make their way to Reims, France for the faculty-led program from June 1 to July 1, 2018. Students will earn six Texas Tech credit hours at the 2000 or 4000 levels while staying in the International Center in the beautiful French university town. Students will be immersed in culture and language as they participate several excursions in the surrounding area as well as an optional weekend in Normandy.
Munich, Germany
Guns up for ten Texas Tech students will join Dr. Belinda Kleinhans in Munich, Germany for the faculty-led study abroad program from June 5 to July 7, 2018. This program gives student the opportunity to immerse themselves in German in one of the most beautiful and culturally-rich German cities. Taking a German language at Inlingua and a TTU GERM 3306 Contemporary Germany, and living with host families provide a rich immersion experience.
Mexico Field Trip Suspended
The U.S. State Department Travel Advisory issued a travel advisory in January 2018 to reconsider travel to San Luis Potosí, Mexico. Texas Tech University decided to suspend this program for 2018 until further notice. This program, which has been around for over 46 years, provides a fast-paced, well-balanced experience, including total immersion while living with a host family.
Seville Spain Texas Tech Center
Texas Tech University offers a unique opportunity to the eighty-six Texas Tech students who will live, learn, travel and enjoy the life, culture, and Spanish language during the 2018 summer language programs in Seville, Spain. The program is based in the beautiful vibrant city in Andalucia offering many things to see and. Because it is located in southern Spain, Seville provides convenient access for excursions to Granada, Cordoba, Madrid, Toledo and the beaches of the Costa del Sol.
Classical & Modern Languages & Literatures
Address

CMLL Building, 2906 18th St, Lubbock, TX 79409

Phone

806.742.3145