Issue 19
Recruitment & Retention
Raider Welcome CMLL Passport Party 2018
Raider Welcome is a dynamic introduction to the programs and resources offered to new students at the Texas Tech Lubbock campus. As part of the welcome events, CMLL faculty and current students geared up for the second annual Passport Party held on August 22nd in the main lobby of the CMLL building. A tour of the various language programs showcasing their respective programs with information and cultural food tastings earned participants a stamp on their passport. Students with the most language stamps won prizes as well as door prize drawings for all.
Arts & Sciences Day
During week 2 of Raider Welcome, CMLL joined forces with other departments in the College of Arts & Sciences on the south lawn of Holden Hall to promote the vast opportunities available in the college. The smell of grilled burgers drew students to the area where CMLL faculty and advisors were waiting and ready to promote classical and modern languages and literatures information to students interested in learning languages. Students were pleased to discover that the department offers 12 languages and has numerous native speakers teaching them. Students demonstrated their knowledge of Culture, Geography, Monuments and Languages during their turn to spin the wheel and win a prize.
Texas Tech Preview Day
The United Supermarkets Arena was abuzz with thousands of area high school students and parents on October 8th for Texas Tech Preview Day. Students passed from table to table gathering information on the majors and resources offered at Texas Tech University. The Department of Classical & Modern Languages & Literatures' advisors, Carla Burrus and Stephanie Santos provided information on the twelve languages offered in the department, language clubs, study abroad opportunities and the new option of living in a learning community with international students.
Major and Minor Fair
On October 18th, CMLL joined the Office of Transition & Engagement and Texas Tech colleges and departments to showcase majors and minors at the 2018 Majors & Minors Fair. Approximately 1200 students filed through the maze of tables set up in the SUB Ballroom in order to explore majors and minors offered at Texas Tech. Numerous undecided freshmen and upper classmen looking to add a double/dual major or a second minor were able to speak with faculty and advisors. CMLL faculty and advisors highlighted not only the 12 language housed in the department but also the departmental faculty-led study abroad programs. Students enthusiastically engaged in the challenge of and competing for prizes with correct responses to the Spinning Wheel trivia questions. Exhibiting their knowledge of language, culture, geography, flags and monuments associated with the twelve languages taught in the department augmented players quest to learn even more languages and cultures.
TTU Chinese Club - LISD Monterey Chinese Club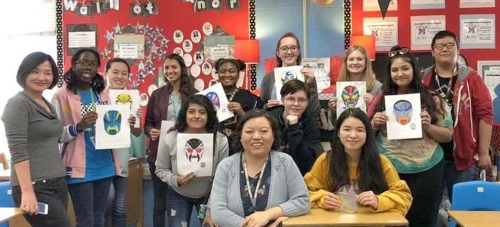 Monica Chen (Math teacher, Monterey High School) co-organized the first meeting of the Chinese Club at Lubbock Monterey High School on October 29, 2018. Dr. Yanlin Wang and graduate part-time instructors, Haying Huang and Kaiying Hsu, organized lessons and activities on Chinese language and introduced Chinese culture including lessons on colors in Chinese and painting Beijing Opera masks.
This meeting is the first of a partnership of the two language clubs working to bring awareness to Chinese language and culture.
Weihnachtsfest
The annual "Weihnachtsfest" community engagement events at the International Cultural Center took take place on the 6th and 7th of December. Weihnachtsfest attracts about 1,000 participants from Lubbock and surrounding communities, according to numbers provided by the ICC.
The German Program is playing a vital role in these events with Dr. Marlen Selker's help in organizing the participation of the German program. German Master's and Bachelor's students.
Classical & Modern Languages & Literatures
Address

CMLL Building, 2906 18th St, Lubbock, TX 79409

Phone

806.742.3145