Research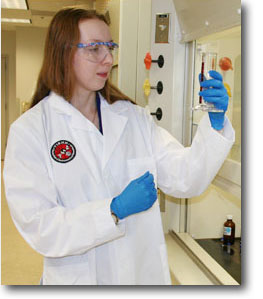 The Office of Research & Innovation (OR&I) serves as a resource to all faculty members and offers guidance at every step of the research process, from finding funding to taking technology to market. The office provides oversight and management of all research functions at Texas Tech except financial post-award assistance, which is managed by Accounting Services.
Office of Research Services
The Office of Research Services (ORS) supports the university's research mission by providing centralized services for submission of proposals, negotiation, and acceptance of grants, contracts, and cooperative agreements for sponsored projects.
ORS responsibilities include:
Institutional review and submission of proposals
Responding to faculty requests for specific information
Assisting with budget preparation and completion of assurances and other forms
Ensuring that agency and university requirements are met
Negotiating the business aspects of grants and contracts on behalf of the university
Reviewing all award documents prior to acceptance by the university
Providing institutional signature and processing all awards for acceptance
Assisting and advising principal investigators, project directors, and project staff
Non-financial post-award assistance
Maintaining files of active proposals and awards
Responding to requests for information or special reports
Maintaining up-to-date reporting system
Office of Research Development & Communications
The Office of Research Development & Communications (ORDC) provides a suite of proposal development resources for faculty including the following:
Managing limited submissions
Identifying funding opportunities
Encouraging engagement in collaborative opportunities
Connecting researchers with tools and resources in the OR&I
Offering early-stage proposal development assistance
Planning strategic resubmissions
Offering topical grants workshops
Staffing grant editors
Assisting with graphic design
Highlighting research at Texas Tech
Export and Security Compliance
Faculty, staff, and students at Texas Tech will likely, at one time or another, intersect with federal regulations that impose access, dissemination, or participation restrictions on the transfer of items and information regulated for reasons of national security, foreign policy, anti-terrorism, or non-proliferation.

The Office of Export and Security Compliance establishes policies for federal laws and regulations governing the export of information, products, and technology. More information on training, situations that fall under export control, and other resources are available on OR&I's website.
Office of Research Commercialization
The Office of Research Commercialization (ORC) helps move research discoveries from the university laboratory to the marketplace.

Steps for commercialization include:
Disclosure – When useful technology is invented, work should be disclosed through the ORC by means of the disclosure portal. Disclosure should occur before the work is published or any other public disclosure of the work has been made. Failure to do so can limit patent rights for the technology. When an invention disclosure is filed with the ORC, inform the office of any public disclosures already made or any that are planned.
Assessment – Once an invention is disclosed, the ORC will schedule a meeting with the inventor to review the disclosure and will create a written technology assessment that reviews the patentability and commercial potential of the invention. The assessment will be shared and discussed with the researcher, and if the assessment is positive, the ORC will initiate intellectual property protection for the technology and develop an appropriate commercialization strategy. The ORC will forward copies of all patent applications drafted to the researcher for review to ensure that all applications are complete and accurate.
Marketing – Depending on the type of technology and its stage of development, ORC may market the technology to existing companies and list the technologies on various websites to identify potential license partners. The office may also work with the inventor and local entrepreneurs to create a start-up company. Either scenario results in a license agreement between the ORC and a business entity.
Terms – The license agreement will include terms and conditions for the use of the technology and commercial development milestones, as well as define the compensation that will be paid to the university. The compensation will be divided into license fees, legal reimbursement, royalty payments on net sales, and possibly equity in the business partner's company. Inventors can assist the ORC in the licensing process by letting the ORC know about new technology enhancements, upcoming publications or public presentations made to industry, and any questions about or interest in the new technology that may be received from industry contacts.

Licensing – After a license agreement is in place, ORC monitors the licensee to ensure full compliance with contract terms and to support their success in the marketplace. The office also receives all license payments and distributes net revenue generated from the license agreement in accord with TTU OP 74.04. Inventors receive forty percent of all net revenue generated from license compensation.
Innovation Hub
The Innovation Hub at Research Park is Texas Tech's center for entrepreneurialism and innovation. The Hub is home to a number of programs and facilities including:
Commercialization Roadmap – A comprehensive document created to support the success of innovators and entrepreneurs at Texas Tech.

Texas Tech Accelerator – Designed to assist faculty, students, and entrepreneurs launch startup companies or discover licensing opportunities based on university technology. Participation in the accelerator is based on an application process and requires the company founders to attend a twelve-week boot camp. Participating companies have access to institutional funding, grants, co-working space, and mentors.
Presidents' Innovative Startup Award – Texas Tech University has partnered with Market Lubbock, Inc. to establish the Presidents' Startup Innovation Award. The objectives of the grant from Market Lubbock include 1) programs for students and entrepreneurs, 2) seed-stage funding for startups, and 3) seed grants for startups to support equipment and rental expense at the Innovation Hub at Research Park (Hub).
Faculty C-startup – A program designed to support Texas Tech faculty interested in creating a culture of innovation and entrepreneurship. The grants are sponsored by Market Lubbock and are competitive. All applicants will be evaluated by a committee of iTTU Mentors, Innovation Hub staff, and Texas Tech faculty. Faculty who are awarded the grants will become "ambassadors" for innovation and entrepreneurship at Texas Tech for the academic year awarded.
Red Raider Startup – A weekend where you and your potential business partners progress through a set of learning modules in a positive environment that includes ideation, team formation, customer discovery, rapid prototyping, and pitch workshops. This program is the best way to get started for first-time entrepreneurs. This program is offered four times per year to students.
Hub Camp – Once you have an idea and you are ready to understand how your idea can make money, Hub Camp is the next step. A clear road map is necessary if you are going to launch your startup. All attendees will be provided with a business plan template and access to our expert mentors.

Hub Camps are divided into two sessions, Hub Camp 1 and Hub Camp 2. You can complete the sessions in any order and as many times as you would like.
University-Recognized Research Centers and Institutes
University-recognized research centers or institutes are organizational units approved by the Vice President for Research & Innovation and the Board of Regents to facilitate activities for faculty, staff, and students.

These centers and institutes provide engagement and outreach beyond what is possible from traditional academic units. Each university-recognized research center or institute should conform to university policies, as well as to state regulations and statutes.

General guidelines for determining whether a unit should be titled a center or an institute are as follows:
Center – Composed of faculty, potential staff, and students who declare a shared technical interest and pursue shared research, instruction, engagement, and/or outreach that involve common activities
Institute – Organization having a particular object or common factor, especially a scientific, educational, or social one, and may be a collection of centers
Formal proposals for establishing university-recognized research centers or institutes should be initiated through OR&I according to OP 74.14. The proposed research center or institute must be clearly aligned with the university strategic plan.

Centers and institutes operating solely within an academic department or college may be established by the respective dean. A comprehensive list of centers and institutes is available. Those spanning colleges are organized by the OR&I with Board of Regents approval and report to the OR&I.
Responsible Research
OR&I is responsible for overseeing responsible conduct of research (RCR), compliance issues, human subjects, animal use, and Environmental Health & Safety.

Training. Texas Tech encourages all faculty, students, and staff to participate in discussions and training about Responsible Conduct of Research. A variety of training opportunities are available to all members of the Texas Tech community. There also are select activities and courses that count toward RCR training requirements. For information or questions, please contact the Office of Responsible Research.

iThenticate Service. To support responsible research practices at Texas Tech, OR&I encourages use of iThenticate software to screen grant proposals and scholarly papers for plagiarism or misuse of text.

Investigator Financial Disclosure. Federal regulations require that Texas Tech have policies and procedures in place to ensure that employees disclose any significant financial interests that may represent an actual or potential conflict of interest in relationship to externally sponsored projects.

All investigators need to annually disclose significant financial interests with Texas Tech. The Investigator Financial Disclosure website provides instructions. For those who have NIH or other PHS grants, Texas Tech follows NIH guidelines for financial disclosure. Annual disclosure is submitted via the secure online questionnaire.

Faculty or other personnel who have applied or plan to apply for NIH or other PHS funding must complete training and disclose business or financial interests before submitting proposals or receiving funds. Texas Tech's Financial Disclosure office offers assistance, information, and training options.

Texas Tech Operating Policy 74.17 outlines the general university regulations and procedures regarding annual disclosure of significant business and financial interests as well as the identification of conflicts or potential conflicts of interest, which serve to protect the credibility and the integrity of the university's faculty and staff, as well as the institution so that public trust and confidence in its sponsored activities are not compromised.

Human Research Protection Program. The Human Research Protection Program (HRPP) is the office that coordinates with the Texas Tech University Institutional Review Board (IRB). All research involving human subjects at Texas Tech must be approved by the IRB. Texas Tech recommends researchers complete human subject training prior to submitting an IRB. The HRPP office maintains all IRB records, provides support through IRB development and submission, offers education programs, coordinates reliance agreements, and monitors post approvals.

Cayuse IRB is the online system Texas Tech researchers use to submit their IRBs. Using branch logic, researchers answer questions related to their study and skip irrelevant ones. It is the mission of the IRB to operate efficiently throughout the review process to support the research efforts of the university.

Animal Care Services. The Animal Care Services (ACS) office is charged with providing for the physical and psychological well-being of animals used in research and teaching. The office also aids investigators in obtaining and properly using animals. Regulations and guidelines as well as protocol forms, annual review forms, and protocol amendment forms can be found on the website.
IACUC – The Institutional Animal Care and Use Committee (IACUC) serves as the review body for animals used by Texas Tech faculty, staff, and students. Texas Tech policy requires that the use of all live vertebrate animals for research, instruction, demonstration, production, or maintenance purposes by faculty, whether the animals are located in facilities at Texas Tech or elsewhere, be approved by the IACUC in advance of their usage.
Animal Use Training – The IACUC requires all individuals that will work with animals through Texas Tech to complete the generic training course. Additionally, all personnel working with animals must enroll in the annual Occupational Health and Safety (OH&S) program. Before any animal work can begin, the training and the OH&S assessment must be confirmed in the IACUC office. At any time, an animal user can be reassessed by the OH&S program. The completed quiz score for the generic training must be submitted to the IACUC. The OH&S assessment must be completed annually. Other trainings that are available are species specific, emergency preparedness, and CITI (Collaborative Institutional Training Initiative). Please contact the IACUC to learn more about these training opportunities.
Laboratory Safety Manual. The university's Laboratory Safety Manual clearly defines roles, responsibilities, and procedures around laboratory, studio, and research safety. All faculty, staff, and students who work with chemicals or other hazards in our laboratories, studios, shops, and other facilities must design a safety plan that addresses the unique hazards in their research space. Additionally, awareness training will be required by your department or supervisor. Please contact Environmental Health & Safety with any questions.
Environmental Health & Safety
Environmental Health & Safety (EHS) is responsible for a variety of safety, health, and environmental issues at Texas Tech. Staff members have been assigned to specific areas to assist faculty, staff, and students. The office also is responsible for hazardous and radioactive waste removal.

EHS has created a variety of online training and laboratory safety materials including a laboratory safety checklist to help researchers and lab managers.

EHS programs:
Environmental Protection
Management of hazardous chemical and biological wastes
Surveillance of campus food facilities, swimming pools, laboratory animal facilities, and underground/aboveground storage tanks
Follow-up of environmental complaints
Coordination of pest control operations
Monitoring of storm water management activities
Safety Concerns and Near-miss system (SCANs)
Reporting of potential safety issues including hazards or incidents that have not yet resulted in personal injury or property damage
Reporting potentially unsafe conditions, unsafe work habits, improper use of equipment, use of malfunctioning equipment, or unexpected reactions
Reporting can be anonymous
Occupational Safety
Monitoring compliance with federal, state, and local safety and health regulations
Surveys that may include, but are not limited to,

Noise
Lighting
Ventilation
Chemical hygiene
Hazard communication
Airborne contaminants
Accident investigation

Training provided in areas such as respiratory protection, hazard communication, and forklift safety
Laboratory & Biological Safety promotes and supports a strong safety culture in Texas Tech laboratories, art studios, and field research sites

Radiation Safety Program

Serves a radiation-use program that is overseen by a Radioactive Materials Broad License issued to the university by the Texas Bureau of Radiation
Consists of researchers using radioisotopes to label amino acids on proteins, nucleic acids, sugars and other molecules, X-ray diffraction machines, and small sealed source
Safety Committees.
Institutional Laboratory Safety Committee – Faculty-led committee charged with improving Texas Tech safety culture in laboratories, art studios, and field research sites
Institutional Biosafety Committee – Faculty-led committee charged with reviewing and approving research conducted with microorganisms pathogenic to humans, plants, or animals
Radiation/Laser Safety Committee

Establishes policies and procedures in accordance with current regulations established by the Texas Bureau of Radiation Control (BRC)
Provides administrative advice regarding radiation and laser safety
Approves all applications, amendments, and sublicense renewals relating to the use of radiation safety
Required Certifications. If a proposal involves human subjects and/or animal use, review and approval by specific university boards is required. Please contact the appropriate office before submitting a grant proposal.
Human subjects – HRPP or the IRB reviews all projects involving human subjects, regardless of funding. Please note that some proposals need IRB approval before submission. If research includes genetic testing or use of the functional magnetic resonance imaging (fMRI) equipment at Texas Tech for body or brain scanning of human subjects, contact the HRPP office.
Animal subjects – The Animal Care and Use Committee reviews and approves any project using animals.
Radiation, lasers, biohazards, or recombinant DNA – EHS assists with these areas and requires authorization from the appropriate campus committee.
The appropriate committee will notify the researcher and ORS of its approval once it has been obtained. As required, ORS will forward this notification to the potential sponsor.
Funding & Awards
External Funding.
Funding Institutional – Provides federal and private opportunities and is recommended as a primary source of finding funding. Texas Tech has a membership to Funding Institutional. For questions regarding this system, contact the ORDC.
Limited Submissions – Many federal, state, and private funding agencies issue requests for proposals that limit the number of applications they will accept from an institution. Texas Tech University has established a process to identify limited submission opportunities and internally select applicants to submit full proposals in response to a particular program.
Key Research Intelligence and Funding Opportunities – Most of the listed funding opportunities are shared with the ORDC by Lewis-Burke Associates, LLC, TTU's federal affairs consulting firm located in Washington D.C., as a way to keep TTU up to date on opportunities relevant to TTU priorities.
Internal Funding. Internal funding resources available to faculty can be found on the OR&I's Faculty Awards page.
Faculty Travel Grants – Assist faculty with costs associated with domestic (up to $1,000) or international (up to $1,500) travel to present at prestigious conferences or conduct on-site research. Applications are accepted each semester for travel the following term.
Proposal Assistance Program – Provides research funding, typically around $4,000, to initiate new lines of research (research seed funding) or resubmission of previously declined proposals (proposal resubmission). Applications accepted once per semester.
Open Access Publication Initiative – Helps defray the cost of open access publication fees and expedite the dissemination of research findings. Awards are first-come, first-serve and limited to $1,000 per publication, per faculty member, per academic year.
Scholarship Catalyst Program – Sponsored by the Office of the President, the Provost, and Research & Innovation to promote research, scholarship, and creative endeavors of faculty in the Arts, Humanities, or Social Sciences.
Application forms and information for the above programs can be found in competition space.

Internal Awards. Internal faculty awards are designed to financially reward the research, scholarship, creative endeavors, and teaching of Texas Tech faculty:
Official Publications
Address

Texas Tech Downtown Center Room 218