Texas Tech Livestock Judging Team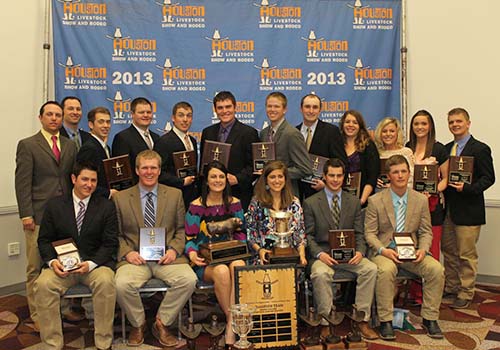 The Livestock Judging Team is comprised of predominantly junior and senior students who are interested in developing their knowledge of the livestock industry. It is open to students of any major. The team competes at national competitions including the National Western, the Southwestern Livestock Exposition, the San Antonio Stock Show & Rodeo, the Houston Livestock Show, the National Barrow Show, the American Royal and the International in Louisville, Ky.
National Championships: 1934, 1953, 1985, 2007, 2008, 2009 and 2011
Contact Information:
Ryan Rathmann, Ph.D.
ryan.rathmann@ttu.edu
(806) 834-7820
Current Team Members:
Caetlyn Avant, a senior from Copeville
Dan Crownover, a senior from Italy
Blake Davis, a senior from Paragould, Ark.
Lane Halfmann, a senior from Garden City
Bo Hutto, a senior from Hondo
Emily Jackson, a senior from Waco
Valerie Manning, a senior from Mabank
Tanner Martin, a senior from Roscoe
Logan Mason, a senior from Lazbuddie
Kaitlyn Meyer, a senior from Temple
Kevin Murnin, a senior from Miles City, Mont.
Stefanie Neuhaus, a senior from Dora, N.M.
Jordan Richburg, a senior from Deltona, Flor.
Nick Riecke, a senior from La Otto, Ind.
Matt Savage, a senior from Seminole
Isaac Wenzel, a senior from Hamilton
The team is coached by Dr. Ryan Rathmann and assisted by graduate student Brady Ragland.