Course Repository
As we transition to a new normal we want to ensure you have all the resources necessary for maximum success. This page will be your central hub for syllabi, class overviews, and any documents that may be helpful throughout the semester.
Watch the Spring 2021 All School Meeting Recording
Architectural Design I
Instructors: Galo Canizares + Anali Gharakhani · ARCH 1301
This course will introduce students to principles and techniques used to design, conceptualize, build, discuss, and organize architecture. Though wide-ranging and subjective in practice, the principles discussed will be framed as the main rules that architecture has followed for a major part of its history and continues to use in the contemporary moment. In other words, though it is understood that at times rules must be broken, this course will focus on the rules themselves so that students will be well-prepared to work both within and outside of them in the future. We will explore what the prevalent rules of the discipline are and how they are used to bring architecture forth into the world.
Architectural Design III + Architectural Representation III
Instructor: Nate Imai · ARCH 2503 + 2101
This studio frames architecture as a medium for engaging and responding to multiple scales of inhabitation. The fragment and the whole are to be understood as equal parts in the architectural proposal and opportunities for design lie within the coordination of systems for occupation. Expected deliverables for the course will include digital drawings, plotted drawings, and physical models.
Tectonics will be the primary lens for developing an understanding of the ways buildings' elements come together in support of a spatial, formal, sequential, and aesthetic agenda. The project will be sited within an urban context – successful building proposals will apply organizational and programmatic principles in the design of a structure responsive to a specific site's physical context and latent atmospheres.
SOCIAL and TECTONIC TRANSPARENCY
LUBBOCK DOWNTOWN Athletic CLUB
Instructor: Dr. Hendrika Buelinckx · ARCH 3601
ARCH 3601_Architecture Design V focuses on developing the ability and understanding of students to design a project in response to programmatic and contextual constraints while maintaining a cohesive design concept and strategy derived from an architectural precedent.
The analysis of an iconic public building of the postmodern era will provide the framework against which to evaluate potential design solutions based on foundational disciplinary ideas, theoretical lines of thought, and mainstream typologies.
INTEGRATE AND SUSTAIN
ARCH 4601 Approach
Architecture 4601 develops a variety of concepts and techniques in sustainable architecture as part of a studio focused on synthesizing contexts, conditions, systems, materials, and users. Students will develop feasible and integrated architectural proposals.
Image: CMS Villaverde Public Healthcare Center
SUSTAIN HEALTH
Instructors: Dr. Julie Zook + Chandler Cooke · ARCH 4601
Your job in this course is to develop techniques in designing a community-based clinic in ways that restore and maintain the health of human and other animals. This approach emphasizes activities located in the professional purview of architects, and the intent is for you to gain conceptual and applied skills that prepare you to contribute to a practice environment in areas of health and more resource-efficient architecture. A multi-scalar approach addresses site, structure, type, the life of the building and its occupants, and integration of building systems and materials.
Image: Sant Pau Hospital Research Institute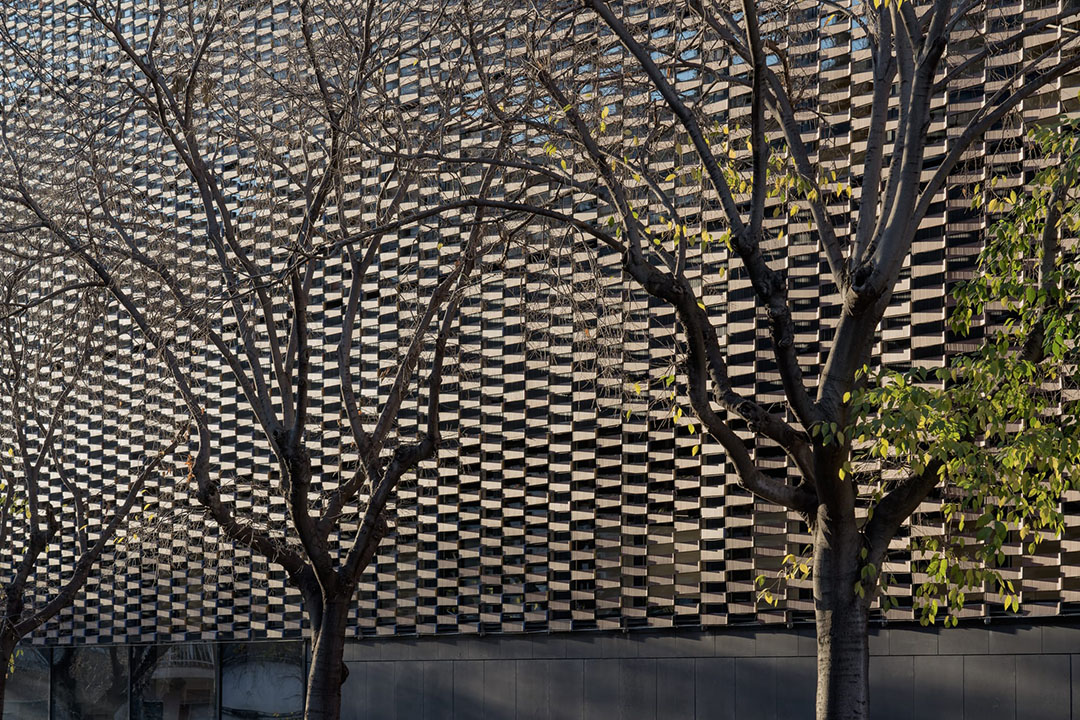 Sekala-Niskala
Instructor: Joe Aranha · ARCH 4601
The studio is based upon the premise that appropriate, culturally expressive and sustainable architecture is derived from an understanding of a range of factors including Local materials, construction processes, safety issues, environmental context, local lifestyle and culture.
Students will explore design proposals for a building that will draw from understanding local and regional building traditions developed over generations, understand use of local materials, regional responses to the environment and will propose design solutions that accommodating contemporary needs related to a given building program.
The project will be located within the unique traditional architectural and cultural context of Tenganan in Bali, Indonesia and will involve a multifunctional community oriented building. Harmony with the natural environment, an important component of traditional Balinese architecture, will be a focus of learning in the studio.
Utopian Vistas for a POST-Texan Township
Instructor: Bryan Buie · ARCH 4601
This studio focuses on developing design proposals that integrate sustainability issues dealing with multi-unit, mid-density residential developments, social and cultural programs - merging ecology and civic spaces as a shared focus for community life, educational experiences, and land stewardship. Building technologies examined aim to identify and formulate a material tectonic responsive to the region's ecology and customary construction practices. In addition, through a series of design exercises utilizing a designated material palette, students will formulate a design language characterizing the cultural identity of the American southwest.
Sustainable Clinic
Instructor: Chandler Cooke · ARCH 4602
This project is a primary care center with telemedicine services, the site features for gathering and activity, and individual- and community-oriented wellness spaces in Lubbock. Sustainability will be pursued through site placement, passive design strategies, structure and systems that are adaptable to change, future use, and other strategies.
Monuments on the Llano Estacado
Instructor: Victoria McReynolds · ARCH 4601
Expanding ethos inherent in our Land Arts program, Monuments on the Llano Estacado, posits architecture as monument to six engines of the South Central Semi-arid "High Plains" Prairie. Students will design a Llano Estacado Observatory, focusing on one essential regional resource: bison, seed, soil, oil, grain and cotton. Thoughtfully re-imagined structures will dial visitors' awareness towards sub-ground, ground, on-ground, and above-ground conditions. Designs will accommodate programs of gathering, gallery, offices, conferencing, and machine space. Caution will be taken to avoid solutions of "the most imposing monuments" as assigned by Reyner Banham in 1982 to the classical grain elevators.
Haptic Retreat – the sense of touch
Instructor: Darrick Wade, AIA · ARCH 4601
Placing the hearing or visually impaired clientele as the primary user group, this studio will design a Lubbock area wellness retreat oriented to the sense of touch.
The design of this building and site will creatively explore the benefits of a haptic architectural environment not only for non-sighted, but also for sighted individuals as well.
Kent Bloomer and Charles Moore explain in their book Body, Memory, and Architecture, "What is missing from our dwellings today are the potential transactions between body, imagination, and environment". Re-establishing these potential transactions is a primary goal of this studio.
CR LAB 'sea lab 2021'
Instructor: Jeremy Wahlberg · ARCH 4601 + 5601
Costa Rica, the winner of the 2019 Champions of the Earth award, is a laboratory and template for conscious, clean, compassionate, successful strategies in sustainability. This immersive and vertically integrated studio combines undergraduate 4th year students and second year graduate students. The inaugural international studio experience between TTU CoA Lubbock and TTU Costa Rica combines excursions to various regions of Costa Rica, workshops and discussions with local experts, designers, and government officials focused on sustainability.
The studio will prompt students to consider the impact of architecture specific to the diverse landscapes of the 'rich coast': forest, city, mountain, volcano, coastline, shoreline, and sea. The studio will utilize the AIA Framework for Design Excellence as a template for ecological, equitable, healthy, intelligent and energy efficient proposals to generate an innovative solution for an environmental research facility as part of the 2022 COTE International Competition.
SCORES OF LIGHT, WATER AND TIME
Instructor: Ángel Martínez · ARCH 4601 (Sevilla)
If there is something that distinguishes us as a species, it is the possibility of drawing backward and forward connections. As Victor Hugo wrote, architecture is the book where it is written the life of humanity. Our architectural discipline learns many questions of nature and history. Understanding our context will allows us to protect it and to maintain it alive. Architecture should be set on traditional roots but incorporate modern values, and it makes sense because is related with progress and the dream of a better world.
This 4th Year Studio stands for a sustainable and reasonable understanding of our constructive task. The Architectural Design Studio in the Study Abroad Program in Sevilla will immerse into a series of topics that currently affect the affairs of the city, from architecture theory, urban planning, and public space to heritage, culture, society, and environment.
Designing Downtown Lubbock for its Next Chapter
Instructor: Erin Hunt · ARCH 5601
This studio will ask its students to design a mid to high-rise building as well as the supporting infrastructure and site landscape, that will add value to downtown Lubbock. Students will determine the size, function, and programs of their mixed-use buildings. They must consider the cultural context and what is needed. These design solutions should be forward-thinking and embrace the latest building technologies to advance structural, formal, and envelope design. The studio will investigate the potentials of more resource and energy-efficient designs promoting dense cities that could reduce sprawl and the current dependence on automobiles, thus reducing carbon emissions.
Mein Haus
Instructor: Ben Shacklette · ARCH 5501
Mein Haus is German for My House, and this project addresses the urgent need to find ways to make the American Dream of home ownership a continuing reality for an increasingly economically stressed and displaced middle class. Students will execute projects which explore land use density methods, mixed use development, efficient housing design, multiple occupancy, self-build, and non-traditional yet innovative approaches aimed at producing market rate affordable living opportunities which respond to local culture, climate, and constructability. Student projects will entail field research, pre-design research and writing, photography and sketching, digital design, and model making. Students will work directly with community stakeholders under the direction of the instructor, and activities will include zoom meetings, on-sire design charrettes, and presentations to the public.
INTEGRATE
Instructor: Mary K. Crites, AIA · ARCH 5501
Have you ever wondered how a great design integrates factors needed to get it built; such as, IBC, NFPA, ComCheck, IECC, GIS, CBD, ZBA, P&Z, TDLR, RAS, RTU's, VAV, and FCU's?
This studio focuses on researching and integrating factors such as life safety, regulatory concerns, and technical systems to turn a design into a buildable project. In addition, you will research professional practice issues such as understanding project budgets, and fees.
Student interaction with code officials, accessibility specialists, and mechanical/structural engineers are planned.
FUTURE FRAMEWORKS/NYC
Instructor: Jeffrey S. Nesbit · ARCH 550X
Infrastructure is political. President Biden's Bipartisan Infrastructure Framework bill seeks to update sustainable transportation, water, and energy infrastructures. At the scale of a region, neighborhood, or block, how can design provide relational urbanism modeling alternatives to redundant and obsolete infrastructure? This semester we will use Inwood, the northmost neighborhood on Manhattan, to explore strategies across its diverse context, including the Harlem River waterfront and MTA rail yard. This studio uses relational infrastructure and urban modeling strategies for increasing public access, providing equitable alternatives, and elevating ecologies for better urban futures.
Four Water Ecologies of Costa Rica
Instructor: Peter Raab · ARCH 5303
Architects play a crucial role in addressing both the causes and effects of climate change through the design of our built environment.
This studio will develop innovative design proposals for an environmental research lab in Costa Rica for the 2022 COTE International Competition.
Each student group will select from the varied bioclimates of Costa Rica – jungle, mountain, beach, sea – and develop site specific, climate adaptive, resilient, and carbon-neutral architectural propositions.
Successful projects will use AIA Framework for Design Excellence as a template for ecological, equitable, healthy, education and energy efficient proposals.
Travel not required. UCD Certificate.
Land Arts of the American West
LAND~SCAPE: operating at the intersection of human construction and the evolving nature of our planet
Instructor: Chris Taylor · ARCH 550X
Land Arts of the American West is a transdisciplinary field program expanding awareness of the intersection of human construction and the evolving nature of our planet. Land art begins with land and extends through complex social and ecological processes that create landscape—including everything from petroglyphs to roads, dwellings, monuments, and traces of actions. We camp for over fifty days and travel nearly 6,000 miles overland throughout the West immersed in the primacy of first-person experience and the realization that human-land relationships are rarely singular. We produce sustained bodies of work from research inquires that are presented on campus for critique and exhibition.