Undergraduate Course Offerings, Spring 2021
If you have any questions, please contact the undergraduate advisor.

Courses from previous semesters are archived here.

Campus Map - the English/Philosophy building is #46, located in D1
Click an Option to Show Courses by Focus
ENGL 2305 Introduction to Poetry
Dr. Jacqueline Kolosov
Mondays, Wednesdays, & Fridays, 12:00 - 12:50 PM
Section 003 CRN: 29331
The aim of this course is to cultivate an appreciation for and ideally a love of lyric poetry. We will begin with the belief that meaning in a poem comes alive in the dialogue between reader and poem. The reading of a poem, then, is a creative act inspired by curiosity and open-mindedness that may be dreamy, playful, even querulous, but is always attentive. The Romanian poet Paul Celan called the poem "a message in a bottle, sent out in the…belief that somewhere it could wash up on land, on heartland perhaps." We will read and enter into dialogue with a wide range of such "messages" in search of "heartlands," along the way familiarizing ourselves with elements of craft that draw us ever more deeply into dialogue with poetry. Implicitly, one will want to develop an ear for the musical possibilities of language the ways sound and rhythm impact a poem's meaning. The entire experience of reading poetry in this class will create an experience that builds momentum through individual and especially through shared inquiry. All this being said, great poems do not give up their secrets easily. Often (thank goodness) they retain their mystery and wonder after multiple re-readings. One of poetry's greatest gifts, then, is that it requires us to cultivate a mindset that embraces or at least accepts uncertainty, ambiguity, and the mysterious. And in the end, is that not what life requires of us—the ability to rest in uncertainties without grasping after easy answers and ready-made truths? In terms of requirements, plan to commit to reading, listening to, and discussing a wide range of poems, along with participating in readings and conversations with poets. Written requirements will involve very brief weekly response essays along with 3 longer essays of some 1200 words each. Our primary guide will likely be Edward Hirsch's How to Read a Poem and Fall in Love with Poetry along with a smorgasbord of poems past and present.
ENGL 2305 Introduction to Poetry
Dr. John Poch
Section D01 (CRN 48154): Mondays, 6:00 - 8:50 PM
Section D02 (CRN 60669): Wednesdays, 6:00 - 8:50 PM
Through experiencing the beauty and complexity of poetry, you will not only better appreciate the world around you, but you will learn to read and write more clearly and succinctly in order to succeed in any field of study. Because poetry is made for the reader's pleasure, we will aim to have a good time. Poetry is more than just words that express feeling and meaning. Poetry is the excellence of language and the pinnacle of the arts. A poem is a language machine. In this class, we will examine the many moving parts of these machines to see how they function to create a multiplicity of meanings. Our reading will consist of primarily American poetry from Emily Dickinson and Walt Whitman to present. There will be a special focus on contemporary poems from the South.
ENGL 2308 Introduction to Non-fiction: Man's Search for Meaning
Dr. Roger McNamara
Section 004 (CRN 29850): Mondays, Wednesdays, & Fridays 9:00 - 9:50 AM
The title of this course, "Man's Search for Meaning," is borrowed from Victor Frankl's book which has the same name. During World War II, Victor Frankl, a Jewish psychiatrist, was a prisoner at Auschwitz. In his time there he discovered that many of those who survived the concentration camp were able to do so because they were committed to a purpose beyond themselves. He published his findings in his best-seller Man's Search for Meaning. Beginning with this text, we'll explore how two or three contemporary writers and intellectuals have pursued "meaning" in their own lives. We'll look at individuals who see the value of physical labor, the importance of nature, the role of intellect, and the acceptance of death in trying to understand who they are and where they are going.
Texts we'll be reading:
Man's Search for Meaning by Victor Frankl
The Art of the Common Place: The Agrarian Essays of Wendell Berry
Lost in Thought: The Hidden Pleasures of an Intellectual Life by Zena Hitz
Being Mortal: Illness, Medicine, and What Matters in the End by Atul Gawande (if we have time)
ENGL 2310 Literature, Social Justice, & Environment: Ruined Landscapes of Cli Fi
Dr. Cordelia Barrera
Mondays, Wednesdays, & Fridays, 2:00 - 2:50 PM
Section 001 CRN: 57450
In this course, we will study landscape, space, and place as concepts that shape the ways we think about the natural world, or "the environment." As we explore how the environment has informed fiction and non-fiction narratives about humanity's place in the natural world, we focus our attention on perceptions, policies, and ways of life that shape identity and patterns of belonging. We begin by discussing early forms of "nature writing" and move into the 21st century to consider the thriving genres of Climate Fiction (Cli Fi) and dystopia that reflect some unsettling realities of climate change. Some questions that will frame our discussions include: how has the nature of our humanity altered in our age of commodification, cybernetics, and catastrophe? Can the environment withstand our relentless abuse of it? How do social justice concerns inform dystopia, Cli Fi, and environmental writing? In our attempt to answer these questions (and others) we will develop critical perspectives integral to becoming competent thinkers, readers, writers, and conscientious citizens for the planet. Course readings are drawn from literature, philosophy, ecology, film, and cultural studies and include authors like Margaret Atwood, Ray Bradbury, Octavia E. Butler, and Rebecca Roahhorse.
Prerequisites: ENGL 1301, ENGL 1302. Fulfills core Language, Philosophy, and Culture, requirement. Fulfills Multicultural requirement.
ENGL 2324 English Literature II: The Woman Question
Dr. Marjean D. Purinton
Mondays, 6:00 - 8:50 PM
Section 001 CRN: 62353
Section D01 CRN: 61893
This course surveys British literature from Romanticism to the present day with a focus on depictions of female characters and an examination of issues faced by women, both fictional and real. This course is foundational for English major and minors, and its prerequisites are English 1302 and English 1302 or equivalent credit.
We will read diverse genres from all periods, including Elizabeth Inchbald's play The Wedding Day, Mary Wollstonecraft's novel Maria; or, The Wrongs of Woman, John Keats's "The Eve of Saint Agnes," and William Wordsworth's "The Thorn," from the Romantic period. From the Victorian period, we will read Charlotte Brontë's Jane Eyre, Henrik Ibsen's play A Doll's House, Christina Rosetti's 'Goblin Market," and Alfred Tennyson's "The Lady of Shalott." From modern and contemporary periods, we will read Timberlake Wertenbaker's play The Grace of Mary Traverse, Buchi Emecheta's novel Second Class Citizen, Alice Oswald's "Wedding," and Stevie Smith's "Not Waving But Drowning."
Our activities will include discovery activities, primary-source essays, and ample discussion.
Explore the Woman Question in later British literature in a learning community fostered by feminist pedagogy.
ENGL 2326 American Literature II: Experiencing Diversity
Dr. John Samson
Tuesdays & Thursdays, 2:00 - 3:20 PM
Section 001 CRN: 60683
American literature from 1865 to the present has significantly involved experiencing the increasing diversity of our culture. The works we will study will introduce us to a range of literature across this period, reflecting various literary movements (realism, modernism, postmodernism, etc.) and genres (fiction, nonfiction, drama, poetry, etc.). We will read works demonstrating the variety of the American experience by authors such as Mark Twain, Langston Hughes, Sandra Cisneros, Maxine Hong Kingston, and others.
ENGL 2370 Introduction to Language
Dr. Aaron Braver
Tuesdays & Thursdays, 12:30 - 1:50 PM
Section 001 CRN: 62435
Language is something we use every day, but do we actually know how it works?  Does the brain process emojis in the same way it processes spoken language?  Why is the Pokémon named "Snorlax" larger than the one named "Pikachu"? This course provides a broad overview of language—its structure, its origins, and its role in society.  We'll try to understand why language is so weird (Why does the tiny island of Papua New Guinea have over 800 languages? Why does the !Xóõ language have 164 consonants?) by applying the tools of linguistics to the language we encounter in our daily lives and to languages from around the world.
Fulfills Social and Behavioral Sciences Core requirement
ENGL 2383 Bible as Literature
Dr. Ryan Hackenbracht
Tuesdays and Thursdays, 9:30 - 10:50 AM
Section 160 CRN: 56403
Location: Student Union Bldg 120
How can literary analysis illuminate the most important book in history? In this course, we will study literary genres of the Bible—including law, cosmogony, epic, psalm, wisdom, and prophecy—and learn what makes each one unique. We will also learn ancient history: from the calling of Abraham to the ministry of Jesus, political events helped to shape not only what was being written in the biblical books, but how authors styled that information. Over the semester, our goal will be to develop an appreciation for Hebraic culture—for the Jewishness of the scriptures—and for the longevity and distinctiveness of a civilization that gave rise to two major world religions, Christianity and Judaism.
Assignments will consist of multiple-choice exams; no paper required.
ENGL 2388 Introduction to Film Studies
Dr. Wyatt Phillips
Lecture Section 160 (CRN: 56364): Mondays & Wednesdays, 11:00 - 11:50 AM
Discussion Sections
Discussion 701 (CRN: 56367): Fridays, 9-9:50am Discussion 702 (CRN: 56368): Fridays, 10-10:50am Discussion 703 (CRN: 56369): Fridays, 11-11:50am Discussion 704 (CRN: 56370): Fridays, 11-11:50am Discussion 705 (CRN: 56371): Fridays, 11-11:50am Discussion 706 (CRN: 56372): Fridays, 1-1:50pm
As regular moviegoers and avid binge-watchers, we intuitively respond to the "grammar," of film. Our pulse quickens when the monster nears its hapless victim; we get lumps in our throats when the hero finally wins the heart of the one s/he loves. But how exactly do films make us laugh, cry, and scream? The course draws on examples from U.S. and global cinema in order to explore the film techniques that produce such complex effects—we'll cover everything from mise-en-scene to cinematography, from editing to sound. Then we will build on those fundamentals to consider different modes of cinema such as narrative, documentary, and experimental. Ultimately, the course asks what distinguishes film from all the other arts, and what makes this "Seventh Art" at once so conceptually rich and so potentially deceptive. Popcorn not included. 
ENGL 3302 British Literature Before 1066: Learning and Literature in Early Medieval England
Dr. Brian McFaden
Tuesdays and Thursdays, 9:30 - 10:50 AM
Section 001 CRN: 31530
This course will examine three major figures and movements in early medieval England to analyze how the scholarly translation and transmission of early texts affected the English literary world. The first section of the course will look at the age of Bede and representative Old English and Anglo-Latin texts from the eighth to the mid-ninth centuries; it will include Bede's Ecclesiastical History of the English People, Gildas's On the Fall of Britain, the Life of St. Wilfrid, The Life of St. Cuthbert, and The Life of St. Ceolfrid, as well as the Liber Monstrorum (Book of Monsters), Beowulf, and The Voyage of St. Brendan. The middle section of the course will look at the impact of the reign of Alfred the Great and his translation project on English letters; readings will include selections from Boethius's Consolation of Philosophy, Augustine's Soliloquies, and Gregory the Great's On Pastoral Care, and selected Psalms, in addition to Asser's Life of Alfred and the Anglo-Saxon Chronicle. The last section of the course will examine the Benedictine Reform of the late tenth and early eleventh centuries, with its focus on increasing Latin learning and language skills in the monastic community, as well as translations and/or compositions in English for the purpose of preaching. We will examine homiletic and social works of Ælfric and Wulfstan, as well as adapted and translated scholarly and scriptural texts such as Judith, The Letter of Alexander to Aristotle, Physiologus, the Exeter Book Riddles, the Wonders of the East, The Wanderer, The Seafarer, and Dream of the Rood. Course requirements will be a midterm examination, a final examination, three response papers, and an annotated bibliography with a short explanatory essay.
ENGL 3305 British Renaissance Literature: the Idea of God from Malory to Milton
Dr. Ryan Hackenbracht
Thursdays, 6:00 - 8:50 PM
Section 001 CRN: 49622
Section D01 CRN: 62349
From Malory's chivalrous knights to Milton's hellish frights, how did writers of the British Renaissance (1500-1700 A.D.) describe the changing face of God? With the Protestant Reformation came startling new notions about who God was, where he lived, and what he could (or couldn't) do. Over the semester, we will study major literary traditions (Petrarchism, devotional lyrics, et al.), philosophical and political movements (humanism, republicanism), and game-changing historical events (defeat of the Spanish Armada, the English civil wars)—all in light of God's shifting representation throughout period literature. From Donne's sexualization of Protestant faith to Hobbes's claim that God has a material body, we will marvel at the ingenuity and diversity of ideas about the Almighty, as well as probe the intellectual and aesthetic currents that engendered them.
Assignments include: one-page reports and brief, close reading-based papers.
ENGL 3311 British Victorian Literature
Dr. Bruce Clarke
Wednesdays, 6:00 - 8:50 PM
Section D01 CRN: 60697 (Distance students only)
The Weird Victorian Period: In England, during the long life of Queen Victoria (1819-1901), the social stresses of industrial modernization, colonialism, imperialism, and scientific developments such as the theory of evolution, threw many peculiar shadows over the literature of the time. The British literary works we will read this semester capture a number of these shadier hues. A misunderstood monster pieced together from cadavers and imbued with life. A doomed romance with a dark lover of obscure origins. An explorer who discovers an advanced civilization beneath the surface of the Earth. A scientist who fatally transforms himself into a murderous hedonist. Another scientist who visits the far future and escapes back with a flower. Still another scientist who hunts vampires through hypnosis. A ship captain in search of a colonial adventurer who puts shrunken heads on fence posts. While filling in a picture of the wider national culture producing these weird tales of the fantastic, wondrous, and horrendous, we will concentrate in particular on what makes all of these novels tick as works of literature through an introduction to narrative theory.
Texts: Mary Shelley, Frankenstein; Emily Bronte, Wuthering Heights; Edward Bulwer-Lytton, The Coming Race; Robert Louis Stevenson, Strange Case of Dr. Jekyll and Mr. Hyde; H. G. Wells, The Time Machine; Bram Stoker, Dracula; Joseph Conrad, Heart of Darkness.
Assignments: two class reports, two essays, a midterm and a final.
ENGL 3312 From Snow White to Princess Mononoke: A Critical History of Global Animation
Dr. Fareed Ben-Youssef
Tuesdays, 6:00 - 8:50 PM
Section D01 CRN: 62364
"Disney colonizes the everyday world...with the analgesic [painkiller] of a child's imagination."
So describe Ariel Dorfman and Armand Mattelars in How to Read Donald Duck (1971). Their reading of Donald Duck's adventures as propaganda for American imperialism inspires this class to study the history of global animation with a similarly critical eye. We ask: what rigid gender norms are expressed in Walt Disney's Snow White and the Seven Dwarfs (1937)? How have later Disney productions like Tangled (2010) taught audiences to uncover subversive messages underneath the surface of very bright cartoons?
We look at movies by the so-called Walt Disney Studios of Japan, Studio Ghibli, to see how its filmmakers gesture to Japan's historical traumas and forgotten past. We explore representations of discrimination toward those with Hansen's Disease in Hayao Miyazaki's Princess Mononoke (1997). We linger on blood falling over a painting in Miyazaki's World War II film, The Wind Rises (2013). We also consider animated films from around the world like Israeli director Ari Folman's documentary, Waltz with Bashir (2008). Folman deploys surreal animation to depict memory's untrustworthiness and a soldier's role in wartime atrocity. Our films show how animation brings us to see the bleeding wounds of history that we might otherwise ignore.
Additionally, we study animation made for television and for other platforms. This includes anime and American television series. We unpack The Simpsons and South Park to understand how they gleefully reveal the dark side of the American dream.
Gender, disability, and trauma studies further enriches our understanding of the history of global animation. These frameworks ultimately give us the language to express how animation has long been deployed as a tool for both the powerful and for artists aiming to critique the powerful. Mastery of such crucial issues will be demonstrated by close reading, critical thinking, in-class presentations and argumentative writing. We will learn to make intellectual arguments about animation that are thoughtful and persuasive, thorough and concise. We will also learn research strategies, including how to use primary materials to generate original and compelling thesis statements. Some classes will feature artists and scholars in conversation.
ENGL 3325 Modern and Contemporary American Literature: From Postmodernism to Post-9/11 Globalism
Dr. Yuan Shu
Mondays, Wednesdays, & Fridays, 1:00 - 1:50 PM
Section 001 CRN: 62351
This course explores how contemporary American authors articulate their visions and senses of American culture and society in response to the social, political, economic, and technological changes in the U.S. and around the globe since the 1960s. Beginning with an examination of the concept of postmodernism and postcolonialism, we read texts that engage formalistic experimentation and innovation and have a sense of the ways in which these authors negotiate and represent our changing senses of humanity in our culture and society. We then scrutinize the writing of ethnic minorities and women and explore the new critical viability and sensibilities that they have brought to U.S. literature and culture. As a gesture of conclusion, we finally investigate work that reflects a sense of post-9/11 globalism in the U.S. in the twenty-first century.
Requirements: Two essays, five quizzes, a midterm, and a final.
ENGL 3337 Modern and Contemporary World Literature: Conflict, Religion, and Epiphany
Dr. Roger McNamara
Mondays, 6:00 - 8:50 PM
Section 001 CRN: 62357
Section D01 CRN: 62358 (Online)
Course attributes: Communication Literacy, Arts & Science, Multicultural Requirements, Excluded from 3-Peat Rules
Course Description: The 20th century has witnessed large scale conflicts and violence from the two World Wars, through anti-colonial movements, to civil wars and ethnic conflicts. This course examines how writers explore religion's role in helping people deal with the trauma that they experience. The meaning of religion varies for many of these writers. Some focus on "strong" religion that entails a strict adherence to beliefs and practices of specific faith communities (Judaism, Islam, Christianity, etc.), while others are more concerned with "weak" religion—the fusion of different faith traditions and the hesitant and tentative acceptance that secular (non-religious) people make towards religious systems. Finally, we'll also examine how these writers explore the role of epiphany (a religious or spiritual revelation or awakening) in these texts.
Texts:
Davita's Harp by Chaim Potok (Judaism, US, context: WWII)
The Hungry Tide by Amitav Ghosh (Hinduism/Islam, India, context: state violence in independent India)
Anil's Ghost by Michael Ondaatje (Buddhism/Christianity, Sri Lanka, context: civil war in Sri Lanka)
The Complete Short Stories by Flannery O'Connor (Christianity, US, context: individual violence in the American South)
ENGL 3351 Creative Writing: Poetry
Dr. William Wenthe
Wednesdays, 6:00 - 8:50 PM
Section D04 CRN: 60699
This is a course in crafting your own poetry, a process which necessarily involves reading and examining poems by established poets. The classroom format will consist of intensive discussion of our own and others' poetry. As a whole, this course will require a steady commitment; for in addition to preparing for each class, you will also be writing your own poems, on your own time. The bulk of your grade will depend on how well you apply the skills learned in class to your own writing outside of class. Of course I will be available to guide you in all phases. You will be required to complete a series of poetry exercises and short (one-page) informal essays that I call "response papers," to write original poems, and discuss poems—including your own—in class. Each student will create a final portfolio, which will include seven original poems, and a 4-5 page statement describing what you learned this semester, and how. The process of writing and revision must be carried on at your own initiative, outside of class; the writing process must be consistent through the semester. The attendance policy is very strict. It begins from the first day of registration.
To take this class, you must have completed two sophomore English courses or, if English is not your major, the English requirements as specified in your major. It is not necessary to have studied poetry. It is necessary that you want to study poetry seriously: successful poetry writing means successful reading of other poets. We will do both in this course.
ENGL 3351 Creative Writing (Non-Fiction, Fiction, Poetry)
Instructor TBA
Section 001 (CRN 31673): M,W,F 10:00 - 10:50 AM (Non-Fiction)
Section 002 (CRN 31675): M,W,F 12:00 - 12:50 PM (Fiction)
Section 003 (CRN 50429): T,R 11:00 AM - 12:20 PM (Poetry)
Discussion of basic techniques in the genres of fiction, poetry, or creative nonfiction, with emphasis on student's creative writing. Writing required. May be repeated once under a separate genre. Fulfills multicultural requirement. (CL)
ENGL 3363 Introduction to Science Writing
Dr. Scott Weedon
Mondays, 6:00 - 8:50 PM
Section 001 CRN: 56246
Section D01 CRN: 57640 (Distance students only)
Science is the systematic study, documentation, and prediction of our universe. In order for scientists to be heard and for scientific knowledge to be believed, scientists have to communicate their findings, they have to write. The necessity of communication, collaboration, and persuasion mean that science is a deeply social activity. Scientific language does powerful and important work in our world, making trustworthy claims about what is valuable, safe, clean, better, concerning, and factual. Professionals who write about science take on a great responsibility for shaping how others will understand or adopt ideas and technologies.
The course examines two modes of science communication:
How scientists as professionals and researchers present problems, methods, data, and findings to disciplinary and interdisciplinary audiences through genres like research papers, grant proposals, poster presentations, patent applications, and technical reports.
How scientists as professionals and researchers explain and contextualize problems, methods, data, and findings to publics and non-expert audiences through genres like popular descriptions, testimony, creative nonfiction, interviews, impact statements, and risk communication.
ENGL 3365 Professional Report Writing
Dr. Rich Rice
Section D06 (CRN: 62669): Tuesdays & Thursdays, 11:00 AM - 12:20 PM (Online only)
Section D07 (CRN: 62670): Tuesdays & Thursdays, 12:30 - 1:50 PM (Online only)
Professional Report Writing prepares students to write effectively in their future line of work. This course introduces students to genres and conventions of workplace writing and provides instruction on how to write clearly, concisely, and purposefully when drafting reports to inform professional audiences. Throughout the course students will lead an iterative writing project in which they will plan, research, draft, and revise a report to help decision-makers address a real-world problem. Overall, this course provides students with opportunities to improve their writing abilities and become better writers in their current or expected profession.
ENGL 3366 Style
Dr. Rebecca Rickly
Section 001 (CRN: 57905): Time TBA
Section D01 (CRN: 49631): Time TBA
https://www.gocomics.com/calvinandhobbes/2013/02/14
This course focuses on effective writing style. It will cover topics such as developing an effective and personal voice, avoiding overwriting and underwriting, choosing effective and fresh words, avoiding clichés, choosing and foregrounding clear subjects and lively verbs, naming definite actors and actions, making sentences connect, assigning emphasis, controlling rhythm, achieving grammatical variety, and applying general principles of effective writing. You will have numerous opportunities to refresh your grammar knowledge, analyze the work of professional writers, analyze your own writing style, adapt writing for multiple situations and audiences, and develop a personal style of writing.
Required text:
Glaser, Joe. 2015. Understanding Style: Practical Ways to Improve Your Writing. 3rd edition. Oxford University Press. Make sure you buy the third edition, published in 2015.
ENGL 3369 Information Design
Dr. Jason Tham
Thursdays, 6:00 - 8:50 PM
Section 001 CRN: 52487
Section D01 CRN: 62309 (Distance students only)
This course covers principles of visual design to help designers effectively organize and present information across interfaces. Students will learn strategies to create user-friendly visual communication, including key lessons in typography, information architecture, layout, color, and more. Students will explore particular issues that arise in new device contexts. Students will apply these design principles within different industries, including academic, scientific, and general business contexts.
ENGL 3373 How Syntax Works
Dr. Min-Joo Kim
Thursdays, 6:00 - 8:50 PM
Section 001 CRN: 62362
Section D01 CRN: 62363 (Distance students only)
Did you grow up learning English or taking English classes, wondering why the grammar of English works the way it does? Also, did you ever wonder why we cannot end sentences with prepositions, but we always do? In addition, have you ever been told that you cannot say, "Can I go to the restroom?" (rather, you must say, "May I go to the bathroom?") and wondered why that has to be the case? If you fit any of these descriptions, this course will be perfect for you!
This course provides an overview of the structure and usage of present-day American English. The material covered will equip students with a basic knowledge of the form and function of what is known as Standard American English. It will be informative and relevant to anyone interested in English grammar and linguistics but especially to future English teachers at all levels and those who want to teach ESL either in the US or abroad.
Topics will include (i) prescriptive vs. descriptive approaches to grammar, (ii) syntactic categories (i.e., what are traditionally known as parts of speech), (iii) the internal structure of various types of phrases, (iv) Tense/Aspect/Mood of present-day English, (v) dialectal variation in English syntax, (vi) grammaticalization and language change, and (vii) the underlying principles of human language.
Note: There will be no required textbook for this course.
ENGL 3382 Women Writers – TO INFINITY AND BEYOND: Science Fiction by Women
Dr. Sara Spurgeon
Tuesdays, 6:00 - 8:50 PM
Section 001 CRN: 62381
Section D01 CRN: 62382 (Distance students only)
Significant works by women. Writing required. Fulfills Multicultural requirement.
ENGL 3385 Selected Plays of Shakespeare: Lovers, Misanthropes, and Mountebanks: Shakespeare and the Comedy of Social Relations
Dr. Matthew Hunter
Mondays, Wednesdays, & Fridays, 2:00 - 2:50 PM
Section 001 CRN: 62352
While Shakespeare has long been celebrated as the avatar of modern individuality, this course takes a different tack. It introduces students to Shakespeare's works by considering the playwright's abiding concern with social relations—with belonging, isolation, romance, resentment, misanthropy, deception, in short, with everything that comes from inhabiting a world that is inhabited by other people. Our concerns will range from the ethical to the philosophical to the aesthetic, but throughout the course, our readings will focus on Shakespeare's manipulation of a single genre, comedy, the genre of happy endings—or seemingly happy endings—which promise the persistence of the worlds we fashion with others.
ENGL 3388 Film Genres: Horror and the Fantastic
Dr. Allison Whitney
Tuesdays & Thursdays, 3:30 - 4:50 PM
Section 001 CRN: 32229
How do the powerful emotions provoked by horror (disgust, shock, suspense) influence everything from the group dynamics of watching a movie in a theatre, to the potential for complex philosophical and political commentary? How and why do societies both censor and glorify images of violence? How do filmmakers use the tools of their medium, from sound design to "found footage" aesthetics to impact their audiences? Students in this course will explore these questions and apply their insights to films from across the history of horror, from violent trick films of the 1890s to 21st century media, and from film cultures around the world. Students will develop skills of formal analysis specific to film and media, explore a variety of theoretical approaches, and become familiar with multiple modes of filmmaking, including fiction, nonfiction, and experimental film.
ENGL 4311 Studies in Poetry: Race and the Middle Ages
Dr. Julie Nelson Couch
Mondays, Wednesdays, & Fridays, 10:00 - 10:50 AM
Section 001 CRN: 62350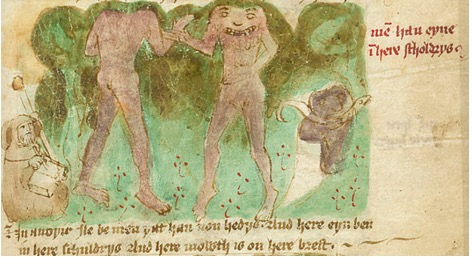 London, British Library, MS Harley 3954, f. 42 
This course will introduce students to "race-making" in the European Middle Ages. In England particularly, early oppressions of English Jews through laws and through stories led to, as Geraldine Heng demonstrates, "the emergence of the first racial state in the history of the West." In this course, we will read those stories of ritual murder, including Chaucer's The Prioress Tale, as well as other medieval texts that construct racial identities based on religion, appearance, and power inequities. Our readings will include the Middle English romances Richard Coeur de Lion, The King of Tars, the German Parzival, and uber-popular travelogue Mandeville's Travels. Reading stories where the word "fair" means at once white, beautiful, and Christian, students will have the chance to witness rhetorical racial construction firsthand. This course will crucially confront, with knowledge and critical analysis, the troubling present-day co-opting of a mythologized Western medieval past by white supremacists. Assignments will include weekly responses, a comparative essay between a medieval and modern text, a research presentation, and final research paper.
ENGL 4315 Art Made Illegal: Censorship in Comic Books, Video Games and at the Movies
Dr. Fareed Ben-Youssef
Thursdays, 6:00 - 8:50 PM
Section D01 CRN: 60705
"I know it when I see it." 
So claimed Justice Potter Stewart when defining obscenity in his 1964 ruling on Louis Malles' 1958 film, The Lovers. Potter's spongy definition was criticized for refusing to provide a clear threshold, pointing to the law's potential arbitrariness. Potter's definition is at the center of our course on censorship. When art is made illegal, we can glean who the law privileges and who it unfairly punishes.
Our course historicizes and theorizes censorship practices. Looking at comic books, video games, and movies frames similarities in how different media forms are policed. We first examine how various industries developed codes of content to escape government oversight. We begin with development of 1930s Hays Code, designed to offer a rigid moral standard for the movies. Then, we look at the creation of the Comics Code Authority that followed Senate hearings on the comic books' damaging effect on youth. We read Fredric Wertham's Seduction of the Innocent (1954) which inspired the hearing, 1950s comics he labeled as obscene, along with congressional testimony. We examine the development of the ESRB rating system created in 1993 after the release of violent games like Mortal Kombat (1992). Attention is paid to the stylistic similarities between critics' exposés and the art they deride.
Finally, we move to Japan to see how a different nation has censored art in its efforts to protect the public welfare. We compare the trial of Nagisa Oshima for his film In the Realm of the Senses (1976) and that of the manga artist, Rokudenashiko, who was recently charged with obscenity for her art depicting the female genitalia. The different outcomes of each case may point to how sexism plays into judgement.
The cross-media course introduces students to cultural study of the law. In addition to in-class presentations, students learn how to write clear research papers surrounding the spongy topic of censorship. Ultimately, this course will answer the questions: why are states invested in censorship? How have targeted artists resisted and transformed legal tribunals into sites of resistance?
ENGL 4321 Studies in Literary Topics: Outlaw
Dr. Nesrine Chahine
Tuesdays & Thursdays, 3:30 - 4:50 PM
Section 001 CRN: 62360
This course examines global literary fiction that deals with the figure of the outlaw. Reading texts by authors such as Hassan Blasim, Franz Kafka, Yehia Hakki, Emile Habibi, and Kamila Shamsie among others, we will interrogate what it means to be an outlaw. Do our characters challenge or uphold the law? What is the true nature of their crime? How do they come to be outlaws and what does it mean do be a person who is no longer covered by the law? How do our texts probe the limits of the law? The course will focus on the social, political, and economic ramifications of being an outlaw in literary texts from the African, Asian, and European continents. To this end, we will consider how class differences and the financial economic crises of globalization contribute to the creation of the outlaw as a category of personhood. We will also think about how this category is caught up in other social issues involving women's ability to move between local and global cultural laws. Finally, we will examine the figure of the outlaw as a political category, a subject that represents the individual's ability to participate in the systems that represent and govern a particular society and, as a result, allows us to reflect on how these systems function as well as who they exclude in a current global moment marked by terror, economic crises, and climate change. Writing required.
ENGL 4351 Advanced Nonfiction Workshop: Building Sentences, Building Stories
Dr. Leslie Jill Patterson
Mondays, 6:00 - 8:50 PM
Section D01 CRN: 62391 (Distance students only)
Writing literary nonfiction requires the voice of a poet and the storytelling skills of a fiction writer. Sentences have their own power and energy, but only if the writer knows how to construct one: knows how to design, balance, and order one, right down to the first and last words. Plotline drives the story forward, makes us turn the pages, but this doesn't mean a writer only has access to long, winding narrative streams. You can build a personal story or a factual recounting with smaller units.
You already know the basics of prose writing (you should have completed ENGL 3351 to apply for this workshop), and now, this semester, we will work on smaller, more specific skills—taking a close look at sentences, flash sequences, and lyric fragments—and then we'll take those smaller units, stacking and compiling them, sometimes letting them run loose, until we assemble full-length essays stronger than any you've written before. Our goal is to prepare you to write the stories that matter, the ones that change the way people think: you cannot do that if you don't understand all that language, narrative, image, sentences, metaphors, modifiers, repetition, and punctuation can do.
Each week, we will read and analyze either one essay or one book built from short narrative fragments. Each week, we will also work with individual sentences, filling each other's tool kit with as many stylistic tricks as we can learn. By the end of the semester, each student will have completed and polished two essays, 15 to 18 pages each.
Required Texts: How to Write Stunning Sentences (Nina Schuyler). Possible Texts: Out of the Crazywoods (Cheryl Savageau); Draw Your Weapons (Sarah Sentilles); The After-Normal (Nicole Walker and David Carlin); Levels of Life (Julian Barnes); The Other Side (Lacy M. Johnson); and individual essays by Hanif Abdurraqib, Summer Brennan, Francisco Cantú, Alexander Chee, Jaquira Díaz, Mitchell S. Jackson, Toni Jensen, Sarah Viren, Wendy S. Walters, Elissa Washutta, and Kevin Young.
ENGL 4360 Thinking Different(ly)
Dr. Rich Rice
Thursdays, 6:00 - 8:50 PM
Section 001 CRN: 62311
Section D01 CRN: 62312
Everyone these days is talking buzzwords: Critical Thinking. Thinking Outside the Box. Growth Mindset. Twenty-first Century Skills.
So what, exactly, does it take to communicate/think successfully today? Do you feel prepared?
If you're like most students, you've learned to develop written arguments and to critically analyze written forms. Even in computer-mediated classrooms, writing, imaging, and various forms of multimedia authoring are usually taught as discrete skills—separate from writing/communicating.
Yet K-16 students (and YOU) live in an undeniably multimediated world, a world where image and sound are at least as important as the written word. Concerned that we not lock our students into single modes of expression, limiting their learning by constraining the tools they use and the media in which they deliver information, this course is designed to encourage you to explore some of the issues in composition/communication that will allow you to think/present your thinking "differently".
We will begin (and end) our process of exploring what it means to communicate effectively by doing some hefty self-analysis. Next, we'll look at our toolbox of communicating, perhaps trying to expand upon/strengthen what you're "good" at. Next, we'll try our hands at something different: communicating in multiple media. Finally, we'll circle back to narrative and its import in communication, and you'll create a narrative podcast.
ENGL 4365 Special Topics: Messed-Up Pictures & Bad Words a.k.a. Image Making & Invention
Dr. Lisa L. Phillips
Mondays, 6:00 - 8:50 PM
Section 001 CRN: 51677
Section D01 CRN: 57906 (Distance students only)
Course questions we'll think about…
Does doodling have a use?
Are images worth a thousand words?
How do people come up with good ideas?
Do pictures really form in our head?
Why do most people stop drawing in middle school?
Course Overview:
When you were a kid, were you scolded for doodling in the margins of your book, or on homework assignments because you told to do something "serious" and to stop "messing around"? Do pictures help you grasp a concept? Did you stop drawing in middle school? Would you like to give it one more try?
This course is about the spaces and places of invention and innovation, focusing on pictures and words. In this course you'll practice combining drawing and writing in the form of basic cartooning with the goal of opening yourself up to invention. Any skill level is fine! Curiosity and willing hearts are a prerequisite. While much of our work will involve simple tools and materials, we'll play with digital platforms as well. We'll also explore the practice, production, and concepts behind image making across different media platforms. Mostly, we'll draw, write, and think. We'll talk about and define visual rhetoric, consider what an image is, wonder how good ideas come about, and study the importance of storytelling in our daily lives. We'll also explore relationships between professional writing and illustrations. Projects include a daily practice sketchbook, a definitional essay about comics, image making, and the nature of images, and a variety of assignments gleaned from Lynda Barry's Making Comics.
ENGL 4367 Developing Instruction Materials
Dr. Beau Pihlaja
Tuesdays, 6:00 - 8:50 PM
Section 001 CRN: 62314
Section D01 CRN: 62313

(Image by Tamarcus Brown from StockSnap, CC0 1.0)
Whether they are directions for assembling your new IKEA VITTSJÖ shelf unit or completing your end-of-semester electrical engineering project, instructional materials show up all throughout our everyday lives. Professionals often have to communicate technical guidance to specialists and possibly non-specialists for them to use in all manner of situations. Likewise, educators are also responsible for developing assignment instruction sets for class requirements big and small, delivered in online, face-to-face, and hybrid classrooms. In both cases, developing clear and useable instructions requires thinking very carefully about tasks and about the organization, visual design, and wording of any material you might compose for end-users—whether they are technical professionals, consumers, or students—who have to use your instructions to do something.
In this class we will explore and compare these various kinds of instructional materials by developing, composing, testing, and revising specific instruction materials. We will start with a basic instruction set and work our way up to developing more complex procedures for use in both educational and technical/professional situations—things like class project instructions, installation guides, assembly instructions, step-by-step How-Tos, video walkthroughs, and troubleshooting guides. This class will require creative, active engagement with the instruction material development process, it will involve the close analysis of tasks, user analysis, usability-testing, and practicing basic visual design. No technical expertise is needed but be prepared to write, design, and revise.
ENGL 4380 Professional Issues in Technical Communication
Dr. Craig Baehr
Wednesdays, 6:00 - 8:50 PM
Section D01 CRN: 45565
This advanced undergraduate capstone course covers professional issues, processes, practices, and specializations in the field of technical communication, strategies for developing a professional dossier appropriate for entry-level employment, and preparation for certification in the field. The course will build on skills acquired in previous coursework and introduce you to project management processes and methods used in producing technical communication projects, including agile project planning, content strategy development, project branding and assessment. Additionally, the course provides professional development through the introduction of various professional organizations and development strategies for producing professional portfolios and dossiers.