What can you do in the Library's 3D Animation Lab?
Nov. 9, 2011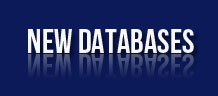 Your University Library is pleased to provide electronic access to two new databases, PsycBOOKS and ebrary.
PsycBOOKS offers thousands of scholarly and professional titles published by the American Psychological Association (APA), including:
recent titles in psychological and behavioral science including more than 21,000 chapters in PDF from more than 1,500 books
a substantial back file of classic and historic works with more than 740 books of landmark historical impact in psychology dating from 180
digitization of the content from the Archives of the History of American Psychology (AHAP) collection adding upwards of 2,500 works of historical significance
indexed with controlled vocabulary from APA's Thesaurus of Psychological Index Terms®
Visit library.ttu.edu and enter "PsycBOOKS" in the Databases tab.
The Library also now offers Academic Complete, a highly interactive eBook database from ebrary® that covers all academic subject areas.
The collection currently includes more than 30,000 titles from more than 220 of the world's leading academic and professional publishers.
Visit library.ttu.edu and enter "ebrary" in the Databases tab.