Graduate Students
PhD Students
Mallory DeChant is a PhD graduate student pursuing her doctorate in Companion Animal Science with an emphasis in canine olfaction at Texas Tech University. Mallory is a native to Arizona and graduated with her Bachelor of Science from The University of Findlay majoring in Animal Science and Biology. She graduated with her Master of Science from Southern Illinois University in Animal Science with an emphasis in canine physiology. Her thesis was on the impact of physical, climate, and psychological stressors associated with search scenarios on thermoregulation and salivary cortisol in human remains detection canines. Mallory's goals after completion of a post doctorate fellowship are to join the academic field and pursue teaching and research in canine olfaction. In her spare time Mallory enjoys spending time with her handsome Arabian horse, Tango, who has retired from endurance racing. She also enjoys traveling with her family and friends and going on hikes with her adorable Boston Terrier Mix, Rubeus.
Masters Students
Aaron Teixeira is a Graduate Student pursuing his Master's Degree in Companion Animal Science at Texas Tech. With a focus in Human-Animal Interactions, his current research explores the Etiology of Canine Separation Anxiety. Aaron graduated from UC Berkeley with a Bachelor's degree in Psychology, and later worked in South Africa for Cambridge and Zurich Universities studying wild animal behavior. Born and raised in California, Aaron has a passion for animals and wildlife and dreams of working on a nature show. Aaron also works as a Personal Trainer and likes to get outdoors in his spare time.
Eddie Cordova is a Graduate Student pursuing a Master's in Companion Animal Science. He has completed a Bachelor's in Animal Science with a concentration in Companion Animal Pre-Vet at Texas Tech University in pursuit of attending veterinary school. To continue his preparation, he decided to continue his education and become more involved in research at the Canine Olfaction Lab. His research interests include the effects of different forms of enrichment on sleep quality and using an odor span task as a measure of working memory. Eddie is also part of the Haven Animal Care Shelter team, where he helps maintain the well-being of over 80 animals and assists in finding them forever homes. The Canine Olfaction Lab and Haven helped him find his life-long canine companion, Norman, who has earned his PhDog!
Rachel Wyant is a 2nd year Masters student working towards a degree in Animal Science with an emphasis on canine olfaction. She received her Bachelor's degree in Animal Science and a minor in Pet Food Science from Kansas State University before moving to Texas to pursue a graduate degree. Her current research is focused on canine olfaction thresholds and habituation/dishabituation using various food-like odorants. She is also researching canine food preference and palatability.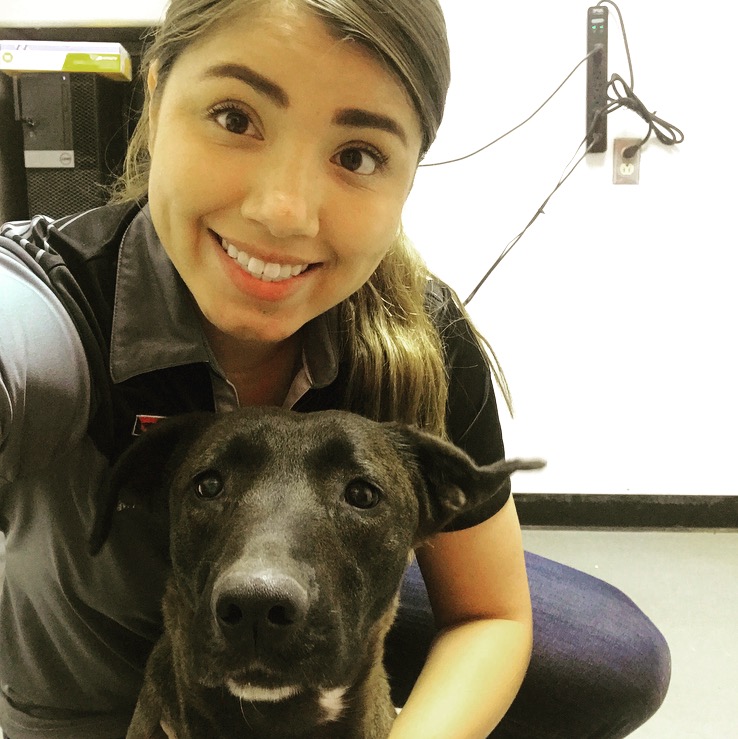 Stephanie Soto is a Graduate Student pursuing a Master's Degree in Companion Animal Science at Texas Tech. While her research involves an emphasis in canine olfaction, primarily for canine drug detection work, she has also conducted studies related to canine genetics and canine intestinal microbiota. She graduated with her Bachelor of Animal Science from Texas Tech University. Stephanie's long term goal is to pursue veterinary medicine and become a practicing Veterinarian.