The Secretaries is presented by arrangement with Concord Theatricals. www.concordtheatricals.com
2023 FEBRUARY 7-12
The CH Foundation
The Legacy of Christine DeVitt
Black Box Theatre
With a murderously dark sense of humor, this satirical comedy takes an unflinching look at the warping cultural expectations of femininity.
Content Warning: The Secretaries is a dark satirical comedy containing content that some may find traumatic and/or offensive. Also, there will be guns and a lot of stage blood. If you have concerns about specific forms of content in the production, please contact the box office.
PROGRAM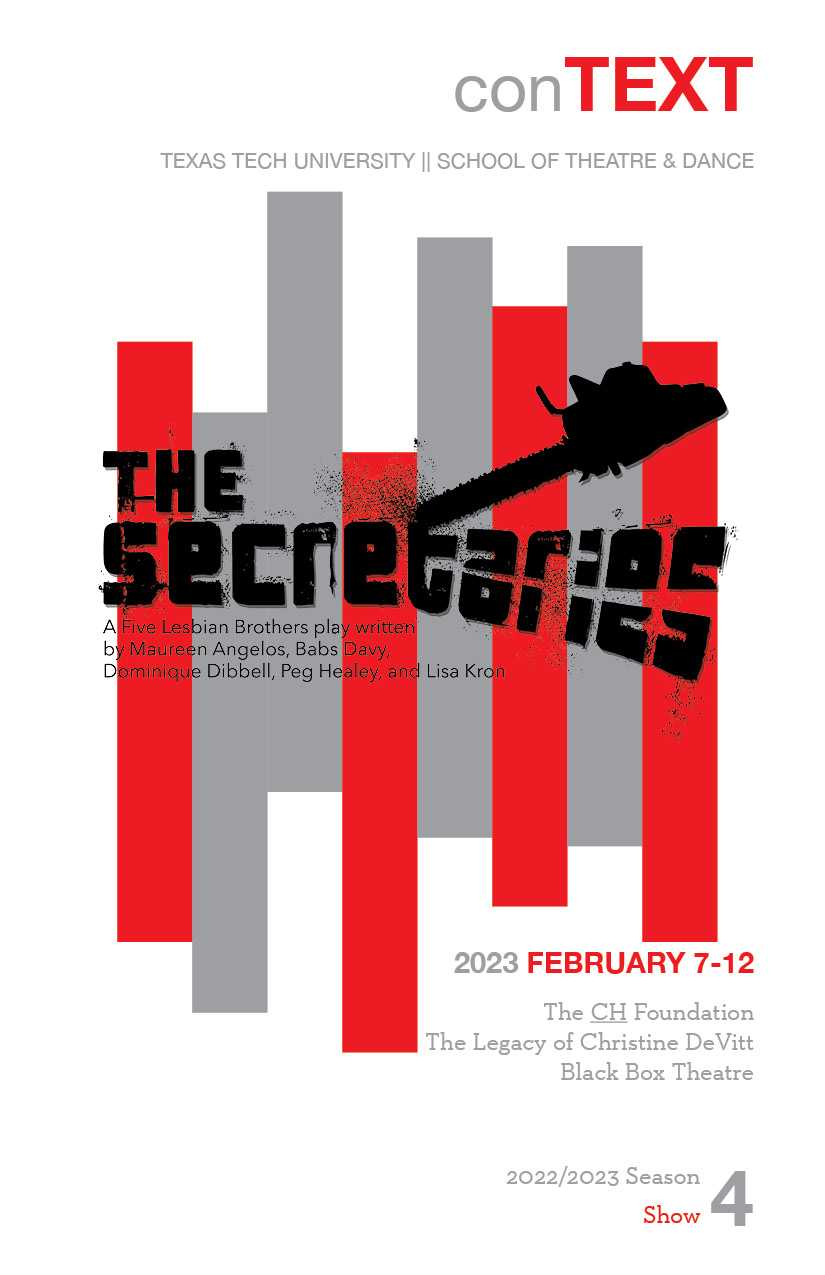 SATURDAY NIGHT TALKBACK PANELISTS

Liz Acosta
Liz is a doctoral student in the Fine Arts Doctoral Program at Texas Tech University, studying Music and Psychology as well as managing the Performing Arts Research Lab. Currently, her research interests are the interplay between music, sound, and visuals in the horror genre, specifically horror films. Her project explores the cognitive and psychophysiological processes involved in "jump scares" – moments of intense visual or auditory stimuli. Liz's love of horror stems from her mother's equal (if not greater) love of horror films; the first horror film they watched together was The Others (2001) starring Nicole Kidman.
Katie Cortese
Katie Cortese is the author of Make Way for Her and Other Stories (University Press of Kentucky, 2018) and Girl Power and Other Short-Short Stories (ELJ Editions, 2015). Her stories have recently appeared in such venues as Gargoyle, Indiana Review, The Cincinnati Review Online, Wigleaf, Ep;phany's 20th-Anniversary Anthology, and elsewhere. She teaches in the creative writing program at Texas Tech University where she directs Studio E and serves as the Faculty Director for Texas Tech University Press.
Dr. Jessica Smith
Jess Smith is currently an Assistant Professor of Practice at Texas Tech University. Her poetry, essays, and criticism can be found in Prairie Schooner, Cincinnati Review, 32 Poems, The Rumpus, and other journals.
Curtain times are 7:30pm Tuesday-Saturday and 2:00pm Sunday.
All performance take place in the Maedgen Theatre & Dance Complex located at 2812 18th Street between Boston and Flint Avenues.
Tickets are $15 for individuals and $5 for students with a valid ID. Free student rush tickets are available on a limited basis to Texas Tech students one hour prior to curtain time on the day of the performance.
REFUND AND EXCHANGE POLICY: There are no refunds. Ticket buyers may exchange tickets to a different performance of the same production, if available.
The Texas Tech University School of Theatre & Dance reserves the right to change play selections due to performance rights availability or other unforeseen circumstances.
QUESTIONS? Send us an email or call 806.742.3603.
School of Theatre and Dance