MLK Celebration 2021

Theme: Celebrating Unity in Community
SCHEDULE OF EVENTS
Attend any of the events (in -person or virtually) and receive a free "MLK Celebration 2021" shirt
Date
Time
Description
Friday, January 15th
5:30pm - 6:30pm
MLK BIRTHDAY PARTY AND VIRTUAL CELEBRATION -TTU faculty and staff



Enjoy your favorite beverage and try one of these Birthday Mug Cake recipes!
https://kirbiecravings.com/category/recipes/mug-cakes/

Join Zoom Meeting:
https://us02web.zoom.us/j/84890558952?pwd=amFPcmk2STloTFdwUjVLRHhNNFlPZz09
Meeting ID: 848 9055 8952
Passcode: w2kH05

Monday, January 18th
12:30pm - 2pm
LUNCH WITH LEGENDS - Panel of activists, speaking on local grassroots activism (VIRTUAL)



"If you don't know where you've come from, you don't know where you're going."

Join us for a conversation with grassroots activist, politicians and entrepreneurs as they discuss their lives, the beloved community, and the nation. Bring your physical and mental appetite for an incredibly inspiring journey and learn how we can continue the legacy.

Guest Speakers:
-T.J. Patterson (First elected Black Council member of Lubbock City, daughter is the current council woman for district 2)
-Ms. Judith C. Johnson M.S.Ed. (Civil Rights Activist, former Staff Assistant & Confidante to Mrs. Corretta Scott King – former President of the MLK Jr. Center for Nonviolent Social Change, Atlanta, GA)
-Ms. Billie Caviel (Owned and operated the first Black pharmacy in Lubbock)
-Ms. Rose Wilson (Long time Lubbock Civic Leader,former President of NAACP and business owner)

Zoom Link:
https://zoom.us/webinar/register/WN_xxgcnrJST5KiDxuzQbP0xg

Tuesday, January 19th
11am - 4pm
MLK LEGACY MARCH: REFLECTION ROUTE



The 2021 MLK Legacy March is an individual challenge by choice 1-mile walking activity in commemoration of the legacy of Dr. Martin Luther King, Jr. We encourage you to participate, as you choose, in the route activities to further your understanding and appreciation of the work and life of MLK.

The route starts on Boston Ave. at the Administration Building. Please practice community care by following Covid-19 guidelines and maintaining 6 ft distance from other participants.
Reflection Route map

Tuesday, January 19th
2pm - 4pm
DEI CONVERSATION SERIES: ANTI-RACISM & ANTI-BLACKNESS



Deeply Rooted Conversations: Anti-Racism & Anti-Blackness Pt.1
http://bit.ly/359NndZ >

Join us as we discuss "Deeply Rooted Conversation" and create a space for faculty, staff and students to learn and discuss topics related to social injustice, privilege, diversity and inclusion in a 6 part series. The Anti-Racism & Anti-Blackness session will take an introspective look into Race, Racism & Anti-Blackness in guided campus wide discussion. Use the link to register.

Tuesday, January 19th
5pm - 7pm
VOTER REGISTRATION DRIVE



SUB (during Organization Fair)

Though the Presidential Election has passed, it remains important that you are registered to vote! Elections at the city and state levels are opportunities for you to effect change in your community. Registration is free!

Wednesday, January 20th
11am - 1pm
VOTER REGISTRATION DRIVE



SUB (Free Speech Area)

Though the Presidential Election has passed, it remains important that you are registered to vote! Elections at the city and state levels are opportunities for you to effect change in your community. Registration is free!

Wednesday, January 20th
10:30am – 12:30pm
INAUGURATION WATCH PARTY (VIRTUAL)



Join with us as we watch history in the making! We will be livestreaming the Inauguration of the 46th President, Joseph R. Biden, and Vice-President, Kamala D. Harris. Following the inauguration and presidential address we will host a short discussion on the historical significance of this election as the first woman and person of color is elected on a Presidential ticket.

(Hosted by Women's and Gender Studies and Raider Education, a part of the Division of Diversity, Equity, and Inclusion)

Link to Register:
https://zoom.us/meeting/register/tJItfuupqz4rHNcMH2L5-DKtN2r2LA9mGbHO

Thursday, January 21st
(Streamed throughout the day)
VIRTUAL MOVIE SCREENING



Event Link:
https://digitalcampus.swankmp.net/vs-ttu43206/watch/AD305C50F3425D61?referrer=direct

Friday, January 22nd
LUBBOCK MEALS ON WHEELS – DAY OF SERVICE



Representatives from the MLK 2021 Celebration Committee and TTU faculty and staff will be delivery meals to the Lubbock community for the Lubbock Meals on Wheels (LMOW) program. If you are looking for ways to serve your community serve with
LMOW.

ALL WEEK - ART COMPETITION



Art gallery featured on the website
MLK Legacy March
The 2021 MLK Legacy March: Reflection Route is an individual challenge by choice 1-mile walking activity in commemoration of the legacy of Dr. Martin Luther King, Jr. We encourage you to participate, as you choose, in the route activities to further your understanding and appreciation of the work and life of Dr. King.
The route starts on Boston Ave. at the Administration Building and the route activities are detailed on posters found along the route. You can also access the route map and route activities here on the MLK Celebration website.
Please view the MLK Legacy March: Reflection Route map
The MLK Legacy March: Reflection Route activities are listed below.

Stop #1: Welcome Video
Stop #2:
Listen and Reflect

Stop #3: Test Your Knowledge! Facts about mlk jr. quiz

Stop #4: We hope that you will make the pledge to work towards bridging the divide in the TTU community, Lubbock area, and larger nation by supporting efforts of unity and greater understanding.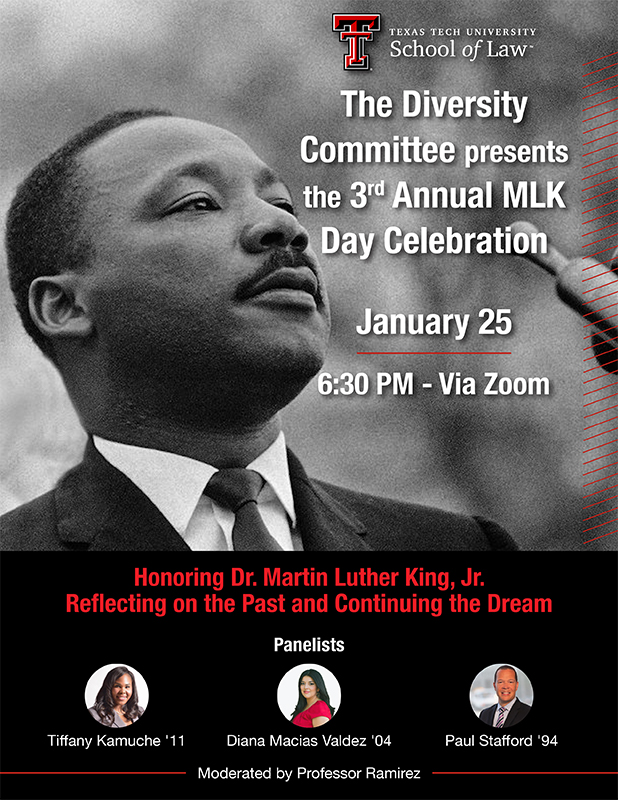 ARCHIVE
University Student Housing
Address

Wiggins Complex, 3211 18th St., Box 41141, Lubbock, TX 79409

Email

housing@ttu.edu