Explore Study Abroad
Studying abroad is much more than just visiting a new country.
By studying abroad, students gain the advantage of an enhanced academic background with an international dimension, opening the door to exciting opportunities: both personally and professionally. The global skills, knowledge, and experiences that are gained while studying abroad have a profound impact on a student's ability to compete and collaborate with graduates from around the world.
Cultural Immersion. While abroad, students will be challenged to discover their strengths, think outside of the box, plan adventures, and solve new problems that arise in the windfall of international travel.
Global Perspective. Students who have studied abroad have a greater intercultural understanding, better grasp the complexity of global issues, and are better equipped to work with people from other countries.
Networking. While abroad, students will not only meet natives to the culture in which they are studying, but also other international students.
Career Advantages. Only 4% of undergraduate students study abroad, yet the world continues to become more globalized. Through the eyes of the employer, a student who has studied abroad is seen as self-motivated, willing to embrace challenges, and able to cope with diverse problems and situations.
Degree Plan Integration
Through the Rawls College, you can take business courses in English that count towards your degree, to keep you on track to graduate on time, no matter the length of time you study abroad.
Funding Your Experience
Study abroad is an investment in your future. With proper preparation, you can plan a great study abroad experience within your budget.
Explore Student Travel Experiences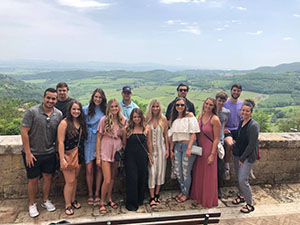 Learn about fellow students' experiences abroad.
Rawls College of Business