School of Banking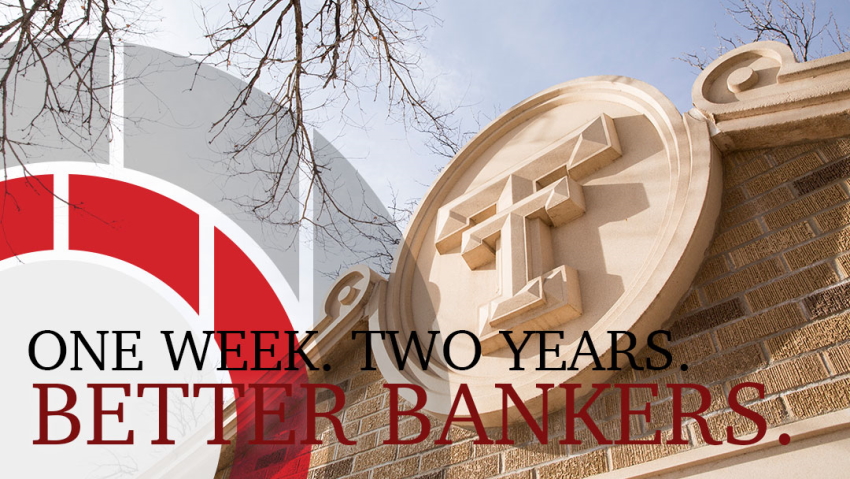 48th Annual School of Banking: August 7-12, 2022
Discounted rates provided at the Cotton Court Hotel and the Overton Hotel & Conference Center. A special group rate has been negotiated with both hotels. The deadline for reservations is July 25, 2021.
2021 School Update
The Texas Tech School of Banking is pleased to announce that plans are being made to hold the 47th Annual School of Banking session in person on the Texas Tech campus August 8th – 13th. Because of the cancellation of the 2020 session, we anticipate both record attendance and limited enrollment, so early registration is encouraged in order to guarantee admission.
Rest assured that the School of Banking will continue to monitor Texas Tech University, State of Texas, and CDC guidance regarding developments with the Covid-19 pandemic. We are planning sessions and events in a manner such that all participants and speakers will benefit from in-person attendance with the implementation of all necessary safety protocols.
At this time we do not anticipate the need to offer the school "virtually." It is our strong preference that everyone attend the school in person, given the many known benefits of networking, relationship building, and improved learning that comes with a team environment. However, we will remain flexible and inform you if the need arises to change our approach.
Finally, because of the uncertainties that we are all facing, we will allow cancellations with full refunds if notified by July 31st.
Welcome from the Director
"Since 1973, the Texas Tech School of Banking has successfully partnered with hundreds of community banks to bring together bankers seeking to advance their careers as current or future members of their management and leadership teams. The concentrated week-long programs are delivered by seasoned experts in their fields, and specifically designed to provide a greater understanding of all aspects of community bank management today and in the future. Our goal is to help participants grow professionally and become tomorrow's banking leaders.From accounting, to leadership, to technology, year one participants learn through interactive lectures and team activities. Speakers and lecturers are practice-oriented as well as thought provoking, helping bankers "take it back to the bank." Additionally, each participant is provided his or her bank's financial information and learns where to find the numbers, how to interpret the numbers, and how to analyze their bank's financial situation compared to peers.

Through a nationally-recognized bank management simulator, year two participants work in teams to build and manage a thriving virtual community bank. Participants apply tools learned in year one, plus advanced material and topics covered in year two, to put knowledge into practice in a team competition. This extraordinary experience allows participants to manage a virtual bank and test multiple strategic decisions to explore how best outcomes are achieved in real banks. Year two is designed to help bankers see and manage all aspects of the bank, not just their silo . . . exactly what managers and executives say they depend on.

Throughout the challenging and collegial week, participants will enjoy the state-of-the-art Rawls College of Business building, as well as the beautiful Overton Hotel & Conference Center. Breakfast and lunch are provided daily, and evenings include social activities, cocktail receptions, plus dinners on three nights. Knowing that an important part of the week is having time to network with other participants and invited executives, we provide for refreshment breaks during the day.

We are proud of the Texas Tech School of Banking's legacy of educating today's and tomorrow's banking leaders. We encourage you to explore the school and see why thousands of bankers across several decades have enhanced their careers by attending the Texas Tech School of Banking!"
Jeff Mercer, Ph.D.
Director, Texas Tech School of Banking
Yearbook & Photos
Rawls College of Business