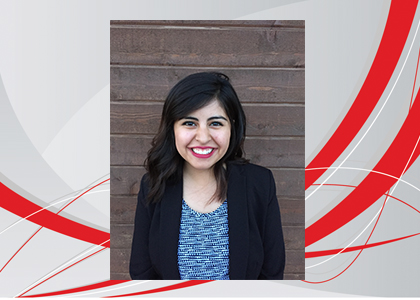 Out of 11,000 applicants, Rawls College student Jazmin Solano was one of 118 chosen for an internship with Southwest Airlines last semester.
Solano, who will graduate in May with her degree in marketing and concentration in international business, worked as an operations strategy intern for Southwest Customer Service and Support.
This first-generation student has a passion for exploring new cultures, understanding business worldwide and making a positive impact. Her experiences with studying abroad and internships have amplified her love for international cultures and making a difference on a global scale.
During her internship with Southwest, Solano launched a beta-app, traveled to support fellow Co-Hearts with a Live Chat prototype, created reports in Excel and PowerPoint for senior leaders, communicated cross-departmentally, helped in the hiring process of an advisory board and created graphics for posters displayed across campus. In addition, she also had the opportunity to volunteer 18 hours towards organizations such as Meals on Wheels, Angel Tree and Frasier Dam Cleanup.
"Southwest excels at including their interns in real business decisions," Solano said. "I met amazing people, and I'm thankful every day to have gained experience with them."
In addition to her internship with Southwest, she has also completed a Marketing Research Internship with Zabai in Norway. Last spring semester, she found herself at a crossroads. She was a junior in college who needed internship experience and, after studying abroad in France, she had the desire study abroad again. She was sure she had to sacrifice one of her goals, but with the help of Marketing Professor Debbie Laverie, she found the perfect compromise.
"I stayed after class one day and explained my situation to Dr. Laverie," Solano said. "I mentioned that I loathed having to choose between finding an internship and studying in Norway. I remember asking if she thought it possible to find work in Norway to help pay for the program, get marketing experience and work toward my International Business Certificate. Looking back, it was an incredulous dream, but Dr. Laverie didn't blink twice."
Laverie passed Solano's resume along to Norwegian Professor Kjetil Gjerdalen, who searched his contacts in Norway for someone looking to hire a marketing intern. Solano interviewed and was hired for an internship with Zabai, a startup company striving to provide e-learning in developing countries.
"Working internationally was a priceless experience, but my real passion lies in the company itself," she said. "Ivar Viktil, the CEO and owner, is a highly intelligent, motivated and caring individual. I learned skills that ranged from creating graphics and presentations to experiencing the beginning stages of funding and establishing a business plan. The Norwegian culture encouraged me to voice my opinions and manage a healthy work/life balance. I will always be grateful to my Texas Tech professors and Ivar for the opportunity of a lifetime."
Solano also gained professional experience as a First Experience Mentor, with which she attended First Year Experience meetings that are required of all freshman honors students. Additionally, she taught a weekly Learning Community Group course to the students that covered topics such as professionalism, studying abroad, community service, cultural events and new special topics regarding difficult conversations in today's society.
Being a first-generation student also affects Solano's outlook on life and learning. Her parents came from a life of poverty in Mexico, which has inspired her to work hard and gain all of the experience she has.
"My accomplishments are a direct result of my parents' hard work and I can't help but feel a sense of pride and responsibility," she said. "I recommend other first-generation students to maintain a learning mentality. The realm of higher education is at times overwhelming when you're the first in your family to make the transition; ask for help, follow leaders in your field, study abroad, explore new cultures and the unknown. Challenge yourself constantly and pave your own path."
Wanting to start her own company as a child sparked her interest in studying business. As Solano grew older, she realized how valuable studying business would be whether she opened up her own business or not. She believes the understanding of the business world she has gained with her marketing degree is paramount to her impacting the world in a positive way. She was also inspired to get a concentration in international business after her study abroad trip in France interested her in exploring new cultures and understanding worldwide business.
"Oftentimes, the world of business tends to carry a negative connotation of greed or corruption," Solano said. "I hope to make a positive impact in underdeveloped countries or struggling communities."