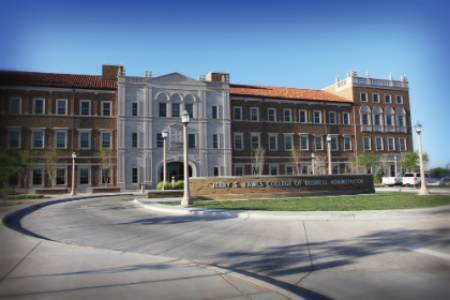 The Jerry S. Rawls College of Business received a congratulatory notice this week that accreditation of its business degree programs was extended once again by AACSB International—The Association to Advance Collegiate Schools of Business.
"AACSB congratulates Texas Tech University's Rawls College of Business on extending its accreditation," said Stephanie M. Bryant, executive vice president and chief accreditation officer of AACSB International. "The intense peer-review process confirms a school's continued focus on excellence in all areas, including teaching, research, curricula development, and student learning. Rawls College's dedication to delivering high quality business education will create the next generation of great leaders."
Accreditation by AACSB, the main accrediting organization for business schools, is widely considered a hallmark of excellence in business education.
"We are proud of our AACSB accreditation, which is one indicator of our outstanding programs, students, staff and faculty," Rawls College Dean Margaret Williams said. "Being AACSB-accredited means that we must focus continually on quality, student learning, engagement, impact and innovation. My thanks to the many staff and faculty members who worked hard on our reaccreditation effort and to the students, alumni, business partners, and members of Texas Tech University's administration who supported our efforts."
Texas Tech's college of business first achieved undergraduate accreditation from AACSB in 1958 and master's degree accreditation in 1981.
Founded in 1916, AACSB is the world's largest global business education network and the longest serving global accrediting body for business schools that offer undergraduate, master's and doctoral degrees in business and accounting. The organization accredits 836 of the worlds' best business schools in over 55 countries and territories. According to the organization:
• AACSB-accredited schools account for more than 90 percent of ranked schools globally.
• Some 89 percent of graduates of AACSB-accredited institution rate their education as good to outstanding value.
• Students of AACSB-accredited schools are educated by leading professionals and academic experts in their fields, and some of the world's most influential leaders, innovators and entrepreneurs graduated from AACSB-accredited schools.
About AACSB International
As the world's largest business education alliance, AACSB International—The Association to Advance Collegiate Schools of Business (AACSB) connects educators, students and business to achieve a common goal: to create the next generation of great leaders. Synonymous with the highest standards of excellence since 1916, AACSB provides quality assurance, business education intelligence, and professional development services to over 1,600 member organizations and more than 835 accredited business schools worldwide. With its global headquarters in Tampa, Florida, USA; Europe, Middle East, and Africa headquarters in Amsterdam, the Netherlands; and Asia Pacific headquarters in Singapore, AACSB's mission is to foster engagement, accelerate innovation and amplify impact in business education. For more information, visit aacsb.edu.