People often assume that great leadership requires only a high IQ, but the most successful and respected leaders also have high emotional intelligence.
That was the core message of Texas Tech University Professor of Law Wendy-Adele Humphrey in speaking recently to students of the Rawls Business Leadership Program (RBLP). A woman of many titles and leadership roles, she is also associate dean for assessment and strategic initiatives, the director of the Texas Tech Pre-Law Academy and the interim director of the Legal Practice Program at the Texas Tech University School of Law.
During her visit, she discussed the importance of emotional intelligence, which she defined as the ability, capacity or skill to perceive, assess and manage the emotions of one's self, others and groups.
"Emotional intelligence is a difficult concept to grasp and try to improve," Humphrey said. "It's not so objective; and it's dealing with emotions, which can be a hard thing."
She explained to students how the skill, or lack thereof, affects management in business settings. Effective leadership arises at the "intersection of the heart and head."
The best leaders are self-aware of their emotions in particular situations and react rationally to others' emotions.
"It's getting not only the temperature of yourself, but those whom you are leading," she said.
Though IQ is often measured, emotional IQ is not, she said, adding that the most "book-smart" individuals can make poor leaders. If they lack emotional intelligence, then they will not develop respect from those whom they are leading, she said.
Great leaders know that treating subordinates well inspires success, and they understand how their workers accomplish most essential work and can be motivated by positive reinforcement, Humphrey said.
Under the umbrella of emotional intelligence, Humphrey touched on conflict resolution. She said conflict is not always a bad thing; it depends on how one approaches it.
People often fear conflict for four basic reasons: making the situation worse, hurting the relationship, feeling guilt, or fearing retribution. However, she encourages healthy conflict because it is often the key to solving problems in people's professional and personal lives.
Emotional intelligence plays a vital role in conflict, she said. The ability to be self-aware of one's feelings toward the conflict and how other parties feel about the conflict are important factors in having a healthy confrontation and resolution.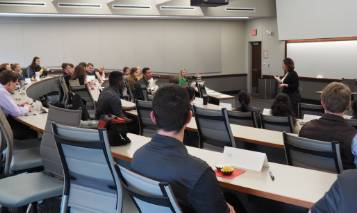 Humphrey said learning how to be self-aware about one's emotional tendencies is the first step in learning how to successfully lead. On that note, she wrapped up her presentation by giving quizzes to the students to help them identify their own conflict styles.
Jake Anderson, an RBLP student, said Humphrey's lesson on emotional intelligence was interesting and unique.
"She talked about something not a lot of speakers talk about but is still important," the junior finance and accounting major said. "It was a nice change to hear a speaker talk about something in leadership that was interesting and different."
The Rawls Business Leadership Program provides students with real-world knowledge and experiences to excel in leadership roles. The program focuses on developing "complete students" who possess both a strong academic foundation and real-world experience necessary to be an innovative and ethical leader. The RBLP lecture series, held each fall and spring, invites business professionals from across the country to share their leadership expertise and insights with students.