Nonprofit leadership makes a perfect career for entrepreneurial people with passion and drive, local leaders told students gathered recently at the Jerry S. Rawls College of Business.
"That's what makes a successful executive director of a nonprofit because you have to wear a lot of hats," said Doug Morris, executive director of Family Promise of Lubbock, which assists homeless families with children to help them achieve long-term self-sufficiency.
Laurie Foster, founder and director of Backyard Mission, urged the students to follow their passions.
"If in your heart you feel you need to do something about a situation, then you need to listen to that," said Foster, whose organization helps low-income people with home repairs.
Morris and Foster were among four Lubbock nonprofit leaders who spoke at the college's Fifth Annual Nonprofit Leadership Panel, hosted by the Rawls Business Leadership Program and attended by about 40 of its student members. The other panelists were Cassandra Henry, president of the Science Spectrum & Omni Theater, and Chris Bost, executive director of Wrench It Forward.
"The panelists brought light to the idea that the business world is not just about making money," said Joseph Kellam, a sophomore and supply chain management major. "They showed that we can use the business education we're getting for so much more than just ourselves."
The Rawls Business Leadership Program provides students with real-world knowledge and experiences to excel in leadership roles. The program focuses on developing students who possess both a strong academic foundation and the real-world experience necessary to be an innovative and ethical leader.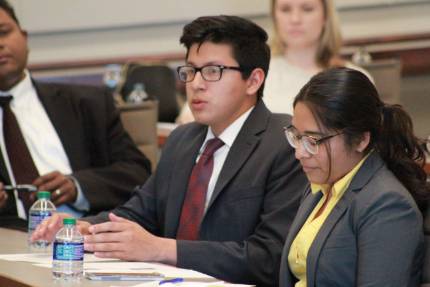 "These students are in this program not just because of their academics, but because they are leaders on campus," Associate Dean and RBLP Director Mayukh Dass told the panelists in commencing the event.
Two students serving as moderators asked the panelists a variety of questions, such as what obstacles they have faced.
The obstacles and opportunities are endless for nonprofit leaders because of the variety of roles and responsibilities involved, Henry said. It is challenging work that requires drawing from one's education and life experiences but is amply rewarding, she said.
"You're going to get far more out of it than you're going to give," Henry said.
Bost agreed about the satisfying nature of nonprofit leadership.
"In the nonprofit sector, I just feel that's where I need to be because I'm serving people and their needs. I just feel like it's a calling," he said.
His nonprofit, Wrench It Forward, provides affordable auto repair service to families and individuals with limited means. He previously owned and operated another business related to the automotive industry.
"During that time, I figured out there are a lot of people in this town who are hurting," he said.
He started Wrench It Forward in 2017.
"I had that entrepreneurial spirit," he said. "When we first opened, we didn't know what kind of reaction we'd get from the community."
As his nonprofit grows, he and his group continue to learn, he said.
Though running a nonprofit is purposeful work, it isn't the only way to combine one's passions and profession, Foster said, noting that professionals can also donate their business services to nonprofits.
Moderators asked panelists how they have seen their organizations make a difference.
Morris recalled receiving an invitation to a 1-year-old's birthday party that was held at the home of a family who had been assisted by his organization, and thus no longer homeless.
"When you feel discouraged, it's little things like that that keep you going and remind you that you are making a difference," Morris said.
Henry explained that her organization, whose mission is to help children and adults grow intellectually through science education and exploration, makes a difference in a different way than a nonprofit providing basic needs like food and shelter. Her organization's role comes in the next stage of helping people, after they have had their basic needs met, to function better and contribute to society.
"If we aren't informed and don't understand the world around us, there's no way we can make decisions," she said.
Students reflected afterward on the perspectives and insights shared by panelists.
"It was a very rewarding experience to hear firsthand the lives that are being changed through nonprofit organizations," said Anna Plehal, a junior pursuing a degree in finance. "The individuals who spoke on behalf of their organization were very passionate people who felt called to make a greater impact on their community beyond their everyday job.
"I was surprised by the variety of career paths that led into the foundation of nonprofits and the different ways they are able to give back to their communities."
Learn more about the Rawls Business Leadership Program.