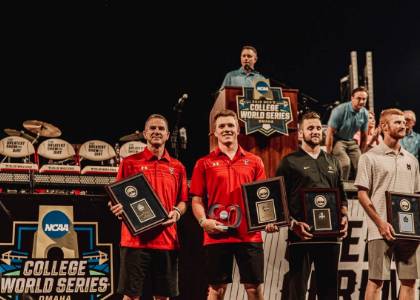 OMAHA, Neb. – Texas Tech baseball player Braxton Fulford, a student of the Jerry S. Rawls College of Business, is the Elite 90 winner for the 2019 NCAA Division I Baseball Championship.
A Lubbock native and sophomore majoring in finance, Fulford was presented with the award during the Opening Ceremonies of the 2019 College World Series on Friday evening at T.D. Ameritrade Park in Omaha, Neb. He was previously named the Google Cloud Academic All-District first team catcher and Academic All-Big 12.
The Red Raiders were also honored as the team with the highest cumulative GPA at the 2019 CWS.
On the field, Fulford has filled a valuable role as the team's catcher and has upped his batting average to .292 in his second season. He played his way onto the NCAA Lubbock Regional All-Tournament Team, hitting .333 with two RBI as the Red Raiders swept their way to the Super Regional round.
The Elite 90, an award founded by the NCAA, recognizes the true essence of the student-athlete by honoring the individual who has reached the pinnacle of competition at the national championship level in his or her sport, while also achieving the highest academic standard among his or her peers. The Elite 90 is presented to the student-athlete with the highest cumulative grade-point average participating at the finals site for each of the NCAA's championships.
Fulford is Texas Tech's second Elite 90 award winner this year, joining Davide Moretti of the men's basketball team. Other past Texas Tech recipients are Kim Kaufman from women's golf in the 2011-12 season, Montene Speight of women's track & field in 2014-15 and baseball's Tyler Floyd in 2015-16.
Eligible student-athletes are sophomores or above who have participated in their sport for at least two years with their school. They must be an active member of the team, traveling and a designated member of the squad size at the championship. All ties are broken by the number of credits completed.
For more information on the Elite 90 award winners, log on to NCAA.com/elite-90.