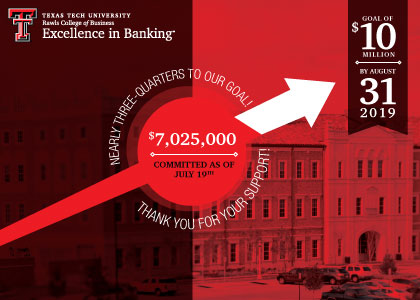 Industry and donor support has put the Jerry S. Rawls College of Business at Texas Tech University within just $1 million of attaining its funding goal for the Excellence in Banking Program announced on June 10.
With $1.9 million raised in just the last month alone, the program is close to attaining its goal of $8 million, which it hopes to reach by Aug. 31. Achieving that goal will make the program eligible for more than $2 million in challenge funding, which will fully endow the $10 million program.
Ryan Todd, senior director of development for the college, said numerous banks, individuals, foundations and organizations from across Texas have donated to support the new program.
"The strong support we have received from our alumni and partners in the banking industry shows there is a definite need for this program," Todd said. "Our goal is to help ensure our students are prepared for today's modern banking world and help the banking industry fill their positions with qualified talent."
Scheduled to launch this fall, the program is designed to produce top-notch bankers by giving students a comprehensive understanding of modern banking operations and practices. Students will complete courses in finance, accounting and advanced banking topics to prepare them for long-term success in the ever-changing banking industry.
Funds raised will be used to directly support student scholarships and a range of academic activities, including keynote speakers, student conference travel, certificate exam fees and travel to industry sites, such as the Federal Reserve Banks.
"We developed this funding model in an effort to identify founding partners," said Margaret L. Williams, dean of the Rawls College. "Based on an initial investment in the program, these partners will enable us to attract top students to banking, perhaps even students who had not considered that a career in banking might be for them. We see this as a virtual pipeline for bankers and banking."
Fundraising will continue beyond the college's Aug. 31 deadline in an effort to continue to grow the endowment for the program.
The college also has launched a national search for a qualified professor of practice to serve as the director of the Excellence in Banking Program.
"We are committed to identifying the person who will be the glue that brings all aspects of the program together: the person who will continue to unite students, banking partners and faculty around our goal of excellence," Williams said.
To learn more about supporting the Excellence in Banking Program or the director position, please visit its website.
Excellence in Banking Founding Partners

($500,000-$1 million)
• Scott Dueser

($250,000-$499,999)
• First Financial Bank
• First United Bank
• Frost Bank
• Texas Bankers Association

($100,000-$249,999)
• AIM Bank
• FirstBank Southwest
• FirstCapital Bank of Texas
• Independent Financial
• InterBank
• Lamesa National Bank
• Lubbock National Bank
• PlainsCapital Bank
• Southwest Bank
• Texas Capital Bank
• Texas First Bank
• The Independent Bankers Bank
• Veritex Bank
• Vista Bank of Texas
• Western Bank
• WestStar Bank
Friends of Excellence in Banking
• First National Bank of Aspermont
• Peoples Bank
CONTACT: April Chavez, director, Communications & Marketing, Jerry S. Rawls College of Business, Texas Tech University, (806) 834-5629 or april.chavez@ttu.edu