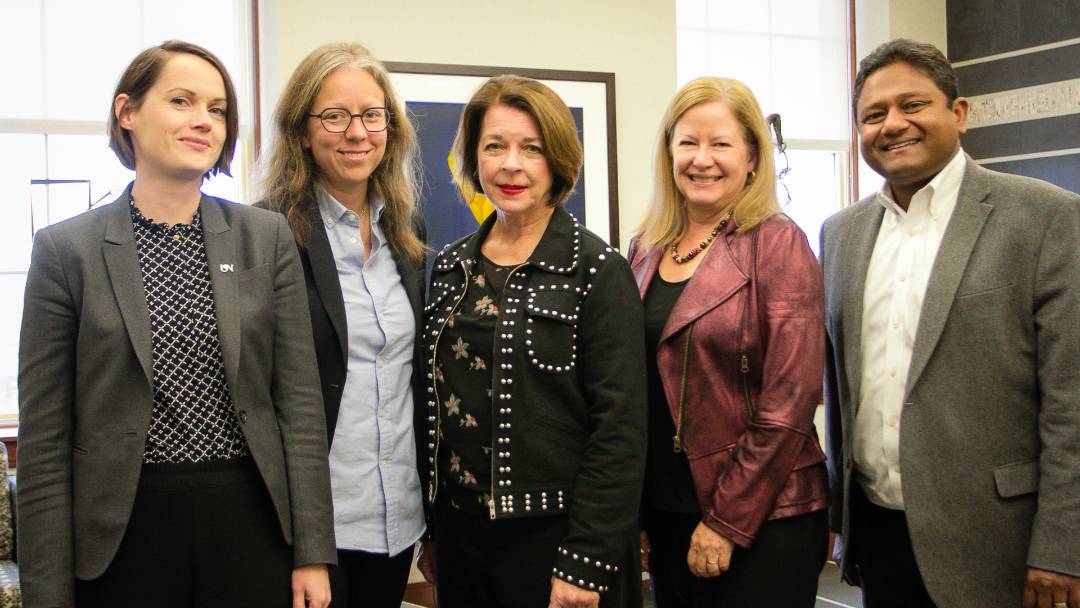 Students at Texas Tech and USN in Norway now have a clear path to earning master's degrees from both universities.
Building on their 20-year alliance, the Jerry S. Rawls College of Business and the University of South-Eastern Norway (USN) School of Business today made official a collaborative engagement that paves the way for students to earn master's degrees from both universities.
Through the new arrangement, students of Rawls College's STEM MBA Program will have an opportunity to earn a Master of Science in Management Information Systems at the USN campus in Hønefoss. Likewise, students in Norway working toward their Master of Science in Management Information Systems from USN will be able to come to Rawls College to earn a STEM MBA.
"That's a combination that I haven't seen before. It's a unique program," said Karen Stendal, program coordinator for the M.I.S. program and associate professor of information systems at the USN School of Business. "It's an opportunity to study two related fields while experiencing a different culture."
Stendal arrived in Lubbock on Friday, along with two other USN faculty members: Therese Dille, vice dean of the school of business and associate professor of management; and Martha Clabby Kjølseth, assistant professor of management. Dille and Stendal met with Rawls College Dean Margaret L. Williams and Associate Dean of Graduate Programs and Research Mayukh Dass this morning, at which time they signed the agreement. Stendal also met with Rawls STEM MBA students this week to share information and answer questions about the collaborative engagement.
"This is a great opportunity for our students who are interested in pursuing a career in the information technology industry to learn about IT systems in Europe," Dass said. "It will definitely open up more job opportunities for our students. Moreover, we will attract the top students from Norway to come to Texas Tech and pursue their MBA."
This week, Stendal, Dille and Kjølseth had a full itinerary, including attending the Rawls College tailgate party and Texas Tech University football game last Saturday, going hiking at Palo Duro Canyon State Park with Dean Margaret Williams and others on Sunday, dining with USN graduate students studying this semester at Rawls College on Tuesday, and meeting with Rawls students and faculty members throughout the week.
Additionally, Kjølseth, who is the program director of the USN International Summer School, gave a presentation to Rawls undergraduate students about the annual joint, summer-study-abroad program held at USN's campus in Hønefoss, a program that celebrated its 20-year anniversary this year.