After earning his PhD in 1988, Ricketts began his career at Texas Tech University, a place he would spend his entire career.
For the first time since 1988, the School of Accounting in the Jerry S. Rawls College of Business will be without Professor Robert Ricketts, Frank M. Burke Chair in Taxation, who is retiring prior to the 2023 academic year.
For nearly 35 years, Ricketts has had a significant impact on the School of Accounting, serving as a mentor, leader and advocate for many. Without a doubt, he has impacted the lives and professional trajectories of countless students, instructors and alumni as an industry-leading scholar.
After graduating with his PhD from North Texas State University in 1988, Ricketts landed an assistant professor position at Texas Tech.
"It's exceedingly rare that a faculty member spends their entire career at a single institution," said Kirsten Cook associate professor and incoming director of the School of Accounting. "[Ricketts's] loyalty to and love for Texas Tech, his accounting colleagues and our students speaks volumes about his character and his desire to make the School of Accounting the very best."
John Masselli, Haskell Taylor Professor of Taxation, echoed Cook's sentiments.
"Instead of falling prey to the greener grass on the other side, [Ricketts's] attitude is that if you want plush green grass, you need to invest the time and energy at your own home to make it the envy of the neighborhood," said Masselli. "I think the facts speak for themselves given the current top tier slate of faculty we have with more wanting to join the School of Accounting."
Andrea Romi, Clark and Lois Webster Associate Professor of accounting, believes the longevity of Ricketts's career speaks to something more.
"[Ricketts] bleeds red and black and would do anything and everything to help the accounting department, the college, and the university," said Romi. "It also speaks volumes about the university and the college – this is a great place to work and has been made more so because of Robert's presence."
For Kristen Bigbee, a senior lecturer in the area, it is tough to imagine the School of Accounting without the presence of Ricketts.
"To me, [Ricketts] is the School of Accounting," said Bigbee. "I started at Tech as an accounting major in the fall of 1998 and graduated from the MSA program in December 2002. I was hired as an instructor in the summer of 2005 by [Ricketts], and since then he's served as the department chair or director for all but two years."
Impact on School of Accounting
As the leader of the School of Accounting, Ricketts always emphasized the importance of teaching undergraduate students, an aspect that can sometimes get overlooked in favor of focusing on scholarly research.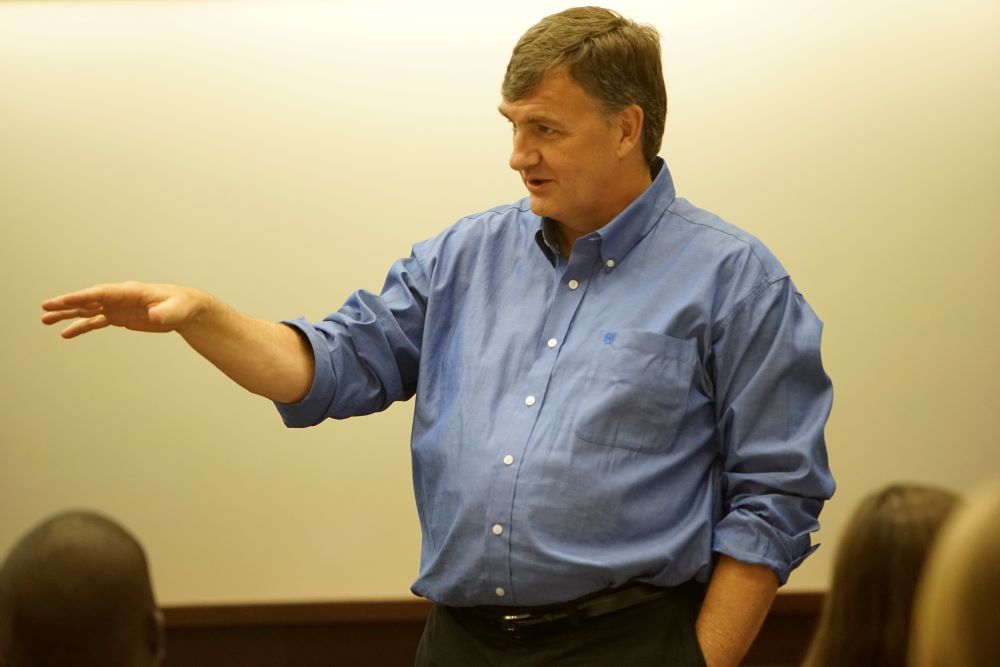 "While [Ricketts] supported faculty and doctoral students to conduct excellent research and publish their scholarship in top-notch journals, he never forgot that the School of Accounting exists to educate our students," said Cook. "The reason that we have a 100% placement rate of our MSA graduates is that our faculty provide excellent teaching that prepares our students for careers in public and industry accounting."
During his time in the School of Accounting, Ricketts made it a point to gain support from alumni and fellow leaders within accounting. While it may be one of his more unsung accomplishments, it's one that did not go unnoticed.
"We have the absolute best alumni," said Bigbee. "They support the School of Accounting with their time by coming back to speak to and network with our students and to support us monetarily. This would not be happening if not for the relationships [Ricketts] has built with our alumni over the years."
"Though I graduated in 1974 before Ricketts's arrival at Texas Tech, I'm certain I would have benefitted from having him as a professor," said Brenda Peters, Tax Director for Enterprise Products Company and a 2022 Rawls College Distinguished Alumni honoree. "I met Dr. Ricketts in 2014 in conjunction with my establishing a scholarship endowment in honor of my favorite accounting professor, Dr. Herschel Mann."
Ricketts, according to Peters, helped lead the charge of reaching $1 million in endowed scholarship funds in honor of Mann, who taught at Rawls College for 43 years before retiring in 2016.
Along with trying to connect alumni to current and incoming students, Ricketts paid close attention to industry trends and made sure the School of Accounting was doing its best to stay ahead of those trends.
"I would argue the School of Accounting is an innovator," said Masselli. "[Ricketts] noticed that major accounting firms were taking the lead on implementation of diversity, equity and inclusion (DEI) strategies in their hiring practices and firm human resource policies. Taking the signal from our recruitment partners, he felt Rawls College needed to do more to promote the importance of diversity to our university community."
In 2015, Ricketts committed the School of Accounting to establishing and sponsoring the Rawls Diversity Symposium. The School of Accounting would go on to sponsor the first four symposiums, until it became a Rawls College sponsored event.
"[Ricketts] felt that not only would those participating in the symposium benefit from the speakers, panels and other events but that the public recognition of Rawls School of Accounting's commitment to DEI would serve to improve our national brand."
The Advocating Mentor
When a person takes on a leadership role, it can be challenging to ensure everyone feels supported; yet, that's something that Ricketts seemed to take quite a bit of pride in. Whether he was vocally supporting them or leading by example, Ricketts set the tone for building a sense of community within the School of Accounting for decades.
"There are so many reasons the School of Accounting is better because of [Ricketts]," said Romi. "Some include the diversity of the department, the collegiality among our faculty, and a steadfast and respectful attention to the well-being of our students."
This level of advocacy becomes incredibly important for anyone in minoritized communities or unprotected positions.
"As an instructor, I am at the bottom of the food chain so to speak," said Bigbee. [Ricketts] has always valued the role I serve within the program. He has always made me feel as important as the tenured faculty. His leadership and vision for the School of Accounting makes me want to work hard and serve our students to the best of my abilities."
Masselli felt the allyship from Ricketts on a more personal level when he first interviewed for an assistant professor position in 1997.
"As an openly gay man, I had reservations about bringing my partner –now husband –to a state, city and university where, at that time, there were no protections for the LGBT+ community," said Masselli. "Texas Tech was going to have to do something pretty significant to quell those concerns for me to opt to be begin my career here. That something turned out to be Robert Ricketts."
After a nearly two-hour interview, Ricketts made clear to Masselli that he fully understood that Texas Tech was far behind other academic institutions in terms of embracing diversity. Furthermore, Ricketts made it clear that he wanted to help change that and vowed to be an ally for LGBT+ people.
Cook shared a similar experience about Ricketts making the School of Accounting so welcoming.
"I knew [Ricketts] from the American Taxation Association before I joined the faculty at Texas Tech," said Cook. "From the moment I met [Ricketts] for dinner during my job interview, I felt welcomed and appreciated. His warm, affable demeanor put me at ease and conveyed that the School of Accounting is more than an office, it's a family."
Thanks, Robert Ricketts
As with all goodbyes, the retirement of Robert Ricketts is one that has people in the School of Accounting feeling thankful for what they had, but sad that it'll soon be gone.
"[Ricketts] has been a professor, mentor, boss and most importantly friend to me," said Bigbee. "He has always supported me. I'm going to miss him stopping by my office just to check in and see how things are going."
"[Ricketts] will be sorely missed," said Masselli, "but many of the fruits of his efforts at the School of Accounting will serve as his legacy, as countless Texas Tech, Rawls College and School of Accounting students yet to come will benefit because Robert Ricketts spent 35 years in the Rawls College School of Accounting."
"[Ricketts} was willing to take a risk on me when no one else was since my research was new to the accounting academic world," said Romi. "[Ricketts] not only welcomed me and all my research ideas, I would argue that he steadfastly supported me in my research endeavors. Throughout my ten years, I cannot imagine a better friend, mentor, or colleague."
Cook will be replacing Ricketts as the director of the School of Accounting and realizes he has large shoes to fill. He is also more than up to the challenge.
"As the new director of the School of Accounting, I have very quickly come to realize and appreciate the countless behind-the-scenes tasks that [Ricketts] handled to make his faculty colleagues' lives better and easier," said Cook. "He worked tirelessly as director to allow the rest of the faculty to focus on their teaching and research. I strive to emulate his excellent example!"
In recognition of Dr. Ricketts' dedication to the School of Accounting, alumni and friends are invited to give to the Robert Ricketts Endowment for Outstanding Teaching, which celebrates teaching excellence in non-tenure track faculty. For more information regarding this endowment, please call the Rawls College Office of Development at 806-834-6808.