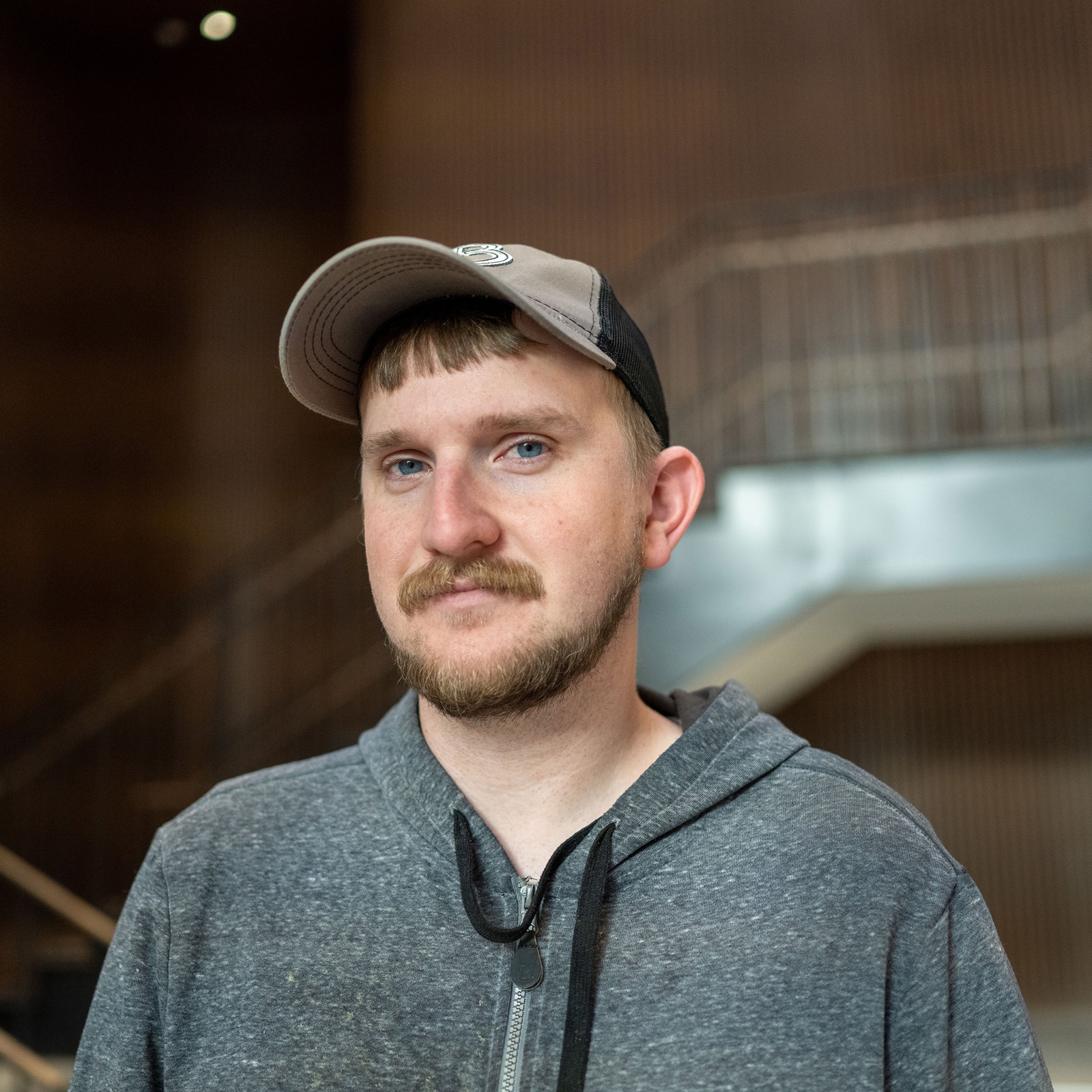 April 25th marks the start of Frontier Fest 2022. This year, in addition to its usual grab bag of ten-minute plays, the week-long festival will include, for the first time, three full-length plays written by graduate students: The Snake Eater by Bradley Hewlett; Gwen and Annie by Charles Hughes; and The Playwright & the Producer by Garret Milton.
These full-length plays are an opportunity to experience, firsthand, the caliber of graduate student in our program.
Hughes' play, Gwen and Annie, is set in rural Texas where two sisters reunite in their cluttered family home. As they sort through the mess and the memories, blindsided by the present, they confront the past and face an uncertain future. Hewlett's The Snake Eater follows Thomas, a recent high-school graduate who works a temp job as a laborer at an archaeological dig. On one of his shifts, he uncovers evidence of a strange ritual that awakens in him doubt about his own religious community and, over the course of a week, forces him to struggle to unite pieces gathered from his waking life with images that emerge in his dreams. The Playwright & The Producer is a dark comedy about a desperate playwright who kidnaps a successful theatre producer to make him workshop a new play, a play that fast unravels before the audiences' eyes.
Each script has been through more than a dozen drafts and are the product of several years' attention. In the summer of 2021, WildWind Performance Lab included workshops of Gwen and Annie and The Snake Eater with the understanding that they would be produced in this year's Frontier Fest. The workshops were not mere table reads but staged run-throughs complete with stage blocking and line-by-line treatment of the dialogue. This honed the clarity and impact of the language, and leveraged different emotional and dramatic resonances of character and plot. The development of The Playwright & The Producer written about last October, received a production at the St. Louis Fringe Festival in the summer of 2021.
Thanks to all this attention, these three playwrights are now more than comfortable handing their plays off to their respective Frontier Fest teams. Comprised of talented directors, actors, designers, and stagehands, these teams will help to bring staged productions of these plays to life.
What's more, Frontier Fest will also, as it has every year, feature an evening of ten-minute plays written by other graduate theatre students: "(Confession)" by Jonathan Lee, "The Kitchen" by Benjamin Stanford, "Everyone's Friend but Your Own" by Jada Campbell, "The Ring" by Tamar Neumann, and "To Have Love and Loss" by Justin Krall.
Frontier Fest also boasts an evening of six dance and movement pieces with choreography by Justin Krall, Bailey Patterson, Abigail Franco, Meagan Woodard, Delaney Ellis & Hannah Coburn, and Annmarie Walling.
Bookending the week is an evening of table readings and an afternoon with Sentient Nuts, a Theatre & Dance improvisation group, guaranteeing a fun conclusion to an exciting week of new work.
Tickets for Frontier Fest are $15 for week-long passes or $5 each performance. For more information visit the School of Theatre and Dance website or call (806) 742-3603.

Calendar of Events
Monday, April 25 – An evening of table readings
Tuesday, April 26 – The Playwright & The Producer
Wednesday, April 27 – An evening of movement and dance
Thursday, April 28 – An evening of 10-minute plays
Friday, April 29 – Gwen and Annie
Saturday, April 30 – The Snake Eater
Sunday, May 1 – An afternoon of improv with Sentient Nuts