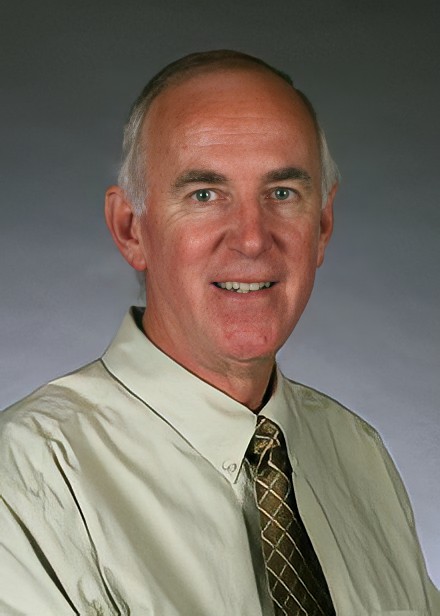 Roger Saathoff, Ph.D., has been an intricate part of the Texas Tech University College of Media & Communication since its early stages. With over 35 years dedicated to the university, the college, and its students, he will retire in August.
"Roger Saathoff is a legend and an institution among almost three generations of our students and alumni," says David D. Perlmutter, Ph.D., professor and dean of the college. "He has been at the center of moving our program forward year after year and always been a role model of cheerful professionalism."
When Saathoff began his career at Texas Tech as an assistant professor, the College of Media & Communication was not yet formed. Rather, it was the Department of Mass Communication in the College of Arts & Sciences. At the time, a small team of faculty worked hard to establish the department as a standalone, and Saathoff was eager to help wherever needed.
"Roger is a team player. Whatever we asked him to do, he did, and he did it quite well," says Jerry Hudson, Ph.D., founding dean of the College of Media & Communication. "He taught classes that he had probably never taught before and did an excellent job."
Shortly after Saathoff was hired, oil prices dramatically declined, and Texas fell into an economic recession. As a result, higher education in the state suffered financially, and an already lean mass communication program had to tighten the belt even more. However, Saathoff stuck by Texas Tech and worked even harder to keep the department going.
"He was very loyal and stuck around while times were tough," says Hudson. "I owe him a great amount of gratitude for the work that he did and the progress that we made to become a college."
In 1992, faculty elected Saathoff as department chair. Now offering five majors, the Department of Mass Communication was growing, but the funds were not.
"[Saathoff] would parcel out the small amount of money that we had in a way that would improve all the majors," Hudson adds. "We had a lot of students and very little money, but he did a great job. He was a visionary and did everything he could to better the department."
Saathoff served as department chair until 1998 and made a significant impact on the Texas Tech community.
"I just remember how supportive he was," says Bill Dean, Ed.D., associate professor and close friend of Saathoff. "I was starting my time as president of the alumni association and some people questioned how I could do that and continue to teach classes. Dr. Saathoff was very supportive of me, and without his support, I probably wouldn't have been allowed to hold both positions."
As a result of Saathoff's support, Dean continued to teach classes and served as president of the Texas Tech Alumni Association for 40 years.
Another colleague who was impacted by Saathoff's support is Erica Taylor, an assistant professor of practice at Texas Tech from fall 2015 to spring 2019. During her four years of teaching, they worked out of neighboring offices.
"I was so intimidated being a new junior professor and being next door to such a respected tenured professor," says Taylor. "[Saathoff] was so friendly and nice. He was always the first one in the office and welcomed me in every morning. Students were constantly visiting his office and he was always happy to help."
Although Saathoff was always helpful to Taylor, it wasn't until 2016 when Saathoff really made an impact on her life.
"My father passed away in the fall, and I remember [Saathoff] always asking about how I was doing and how my family was," says Taylor. "It meant so much to me because I knew he genuinely cared. He was more than a colleague. He was a friend."
Not only does Saathoff support his fellow faculty, but he is someone who honestly loves his job and cares for his students.
"Roger puts his students first and is a natural-born teacher," says Saathoff's wife, Mary. "I've never seen anyone go above and beyond like Roger. Even while he was still in the hospital after an emergency open-heart surgery toward the end of a semester, Roger was asking about his students and wanted to make sure they were still getting their grades. There was one student in particular who came to him and said they knew they had taken the test but received a zero in the grade book. Sure enough, Roger had me go to his office and get a stack of scantrons to bring home so he could go through every single one until he finally found the student's scantron. It really says a lot about Roger. He truly loves his students and is always going to go the extra mile for them."
One of the things Saathoff will miss most is his students. He emphasizes how he didn't simply teach journalism, he taught students. Saathoff learned from his students each and every day, too. He enjoyed challenging his students and encouraging them to ask questions that challenged even him. He loved watching his students explore the material and absorb his lectures.
But the best part of Saathoff's job? "It is the sense of helping people understand something new," he says. Throughout his time at Texas Tech, Saathoff guided numerous students who didn't know what career they wanted to pursue. His words of advice?
"Find what you enjoy, develop the skills that are going to get you there, and put that together," he says. "Don't focus on the money. You'll be much better off doing what you enjoy. Know what you want to achieve in life and look for the tools you can acquire to get there."
Saathoff's commitment to those with which he worked and who he taught never went unnoticed, and his perspective was greatly admired and respected.
"The thing that I always appreciated about Dr. Saathoff – in addition to his substantial institutional knowledge, administrative experience, and devotion to his students and colleagues – is that he never failed to ask about my family or inquire about my life outside the office," says Rob Peaslee, Ph.D., associate professor and chair of the Department of Journalism & Creative Media Industries. "As an avid outdoorsman and a strong supporter of Scouting and other civic organizations, Dr. Saathoff understood work/life balance and encouraged those around him to take a holistic approach to the development of their academic careers."
Saathoff looks forward to retirement, spending time with his family, and continuing to learn new things.
"Two years ago, I started working in watercolor, and I love watercolor," he says. "I am still at a very amateur stage, but I want to work more on watercolor and do photography. I'm going to take the time that I would have been working and spend it doing all kinds of creative things.
Saathoff is excited to travel with his family and spend time with his grandchildren. He also plans to continue working with Boy Scouts on their Eagle Scout projects, perfecting his guitar skills, and learning how to read music.
Congratulations, Dr. Saathoff, and thank you for your commitment and contributions to the College of Media & Communication, and for the impact on and inspiration for so many of the students who have passed through its doors.