Make an Impact
Texas Tech Day of Giving
August 15-16, 2023
Rally together for 1,923 minutes.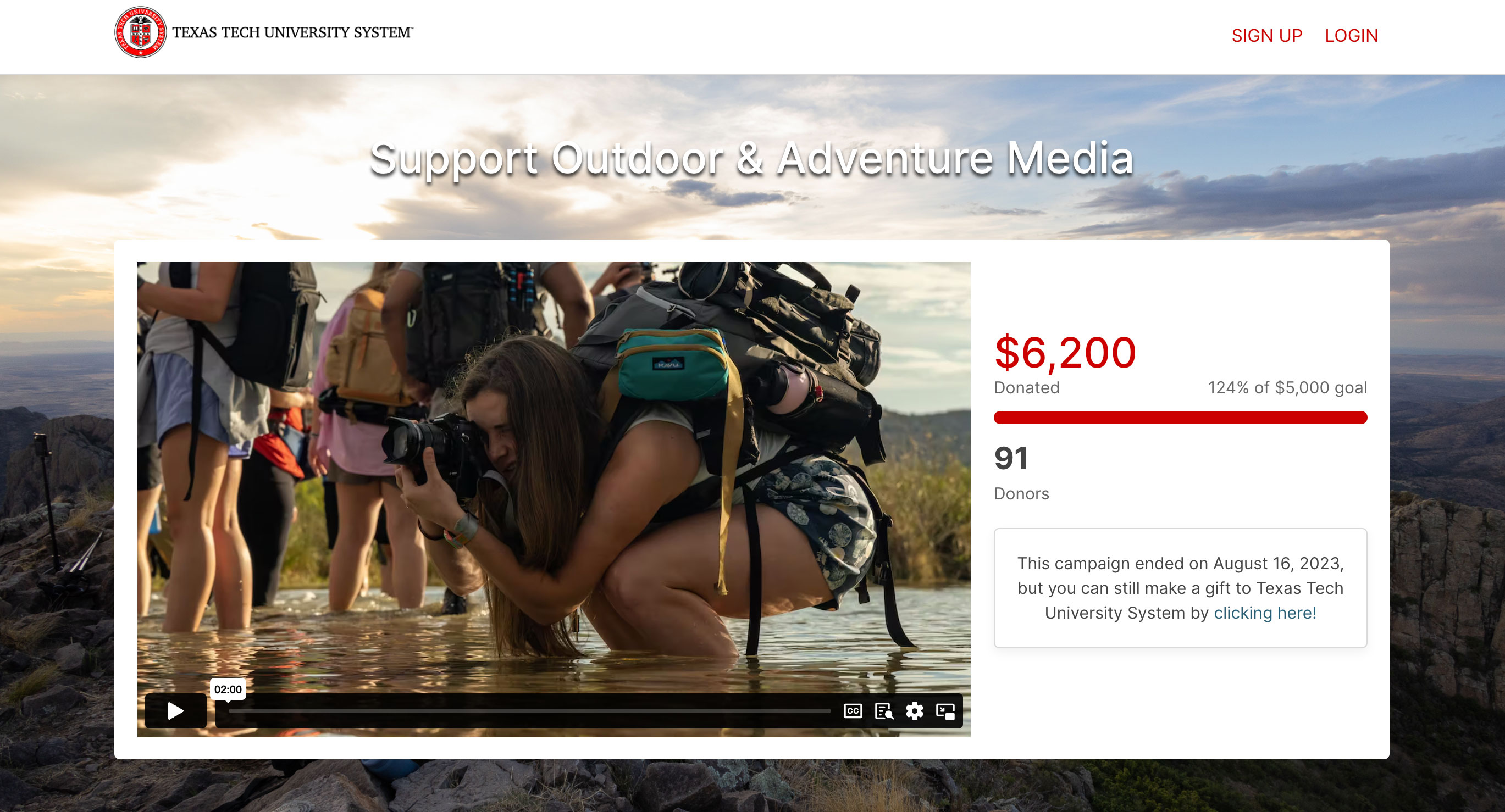 We exceeded our goal! Thank you to everyone who participated. You can still make a gift by reaching out to Lauren Hill at Lauren.D.Hill@ttu.edu.


Other Ways to Give
Charitable gifts are vital to the future of the CoMC and allow us to:
Attract and retain the most accomplished faculty, researchers and students
Expand and improve facilities
Provide much-needed financial assistance to undergraduate and graduate students
Conduct research that impacts students, industry, our communities and the world
Ways to give include the Fund for Excellence, annual gifts, endowments and planned gifts.
Fund for Excellence
The Media & Communication Fund for Excellence is the most direct way to give to the college and make an impact for our students. Donations to this fund help support active, transformative learning in and outside the classroom. Whether it's facilitating travel for an award-winning field course, or establishing an industry speaker series, this fund is all about expanding the classroom and investing in our students' futures.
Annual Gifts
Annual gifts provide a dependable source of philanthropy to sustain our College and can provide opportunities for learning and discovery, extend financial aid and capitalize on innovation.
Common Annual Giving Questions
Why should I give? Aren't tuition and tax dollars enough?
Philanthropy creates opportunities to increase access and excellence through student scholarships and may spur innovation by funding new research and programs.
Why should I give while I am still paying off my college debt?
Annual gifts impact every part of a student's university experience from scholarships and facilities to faculty and research support. Without the generous philanthropic support of alumni like you, your education may have cost much more and making an annual gift will have that same impact on today's students.
My small gift would be a drop in the bucket. Why should I bother giving?
Every gift counts, and when we all give together, we can have a transformative impact. While a single gift of $100 may seem small, 10,000 alumni committed to a $100 annual gift has a combined impact of $1 million. That could, for example, fund a $5,000 scholarship for 200 students to make a life-changing difference in their ability to pursue and complete higher education.
My paycheck is modest, and I already have a lot of expenses. How can I afford a large gift this year?
We want as many alumni as possible to commit to giving, regardless of the amount. When we all give together, great things happen and even an annual gift of only $10 a month supports the work of our College. Any amount makes a difference, and we appreciate your support.
Does my gift really support the area of my choice?
Every gift to the Texas Tech University System is donor-directed which means that, when you make an annual gift to a college, program, scrholarship or sport, 100 percent of your donation goes to that area. You decide how your gift will make an impact.
Is my donation tax-deductible, and will I get a receipt?
Yes, every gift is tax-deductible to the extent allowed by law and you will receive a gift receipt after your gift has been received and processed, usually within seven days.
Can I give to my campus, college or department?
Yes. You can support CoMC, scholarships, and ground-breaking research as well as student activities and programs.
What are 'unrestricted funds'? Where does the money go?
Unrestricted funds — sometimes referred to as a fund for excellence — stay within the specified college or department. Annual gifts to these funds provide general support to the college or department at the discretion of the Dean or director. These gifts are crucial to CoMC and can provide flexible financial resources to upgrade technology and facilities, support scholarships for students in need, recruit top scholars and invest in innovative new programs that support the academic and research missions of our university.


Endowments
What is an endowment?
An endowment is a fund that permanently supports a specific initiative chosen by the donor. The endowment principal remains intact in perpetuity, while its earned interest provides donor-designated funds that serve as crucial elements in student and faculty recruitment and retention.
What do endowments support?
Endowments provide critical financial resources for programs at the department, college, and university level and can include scholarships/fellowships, faculty chairs and professorships and research activities. Donors can work with their development officer to determine what type of programs their endowments will support based on the donor's passion and interest.
How to Create an Endowment
Determine the Type and Purpose of your Fund
There are several endowment types from which to choose that allow you to give in a way that is most meaningful to you. Examples are funds for the area of greatest need, scholarships, fellowships, academic programs, laboratories and facilities, professorships, and chairs.
Select When and How Much to Give
Minimum endowments start at $25,000 and pledge payment schedules can be set up for 3 to 5 years.
Name Your Fund
Many donors choose to name their fund with their name or with their family's name or as a memorial to a loved one. However, if you wish to remain anonymous, we suggest you select a name that reflects your fund's academic goal.
It's That Simple!
Once the gift agreement is signed and the endowment is funded, annual payouts from the earnings will be used toward the stated purpose and will continue in perpetuity while leaving the principal intact. We will send you regular fund activity reports annually to keep you informed.
Principal
Estimated Annual Payout
(Based on 4.5%)
$25,000
$1,125
$100,000
$4,500
$250,000
$11,250
$500,000
$22,500
$1,000,000
$45,000
$2,000,000
$90,000
Table 1: Endowment Payout Chart.
Creating a lasting legacy with planned gifts
Gifts from wills, trusts and retirement accounts are crucial investments in the future of our College and provide an opportunity for alumni and friends to have a wide-ranging impact on students and faculty, from adding to a donor's existing scholarship endowment to providing unrestricted funds to support new innovative programs.
Additionally, gift plans may include a gift of property or artwork. Another option is to name the university system as a beneficiary of a retirement account. Gifts may be unrestricted to benefit the area of your choice.
Beginning your gift plan
There are many ways to make a gift to Texas Tech through your estate:
Designation Gifts
As the easiest gift to make, designation gifts name Texas Tech as the beneficiary of your will, retirement account, annuity or other account.
Annuity Gifts
Give and get back with an annuity gift that supports the program of your choosing today and enables you to receive a guaranteed income for life.
Charitable Trusts
Support your alma mater and receive valuable tax benefits while continuing to provide for yourself or your loved ones.
Property Gifts
Share your assets by making a gift of real estate, securities or other property as part of your legacy to the Texas Tech University System.
Charitable IRA Rollover
For people age 70½ or older, the Charitable IRA Rollover is a tax-wise way to give to our university.
How to Give
Please contact the College of Media & Communication:
Lauren D. Hill
Assistant Director of Development


Email: Lauren.D.Hill@ttu.edu
Phone: +1.806.834.7783
Office: CoMC Room 150A
Box 43082
Texas Tech University
Lubbock, TX 79409
+1.806.742.6500
Learn more about the impact of giving from student scholarships.
College of Media & Communication
Address

Texas Tech University, Box 43082, Lubbock, TX 79409

Phone

806.742.6500