About our College, Departments & Centers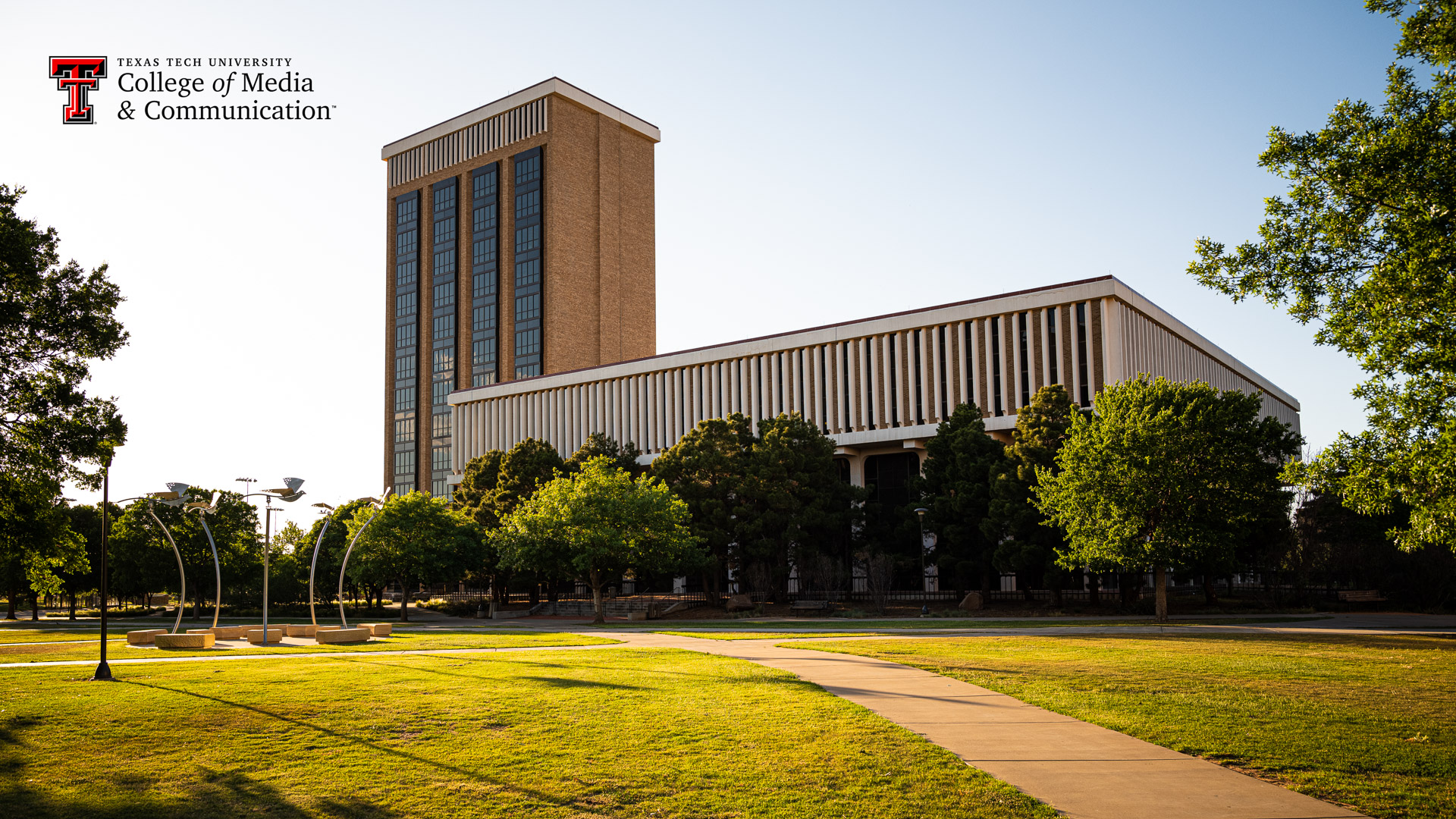 The College of Media & Communication at Texas Tech University offers seven undergraduate degree programs administered by five academic departments. The CoMC Office of Graduate Studies coordinates three master's degree programs and a doctoral degree. The world-class facilities, departments and centers within the college support our missions of education, discovery, creativity, engagement and innovation. The leadership, faculty and staff are devoted to the success of students during their time at TTU CoMC and beyond, bearing our banners far and wide.
About Our People
For information about Media & Communication faculty and staff members, please see our faculty and staff directory. To learn more about our college leadership, view our College of Media & Communication Organizational Chart.
Looking to Visit?
The physical address of our building located near 15th and Flint Ave is listed as:
College of Media & Communication,
Texas Tech University,
3003 15th St,
Lubbock, TX
79409
View a Building Map
Need to find look at a building map to something in the CoMC aka MCOM building? We are located at the south east intersection of 15th St and Flint Ave. The grounds consist of tower offices, a classroom building, and rotunda building all connecting several floors of space. The west tower contains offices of leadership, faculty, and staff. An ADA Accessible Entrance can be found on the north east entrance of the building and elevator access can be found near on southwest side of the tower building, right outside the Dean's Suite Offices. Visitors can park in the east or northeast parking lot.
Take a Virtual Tour
Can't make it to Lubbock to visit? Take a look inside our college by checking out our immersive virtual tour. Explore a lecture hall, visit our radio station, and find common areas or special spaces.
About TTU CoMC Departments & Centers
Center for Communication Research
The Center for Communication Research houses state-of-the-art technology for studying all facets of audience response to media messages—video, audio, online, commercial, informational and more. The CCR contains more than 6,000 square feet of research labs and provides research services to those both within and beyond the Texas Tech community. Comprehensive research solutions are achieved through industry-standard software, cutting edge technology and diverse facilities, including dial-testing, eye-tracking and biometric measurement of audience response. In addition to supporting research within the College of Media & Communication and Texas Tech University, the CCR also works with partners outside the academic community.
The Harris Institute
The Thomas Jay Harris Institute for Hispanic & International Communication (HIHIC) promotes a better understanding of Hispanic-related and international media communication through research, teaching and community outreach. The Institute supports on-campus initiatives as well as external activities and collaborations related to its mission to create knowledge and encourage greater intercultural awareness through informed interaction among students, teachers, researchers, media industry representatives and community organizations.
Department of Advertising & Brand Strategy
The mission of the Department of Advertising & Brand Strategy is to provide students with relevant skills and knowledge to pursue successful careers in advertising. Unique course offerings connect advertising concepts with history and contemporary society, and encourage students to consider issues of responsibility and integrity. Students compare and critique advertising and brand communication as they analyze the changing nature of the media world and are stimulated to think independently and work collaboratively in a professional manner. They learn to create advertising messages that are strategic and compelling. Oral and written communication are paramount in the curriculum offering students opportunities to showcase their ideas persuasively. The program combines a focus on skills-training with critical thinking. Students are taught, above all, to be problem-solvers and to embrace the pursuit of lifelong learning. Advertising: Where Art & Strategy Collide.
Degree offered:
Department of Communication Studies
One of Texas Tech's oldest departments, Communication Studies has a proud history and commitment to equipping students with the skills and knowledge necessary to successfully negotiate the unique challenges of living and working in the globally connected world of the 21st century. Specifically, the department aims to promote effective communication (oral, written, and electronic) in students' personal, professional, and public lives. Additionally, the Department of Communication Studies is home to TTU Forensics, one of the most successful debate programs in the country.
Degrees offered:
Department of Professional Communication
Through two degree offerings, the Department of Professional Communication prepares undergraduate students with essential, marketable skills for media and communication careers in all industries and areas. The Digital Media & Professional Communication program was created to enable students to develop marketable "applied" and "soft" skills sought globally, by not only media and communication employers, but dozens of other industries and areas. Media Strategies, the department's second degree, focuses on developing entrepreneurial skills that can be applied across disciplines and industries, empowering graduates to innovate within a media industry, or to embark upon their own entrepreneurial ventures.
Degrees offered:
Department of Journalism & Creative Media Industries
The Department of Journalism & Creative Media Industries emphasizes experiential education opportunities that provide immersive learning environments, leading students to produce a robust portfolio of content with support from peer, faculty, alumni, and industry mentors. In producing their work, JCMI students are encouraged from their first day in our degree programs to take advantage of opportunities to get busy "making stuff" and plug in to our robust, collaborative content culture.
Degrees offered:
Department of Public Relations & Strategic Communication Management
Using various forms of communication, those who major in public relations & strategic communication management learn to manage the relationships that are necessary for an organization's success. You might even say our graduates are strategic storytellers. As a public relations & strategic communication management student at Texas Tech University, you'll learn how to create and deliver engaging written, digital and face-to-face messages. You'll also learn how to manage integrated communication programs, campaigns and resources so you can effectively advocate for the organizations and causes that are important to you—in any industry!
Degree offered:
Office of Graduate Studies
The College of Media & Communication at Texas Tech University offers a doctoral program and three master's degree programs. Our programs are grounded in theory and introduce students to a variety of different methodologies, approaches, training and practical experience to prepare graduates for careers as educators, researchers, and/or communication professionals. Learn more about the Office of Graduate Studies.
Degrees offered:
Marketing Department
The Marketing Department within CoMC supports and advances the mission of our College and our institution. We strive to project a clear and consistent image of our College that reinforces our position as a leading institution for innovative research and creativity that is committed to supporting and empowering students and graduates.
College of Media & Communication
Address

Texas Tech University, Box 43082, Lubbock, TX 79409

Phone

806.742.6500