Dean's Note
Our college achieved two benchmark indicators this fall that demonstrate complementary aspects of our strength and quality. First, CoMC's retention rate for first-time, degree-seeking freshmen is at 90.7% – the highest of all undergraduate-serving colleges at TTU. Once again, these numbers show we are attracting motivated students who love our curricula, people, and culture!
Second, the Shanghai Jiaotong Academic Ranking of World Universities has rated our program 34th in the world for Communication Research. For context, the "Shanghai Index" is one of the main indicators for universities of the impact of academic research. It compares tens of thousands of universities and disciplinary programs worldwide. Texas Tech University is rated in the "between 401-500" score; we believe our program of Media & Communication is rated the highest in research of any academic program at Texas Tech.
That the two indicators (undergraduate student satisfaction and high research productivity) have achieved such heights at the same time is doubly significant. Our faculty and programs balance devotion to the success of individual students, keeping up modern curricula, and fulfilling the mission of a major research university. Our staff and engaged alumni support our students and the mutual enterprise of student success and research productivity. Teamwork means excellence across the board!
David D. Perlmutter, Ph.D.
Professor and Dean
Dean's Student Ambassadors play vital role in CoMC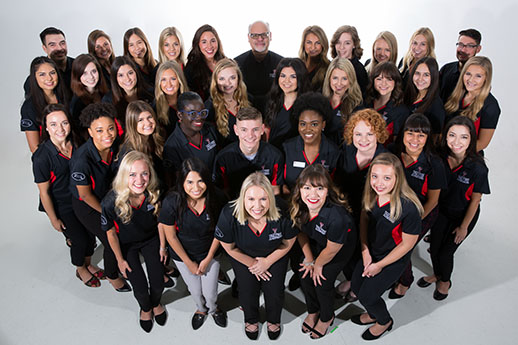 The Dean's Student Ambassadors are a group of high-achieving enthusiastic students chosen each year to represent the College of Media & Communication.
This year, there are 34 students involved, and their responsibilities include staying informed about the latest CoMC facts and events, acting as a resource for prospective and current students, and providing a channel between students and the College administration.
Emily Balke, who coordinates the Dean's Student Ambassadors program, has been able to see the program develop since it began in 2013. As CoMC has grown, the amount of information the Ambassadors have to keep up with has expanded dramatically.
"They have three times as much information to memorize as they used to because we've grown so much," Balke said. To help the group, she regularly quizzes the Dean's Student Ambassadors and cites their expertise on the College as one of their most important responsibilities.
Emily Tann, a senior advertising major from Sugarland, Texas, has been a Dean's Student Ambassador for two years. She feels that the program has given her the opportunity to connect at a deeper level with her College and with the people in it.
"I have gained so many different contacts through Ambassadors," she said. "Not only do we work closely with the Dean, but we also have leadership dinners with alumni of CoMC as well as network with the National Advisory Board when they come."
Lea Maric, a senior media strategies major from Dallas, Texas, is a relative newcomer to the program. She became a Dean's Student Ambassador because she wanted to pursue the opportunity to lead and advocate for the needs of her peers.
"I believe having student ambassadors is very important because we represent a student body of more than 2,100 people," Maric said. "Being students ourselves, we relate more to the current and prospective students in the College because we are all currently in the same boat. It's important to make sure the students of our college know their voices are heard."
Dean David D. Perlmutter, Ph.D., is a passionate champion of the program, and believes that the Dean's Student Ambassadors are an important force of positive change and innovation for the College.
"I need a group of students who are very dedicated to the welfare and the well-being of their fellow students and who will let me know what we're doing right and what we're doing wrong," said Dean Perlmutter.
"I need students who will let me know what the problem is if we have one. They serve me and the College in a variety of ways, and we are very grateful for them."
Student Spotlight: Rebecca Densley, doctoral student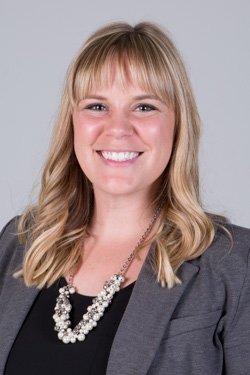 College of Media & Communication doctoral student Rebecca Densley originally planned to become a pediatrician, but when a professor suggested she join academia instead, it set her on a different path.
Densley's graduate studies still enable her to work with children, but now she is focused on researching the role that media play in children's lives.
"I just became so intrigued by this idea that we're in this environment where media is bombarding us, and kids are [bombarded] from the time they're so little," she said. "It's influencing the way that parents interact with their kids. It's influencing the way kids interact with their environment."
She adds, "It's something that I would think about all the time, something I would talk to my family about, something I would come home and talk to my husband about, like, 'Oh my gosh, you'll never believe what I learned today.' I realized that was actually what I wanted to do."
Densley's research focuses on sexual messages in media, particularly on how influential they are in teen interactions. She knows some kinds of media exposure can have negative impacts on children, but how can parents alleviate this situation?
"The next step is about how we get this information to parents and teenagers," Densley said. "That's a challenge, because parents aren't reading academic journals, so the question is what do we need to do, what campaigns do we need to have to get this message to [parents] that they're influential and that it's essential that they talk frequently and openly with their kids about these specific issues?"
Eric Rasmussen, Ph.D., an associate professor in public relations, has conducted similar research to Densley's, and it was this overlap that led Densley to Texas Tech University from her school in Utah. Together, the two have published 10 academic papers and a textbook chapter in "The Routledge Handbook of Media and Well-being."
"Rebecca has grown from someone who is interested in the topic to someone who can effectively conduct empirical research to answer questions that are important to her," Rasmussen said. "She's grown from a student into a scholar, which is our goal in the college's Ph.D. program."
Currently, Densley is working on her dissertation surrounding teen sexting habits.
"Really, my goal is not just to say, 'Oh, look at these damaging media messages,' but to look at parent-child interactions," Densley said. "What can parents do to help their children navigate this environment? That's really my objective — to give parents tools to help their kids."
Currently, along with her school responsibilities, Densley works with her husband to make marketing decisions for their small business in Lubbock, and also helps the CoMC's Bullet Ad Team. She first gained experience in the field when she became the communications director for a humanitarian women's organization.
"I learned a lot about strategic communication just by figuring it out," Densley said. "I hadn't had formal education in it, but I ran all their social media, and I helped find speakers.
"We ended up going to the UN and being part of a conference there that was about worldwide women's issues," she said. "I had to organize a panel, get speakers, and I actually ended up delivering a speech there because one of the speakers couldn't make it, and I was just doing all these things that I was unfamiliar with."
As both a doctoral student and a researcher, Densley now puts strategy at the forefront. She teaches her students to strategically communicate, a skill that she also hopes to impart to parents.
"Parents are impactful," Densley said. "I had the opportunity to do some community presentations to groups of parents and groups of teachers, and I think that parents today doubt [their influence].
"They feel like their kids don't listen to them, that their kids have no interest in what they say, and that they're more interested in media and celebrities, but the research actually shows that that's not true.
"Parents might think that, but they still have a lot of influence in the decisions their kids make, and I think that that's a really powerful message for parents to recognize."
After years abroad, CoMC alum returns as study abroad adviser
Growing up on a cattle ranch in Evant, Texas, a town of about 400 people, Lanna Sheldon's move to Lubbock was a big one. Today, as a College of Media & Communication graduate, Sheldon has traveled to 36 countries and is bringing that worldview to her new position as a study abroad adviser and coordinator for the TTU Center in Seville, Spain.
In her years as an undergraduate in the College, Sheldon studied abroad twice. The first time she was recruited for a CoMC international advertising class in Seville where, according to Sheldon, she fell in love with the Spanish language and culture and decided to extend her stay by 11 weeks to continue to study.
Upon her return to Lubbock, she declared a second major in Spanish, which led her to another semester in Seville.
After graduating with her degree in Spanish, Sheldon felt comfortable primarily using Spanish, but moving to Madrid enabled her love and understanding of the language to take off in a different way.
"When I graduated from Tech, I took a job teaching English in Madrid for two years," Sheldon said. "It was a good way to see the culture in more depth. In [the] Seville [study abroad program], you have a primary taste of what the language and culture offer, but it's not really the same as when you are working in a country. It was a totally different glimpse into the culture.
"To look back, I was 20 years old and I had never flown out of the country," said Sheldon. "I had only been on one trip in my life and I moved to Spain. I guess it was brave at the time, but it felt so natural and, when I got there, everything clicked into place."
After two years in the classroom in Spain, Sheldon's appetite for travel led her to six months of backpacking in Asia and a move to Australia. Finally, at the end of this summer, Sheldon returned to Lubbock where she began her new role.
"It's exciting to be back on campus, feel that energy again and work with these awesome professors," she said.
Sheldon gives some credit to her CoMC professors for the global track she followed. According to Sheldon, faculty such as Professor Kent Wilkinson, Ph.D., and Associate Dean for Undergraduate Affairs Todd Chambers, Ph.D., encouraged her to pursue the rich global industry of bilingual communications.
"Her experience as a former study abroad student will sensitize her to the wonder and challenges of study abroad that students will encounter," said Wilkinson, as he discussed Sheldon's qualifications for her new position. "I think she has developed a broad understanding of the world in all its beauty and complexity; this should help her greatly in encouraging others to do the same."
As she moves into the fall semester, Sheldon looks forward to seeing further innovation within the Seville programs as well as the campus-wide collaborations that will benefit the study abroad program as a whole for years to come.
"I'm looking forward to inspiring students to step out of their comfort zones and to study abroad," said Sheldon. "Spanish is so incredibly helpful; it doesn't matter what industry you are looking towards getting into. It's just so important for students to get out of this world, this bubble at Texas Tech, and experience the way the rest of the world works and then come back and be a better citizen.
"To learn to think globally is something that you can't just read about. You have to experience it and that's what we are trying to encourage students to do."
CoMC alums invited to Forbes Under 30 Summit
One day, at the back of one of Dalton Dellsperger's many media industry classes, he scribbled an idea that would eventually lead to the creation of TownWave, a music streaming app that allowed CoMC graduate Dellsperger and two other Texas Tech alum to attend this year's Forbes Under 30 Summit in Boston.
Drawing from his own experiences as an aspiring rapper, Dellsperger, a former media strategies major from Austin, had noticed that it was quite a difficult process trying to discover new and emerging artists online.
He wanted to make it easier for anyone to discover online a new artist, whatever their reach, and design a way to give feedback to that artist about their songs.
The idea was for an app with the potential to give struggling musicians the outlet they need to jump-start their careers, and Dellsperger took the TownWave concept to his now-partners and Texas Tech graduates Tyler Holden and J.P. Valdez.
As part of their development, the trio entered and placed second in the Lone Star Startup, a student-focused entrepreneurial competition hosted by CoMC and open to all undergraduates (with the specification that one team member be a current CoMC student).
Their project earned them $1,500 in prize money, which enabled the team to develop TownWave's official website.
However, as the business partners approached their graduation date, it became clear that TownWave would have to be placed on the back burner while the men found their footing in post-graduate life.
"When I got out of school, I must have applied for 30 jobs - no exaggeration. I didn't receive one email back. No confirmation, no interviews, nothing," Dellsperger said, as he described the months that followed graduation.
Instead, the graduates decided to focus on their new business.
"What we do is provide a social sound platform for underground musicians and artists that don't really know what the next step is to professionalize their music career," Dellsperger said.
Although TownWave doesn't act as a retailer, the app can be compared to SoundCloud, an online audio distribution platform and music-sharing website with 40 million users. However, according to Dellsperger, their app is more in the business of getting exposure for independent musicians.
This is how it works: musicians upload their music to the platform and the technology allows them to find a target audience and then offers that geographic area their music for 24 hours. (This is called a 'surge'.)
From there, the TownWave app gives the artists statistical analytics and other tools that may then help them better understand what works for their various audiences and how to effectively market to them, wherever they may be.
Additionally, the platform works as a social networking site, connecting artists to fans.
"There aren't a lot of music industry startups right now," he explained. "People tend to back away from the big dogs like Spotify and Apple."
Although Dellsperger admits that the initial growth has been slow, there was good news for the future of the music platform when they were invited to attend the Forbes Under 30 Summit in September 2018.
Now in its fifth year, the Forbes Under 30 Summit is focused on emerging young leaders and entrepreneurs, with approximately 7,000 attendees who can learn from more than 200 world-class speakers, ranging from rap musician Cardi B to John Kerry, former U.S. Secretary of State and U.S. Senator.
The group applied for the summit, not thinking that the startup would have a chance, but after receiving an interview where they explained the concept to the representative, the partners received their invitation.
Once selected for the event, the founders prepared to quadruple the number of artists on the site and to ensure that the app itself continued to run seamlessly. They also released an Android version of the app.
All in all, the group prepared to learn whether or not their app would resonate with the average person, according to Dellsperger.
At the event, the entrepreneurs were greeted with positive feedback and suggestions from industry professionals on how the company should enter the market, as well as how they should approach future investors.
"Everyone loved the idea," said Dellsperger. "They understood the problem and they joined the journey by downloading the app and connecting with us on LinkedIn."
Considering this was a global event, the men were also excited to send the TownWave app to different states and countries.
"Our vision is the same and we are more focused and more motivated than ever," said Dellsperger. "After hearing nothing but good things from the people we interacted with, we know we are on the right path."
Eventually, Dellsperger hopes to see TownWave become the only stop for aspiring musicians and music lovers alike.
As the group prepares to secure their Series A funding, they are also preparing to quit their day jobs to make TownWave their top priority.
"I want TownWave to level the playing field for all of the musicians who get swept under the rug because they don't have money or industry connections or a marketing degree and just don't know how to brand themselves," Dellsberger concluded.
Contributors:
Liz Inskip-Paulk: Inskip-Paulk is editor-in-chief for the College of Media & Communication. She is also an instructor within the college.
Allison McCain: McCain is a sophomore advertising major from Cedar Park, Texas.
Taylor Plate: Plate is a junior public relations major from Allen, Texas.
Alexa Rosas: Rosas is a senior public relations major from San Antonio, Texas.
Love this month's issue? Share it with your friends!
Are you interested in receiving the 'Converging News' newsletter?

Subscribe