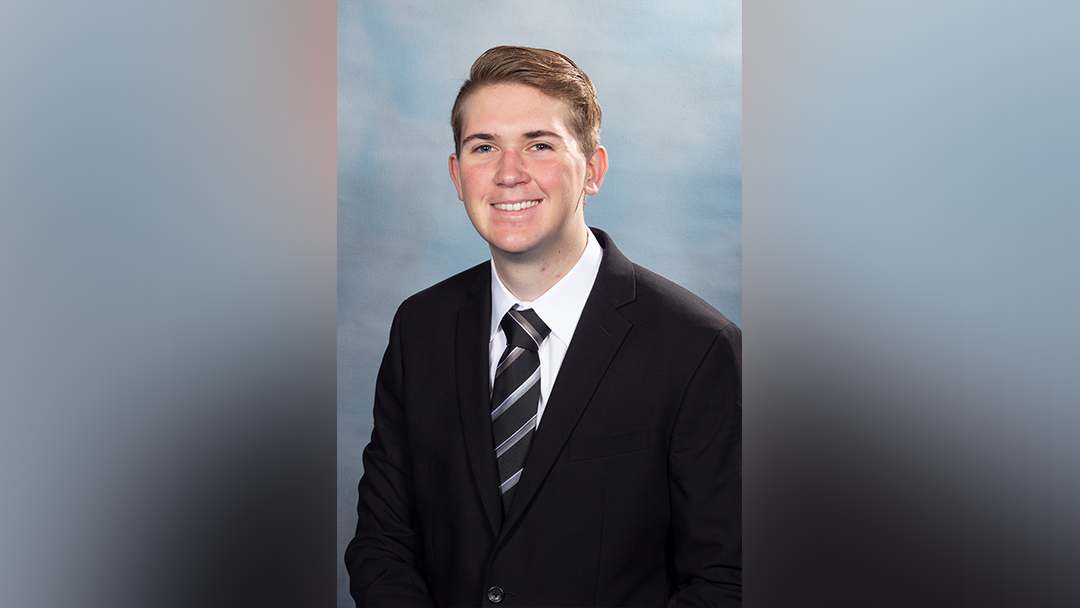 Evan Bayt, an information technology major graduating in May 2021, shares about his experiences at Texas Tech and Rawls College.
Wherever life takes them after Rawls College — graduate studies or a new job — the spring class of 2021 reflects on the achievements made possible through a community that promotes academic success, encourages student involvement, and inspires excellence.
Evan Bayt, originally from League City, Texas, will be graduating in May 2021 with a bachelor's degree in information technology and a concentration in cyber security.
During his undergraduate career, Bayt was involved in the Association of Information Technology Professionals (AITP), and he served as vice president during his senior year. As vice president, Bayt was responsible for forming the Evolve subcommittee, as well as assisting in planning and executing AITP's industry tour.
Beyond his involvement in AITP, Bayt completed an internship with JarredBunch (Invst), a registered investment advisory firm. In this role, Bayt learned how the business operated day-to-day, completed various projects in different business concentrations and gained a deeper understanding of the personal financial advising industry.
Q&A
Why did you choose to major in information technology?
I always loved the advice: "Follow your childhood dreams." When I was young, I had this robot toy that blew my mind away. One day my buddy and I decided to take it apart and reprogram it. We were in elementary school, so there is no surprise when I say we just ended up accidentally breaking it. But that was what kick-started my fascination with technology. When I got to high school, I became curious about more advanced projects. I started to build computers, take coding classes and work with micro-electronics. When I came to Texas Tech, I was a little lost on where my life was supposed to go and what I wanted to study. I knew I wanted to work with technology but was unaware of what Texas Tech and Rawls had to offer. Once I saw that Rawls had an information technology program my eyes lit up, and I knew that was exactly where I was supposed to be.
What educational accomplishments are you most proud of?
I am the proudest of making the President's List my fall 2020 semester. Taking online and in-person classes to complete my degree was daunting. It was hard to get motivated and pay attention some days being in the comfort of my home for most of it. But, the projects I completed were inspiring and fulfilled my desire to learn more about IT.
During your time at Rawls College, who has made the greatest impact on you, and why?
I had two professors that made the greatest impact on me: Dr. Delgadillo and Dr. Giddens. They delivered lectures that made complex concepts digestible and laid the foundation for how I am going to approach my professional life. Dr. Delgadillo stressed the importance of ethics when working in IT. There are going to be moral challenges in the road ahead, but never forget what it means to be ethical in all things you encounter. Dr. Giddens opened my eyes on the vast world of IT. At times when taking her classes, I was stressing about how much I did not know about the industry and how much learning it was going to take to break into the field. Her words of advice to me and the rest of my classmates were, "The more you know, the less you think you know." I kept these words in mind throughout my entire interview process, because even if I did not think I fit a job description, maybe something I did know could make me stand out to an employer.
What are your plans after graduation?
I accepted an offer to work as a Desktop Support Technician for an IT company called CalTech. I met them at a virtual speed networking event through Rawls and enjoyed the enthusiasm they brought to each interaction.
What advice would you offer current or incoming Rawls College students?
The best advice I can give to an incoming Rawls student is GET INVOLVED. I did not get involved in an organization until my last semester of junior year. Just being involved in AITP my last year helped me wonders in networking and managing an organization. I could not imagine where I would be if I had taken advantage earlier in my college experience. Bottom line, find an organization that aligns with your personal goals and stick with it. You will do great things and meet great people.
What were some of your favorite things about living in Lubbock?
My favorite thing about living in Lubbock is the corn maze at At'l Do Farms. They start it up in the fall every year, and it is a blast. They have good food, cool animals, and a corn cannon. What is not to like?
Why do you love Rawls College?
I love the Rawls College because they offer great opportunities for personal development. They have many events and organizations that prepare you for your career ahead. The Career Management Center has been phenomenal in providing resources for job exposure and preparedness. Rawls goes above and beyond to provide everything you need for the next chapter in your life. All you have to do is take the first step.