There were 47 faculty and teaching assistants who were nominated for the 2022 award.
On April 29, 2022, Margaret L. Williams, dean of the Jerry S. Rawls College of Business, presented the winners of the 2022 Jerry S. Rawls Excellence in Undergraduate Teaching Award. This was the second year the award was presented.
"When we started the process last year, we did not know what was going to happen," said Williams. "We were absolutely thrilled to find out that nearly 40 faculty were nominated. This year was similar. We had 47 faculty and teaching assistants who were nominated."
The 2022 winners include: Jared Harrell, associate professor of practice of finance; Janet Huston, assistant professor of practice of accounting; Vivian Luu, a graduate student; and Mehrnoosh Reshadi, doctoral candidate in the area of marketing.
Along with the award winners, Williams also paid special recognition to Corky Mitchell, a marketing doctoral student who passed away in November 2021. Williams presented a certificate of nomination to Corky's mother and partner.
Jerry S. Rawls was also at the award presentation and reiterated his value of undergraduate instruction.
"Teaching undergraduates, to me, is particularly important," said Rawls. "When I was an undergrad myself, I really appreciated when I had a teacher who made me feel like they wanted me to be successful. And that's the goal of the university."
What makes the Jerry S. Rawls Excellence in Undergraduate Teaching Award so special is that it celebrates instructors whose impact on student learning was recognized by the students themselves. Nominations come from current undergraduate students and from recent (within the past two years) Rawls College alumni.
Each year, two $20,000 awards will go to full-time faculty and two $5,000 awards will go to part-time instructors or doctoral students.
"I'm very proud of the teachers who won these awards," said Rawls, "and I'm hoping it incentivizes behavior on the part of other faculty members to try to emulate the winners."
A common theme among each award recipients' student nominations was that each instructor exuded a deep passion for the material being taught. This passion not only made class interesting, but it also encouraged students to engage with the material.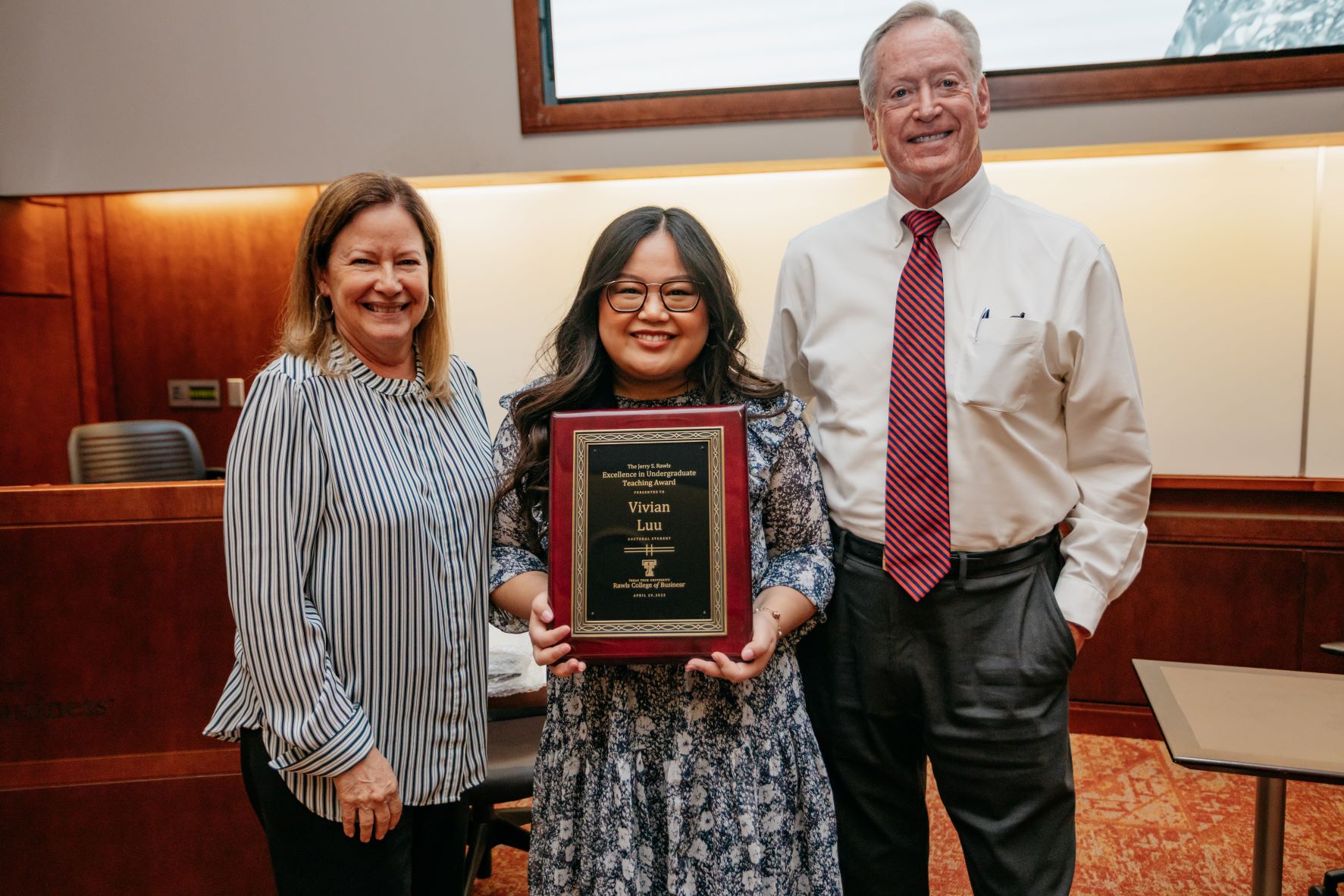 "[Vivian Luu] truly inspired me," wrote one nominator for Luu. "Her positive attitude and professionalism made it easy for me to participate in class discussions without fear."
"Dr. Huston knows how to keep students engaged during class and successfully teaches her students a new language: accounting!" wrote a nominator for Huston.
Another nominator for Huston went further into the ways Huston engages with students.
"She made up songs, acronyms, dances and more to help us memorize the order of events and other concepts," wrote the nominator. "Whoever said accountants had no sense of humor never met Dr. Huston. You can tell she is very passionate about what she does, and that is what sparked my interest in accounting.
Many of the nominators also noticed that the award recipients were just as engaging and available outside of the class as they were inside.
"Despite me not being available during his office hours, [Jared Harrell] made sure to take a time out of his day to meet with me about real estate investments, which wasn't even a part of the curriculum for our class," wrote one of Harrell's nominators.
But perhaps what most stood out about each award winners' nominations was the number of times they clearly impacted their nominators' academic or career paths.
"[Vivian Luu] always provided the best advice in both school and future careers," wrote one of Luu's nominators. "I have been inspired to consider how the material is relevant to my life and academic work."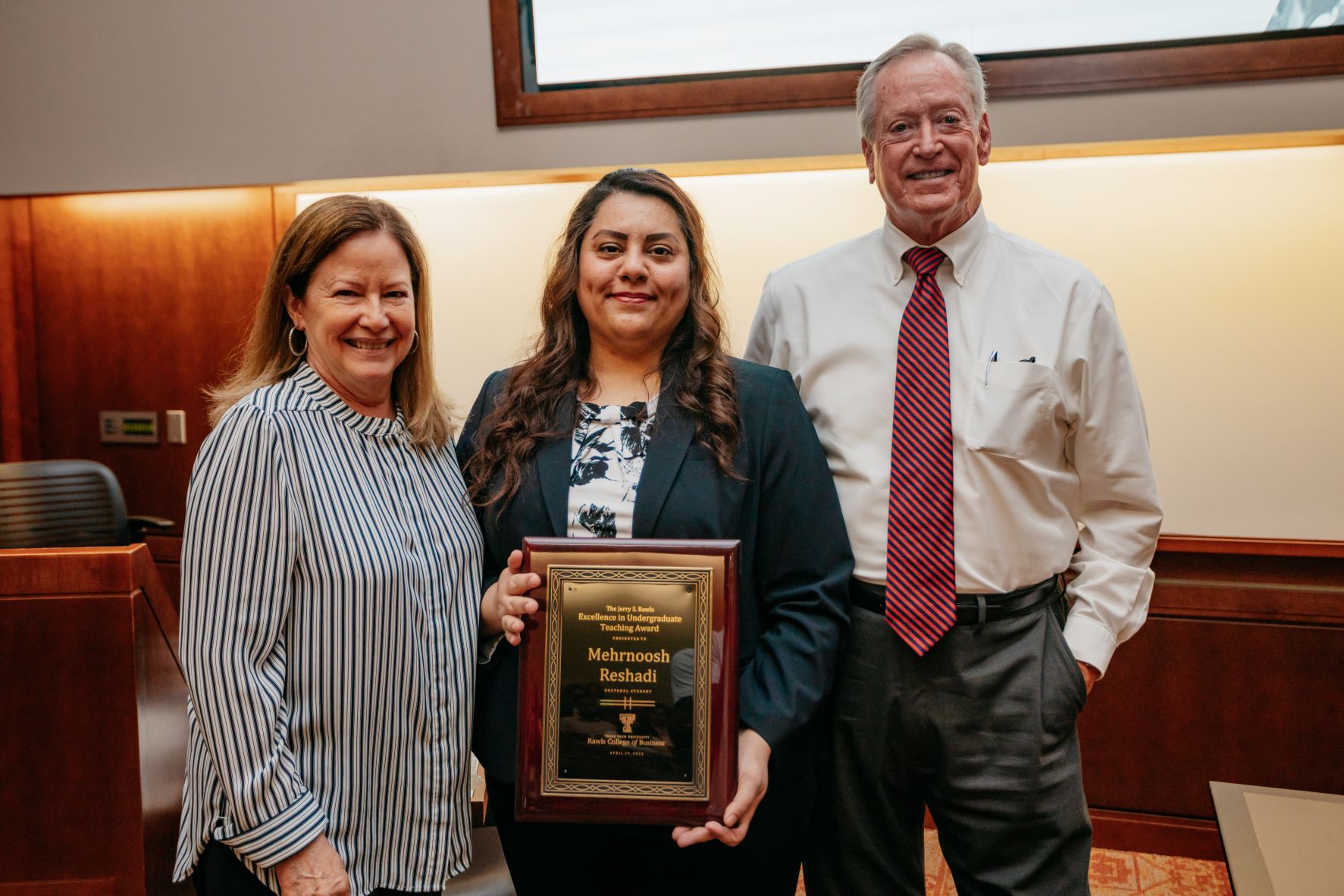 "[Mehrnoosh Reshadi] saw my passion for green marketing and asked me if I was interested in research," wrote one of Reshadi's nominators. "I was unsure at first, but after a few meetings where she taught me the processes of undergraduate research, I now continue the research on my own. I never would've considered academic research before she saw my potential. In addition to this, I've looked into graduate programs because of the passion for marketing that she helped me find."
"Halfway through my first semester in Dr. Huston's class, I changed my major to accounting because she made me love the material I was learning!" wrote one of Huston's nominators.
"Professor Harrell has been a true blessing to me as I have tried to figure out what I would like to pursue out of school," wrote one of Harrell's nominators. "He has supplied me with the knowledge, instruction, and connections to be successful. There are not many professors that are as involved with their student's futures as Professor Harrell."
View more photos from the awards presentation and reception.