Students attended classes on the various areas of business within Rawls College and completed a business-simulation activity.
From June 26-June 30, the Jerry S. Rawls College of Business hosted its first-ever Business Career Awareness Program (BCAP) for Lubbock area high school students. In total, five schools had students participate in BCAP: Coronado High School, Estacado High School, Lubbock High School, Monterey High School, and Talkington School for Young Women Leaders.
The all-expenses-paid program targeted students who are underrepresented in business within higher education, including women, low-income, minority and first-generation students.
"Relative to Texas Tech as a whole, Rawls College has less gender and racial/ethnic diversity," said Kirsten Cook, area coordinator of accounting and BCAP coordinator. "BCAP was designed to meet the needs of local high school students and families from underrepresented and underserved groups who may not otherwise have the opportunity to discover the higher education services offered by Rawls College."
During the five-day program, the 14 student attendees experienced a mini-version of college: living in a dorm and spending each day from 9 a.m. – 5 p.m. learning at Rawls College.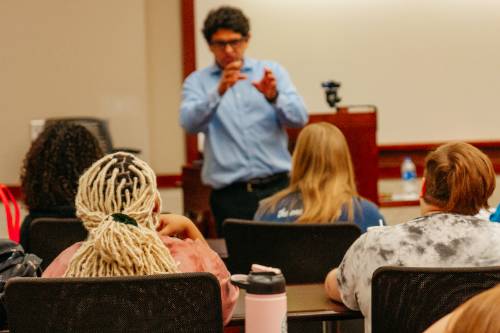 The mornings consisted of presentations from faculty of each academic business area in Rawls College. Students heard presentations from: Kristen Bigbee, instructor of accounting; Laura Cardella, assistant professor of finance; Dino Villegas, associate dean of undergraduate programs and associate professor of practice of marketing and supply chain management; Christine Nittrouer, assistant professor of management; Nikki Kantelis, area coordinator and assistant professor of practice of energy commerce; and Francisco Delgadillo, associate professor of practice of IT.
The afternoons featured presentations from various Rawls College service areas, like the Career Management Center, the Undergraduate Services Center, and from the Division of Diversity, Equity & Inclusion.
Students also attended special business topics presentations given by Rawls College faculty. Claudia Cogliser, Benninger Family Professor of Management, spoke about negotiation and conflict management, and Alanna Hirshman, assistant professor of management, presented about social responsibility.
The entire week was driven by BizCafe, a business-simulation activity. Student attendees worked in teams of two or three to open fictitious coffee shops using the business knowledge they had gained throughout the week. Students were responsible for determining all aspects of their coffee shop, including: designing logos and ads, selecting business hours, and hiring and paying employees.
"It was so much fun watching our teams debate decisions, reach compromises, course correct when things weren't going well, and generally experience all the highs and lows of entrepreneurship in this simulated world," said Cook.
To celebrate the accomplishments of the attendees, a closing banquet was held on June 30.
As Cook reflected on the journey of BCAP's first year, he was appreciative of all the people who helped made BCAP possible, from within Lubbock ISD to the various departments within Rawls College, including: Development; Engagement & External Relations; and Marketing and Communications.
Plans are already in place for BCAP in 2023.
"We are brainstorming better ways to reach prospective students to ensure that we increase our headcount next year," said Cook.
Cook hopes to see close to 20 students at BCAP in 2023.
For more information on BCAP or to inquire about the 2023 event, please contact Kirsten Cook.