How a Student Used Real Estate to Build His Future
Determination. Built on Rawls.
Jacob Gordon | March 21, 2023
For all the chaos the COVID-19 pandemic has caused, it has also offered people an opportunity for discovery. Some people discovered the joys of sourdough baking. Others discovered new career paths. Roque Alaniz, a senior finance student at Texas Tech University's Jerry S. Rawls College of Business, discovered a new way to direct his determination: real estate.
Alaniz was a high school junior when the pandemic started. Though he was already taking dual credit hour courses at a local community college, the thought of paying for college was daunting.
"As a lower-income family, we were living paycheck-to-paycheck, so we were always just thinking about how to make money," said Alaniz.
While Alaniz noted he and his family always had food, clothes and shelter, paying for college was a big ask for his family. His first step, like many other students, was to apply for as many scholarships as he could. Each scholarship helped a little, but Alaniz knew he needed to look at other ways to pay for college.
"During COVID, I had a lot of free time, and I was reading a bunch of books on money management and personal development," said Alaniz. "I read a bunch of real estate books, which were the ones that most interested me. I learned a lot about real estate and how I could make a lot of money through real estate."
Alaniz could start to see an opportunity materializing before his eyes.
The Determination of a Student
Alaniz teamed up with a local real estate investor in his hometown of Edinburg, Texas to find, purchase and renovate single-family homes. Alaniz would find the homes and then receive a small percentage of the home's value from the investor.
Alaniz started to see a little more money come into his savings account, but he wanted a more hands-on approach.
Alaniz found a foreclosed home to try his hand at renovating. The bank wanted $30,000 for the home, and Alaniz believed the home could sell for $150,000. Alaniz saw the potential for profit here. There was just one problem: Alaniz did not have the initial $30,000 the bank was asking for.
So, like most teenagers who want something, Alaniz turned to his parents.
"I convinced my parents to take out a loan with high interest," said Alaniz. "My dad was very upset because that's a lot of debt. My mom was like 'If you think you can [renovate] it, sure.' My mom has always been the type to support me, and she signed the loan."
Alaniz then got a part-time job as a server and put the money he earned from his tips into the renovations, such as setting up drywall, siding and new flooring.
In just three months, Alaniz completed several major renovations and decided to sell the house. Alaniz did not want his parents to deal with such a high-interest loan for too long.
Alaniz sold the house to a local investor for $80,000. While Alaniz wishes he shot for the moon and asked for the potential $150,000 of the home's value, he does not regret his decision.
"That was the biggest amount of money me and my family ever had," said Alaniz. "With that, I set aside some of the money to pay for college. We then paid off the loan and paid off all my parents' debt."
Alaniz now had evidence that his determination combined with real estate could make a huge impact on his family and make furthering his education possible.
"I was able to experience the life-changing money that real estate can provide and how that impacted my family and bettered our lives," said Alaniz. "That just set real estate in me and made it clear that's what I wanted to do in my life."
The Determination of a Leader
As Alaniz reflects on his time at Rawls College, he credits the Scovell Business Leadership Program (SBLP) as a key factor that made Texas Tech stand out from other universities.
"[SBLP] is the biggest reason why I came to TTU," said Alaniz, "I feel like I've gotten really good at networking and meeting people."
Established in 2013, SBLP provides students in the program with real-world knowledge and experiences to thrive as soon-to-be business leaders.
A large part of SBLP is pairing students with an industry mentor. Because Alaniz was interested in real estate, he was paired with Ryan Harden, who graduated from Texas Tech with his master's in finance and dual bachelor's degrees in real estate finance and economics. Harden is president and founder of RightQuest, a Dallas-based real estate company, and has acquired, developed and managed over $700 million of real estate investments in his career.
"I was just so eager to learn from him, and I think he saw that too," said Alaniz. "We text and email each other. We have monthly meetings. He took me under his wing and gave me a roadmap to the career I want to pursue."
For Harden, it was easy to get pulled in by the gravity around Alaniz.
"My first impression of Roque was that he possessed a great attitude with a humble confidence and an insatiable appetite to learn about the real estate business," said Harden. "His determination to learn about real estate over the course of our time together has quickly increased his skill set well beyond his years."
Alaniz furthered his leadership abilities at the 2021 National Conference on Student Leadership in Orlando, Florida. He was selected to attend the conference by Rawls College after being enrolled for only one semester.
"I didn't know what to expect," said Alaniz. "I felt very grateful. It was my first semester, and I was getting flown out to represent Rawls College."
Alaniz said attending NCSL helped him see the type of leader he could become within his student organizations, including SBLP and the Real Estate Organization (REO). Alaniz even became an officer in REO within his second semester, applying lessons he learned from NCSL weeks before.
Determination. Built on Rawls
Alaniz has decided to delay his graduation until December 2023, graduating within two-and-a-half years instead of just two.
"I realized I would be graduating before I'm even 21," said Alaniz. "After speaking with so many professionals through my internships, they just told me I was rushing it. The main thing they were trying to emphasize was that as soon as I graduate, it's just work. They told me to enjoy college a little bit longer."
Alaniz has a deep self-awareness about his determination. Although his determination has played a significant role in all his accomplishments, Alaniz is keenly aware of the downsides of being so determined.
"I need to focus on the moment and not what I could be doing in that time," said Alaniz. "When I do have some personal time, I often think about what I could be doing to further my career or finances. I definitely have gotten some feedback to enjoy being in the present and not be so worried about your goals. That's something I am trying to focus on."
Of course, for Alaniz, being in the present doesn't necessarily mean taking it easy. By delaying his graduation by a few months, Alaniz will get to study abroad in London and will take on another internship.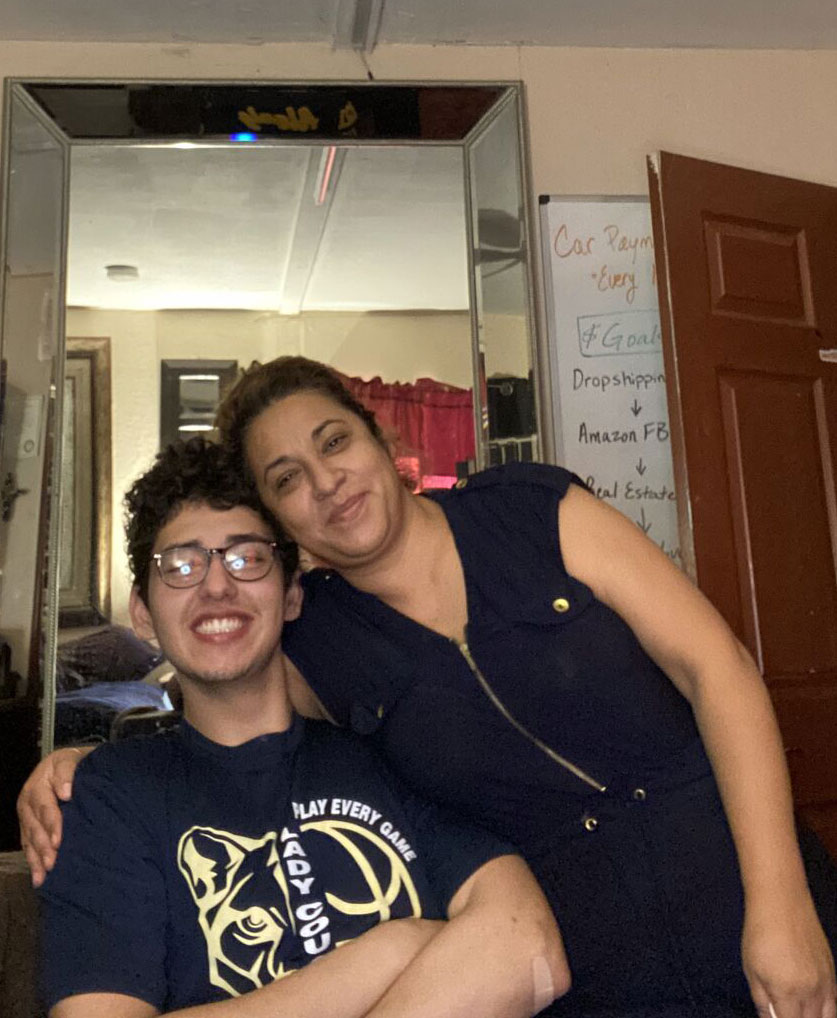 Alaniz sees two distinct paths his future could take after graduating.
"I know the sky's the limit coming from Rawls," said Alaniz. "I was thinking I may go back to focusing on single family residential investing. Another career path would be to join a real estate company and start as an analyst."
No matter what path Alaniz sets his eyes toward, Harden knows Alaniz will be a valuable contributor to the industry.
"The real estate industry needs talent like Roque desperately given his high level of integrity, honesty and purpose which drives everything he does," said Harden. "It's well beyond making money for Roque; it's working toward a purpose that benefits others, not just himself, and being a part of something greater than just one person."
That something greater for Alaniz is his family.
"My big goal is to make enough to help my family out so they won't have to work in the future," said Alaniz. "Every single day, I picture that goal and that's what drives me to continue being a 4.0 student, getting involved at school, getting internships and surpassing expectations."
Rawls College of Business