Drug Education
Substance use: The consumption of alcohol/drugs. Substance use may not be a problem or lead to abuse or dependency in some people.
Substance abuse: The consumption of alcohol/drugs even when it causes problems, such as complications with work, family, or health.
Substance dependence: Physical dependence to alcohol/drugs.
Substance addiction: Change in behavior caused by biochemical changes in the brain after continued substance abuse. Substance use becomes a main priority regardless of the harm they may cause to themselves or others.

Addiction causes people to act irrationally when they don't have the substance they are addicted to in their system.
Addiction encompasses both a mental and physical reliance on a substance.
Metabolic tolerance: How the body naturally processes substances.
Built tolerance: The body's acclimation to regular consumption; the perceived control one has with a certain amount of substance in system.
Environmental tolerance: Regular cues in routine or typical environment yield a higher tolerance.
Tolerance breaks are deliberate, temporary cessation in substance use meant to decrease tolerance to a substance. The more frequently a drug is used, the longer it will take for the receptors to process. It takes at a minimum of 3 weeks for cannabis to clear from your system, depending on frequency of use.
Adapted from the interactive and comprehensive Drug Wheel from Alcohol and Drug Foundation (2021).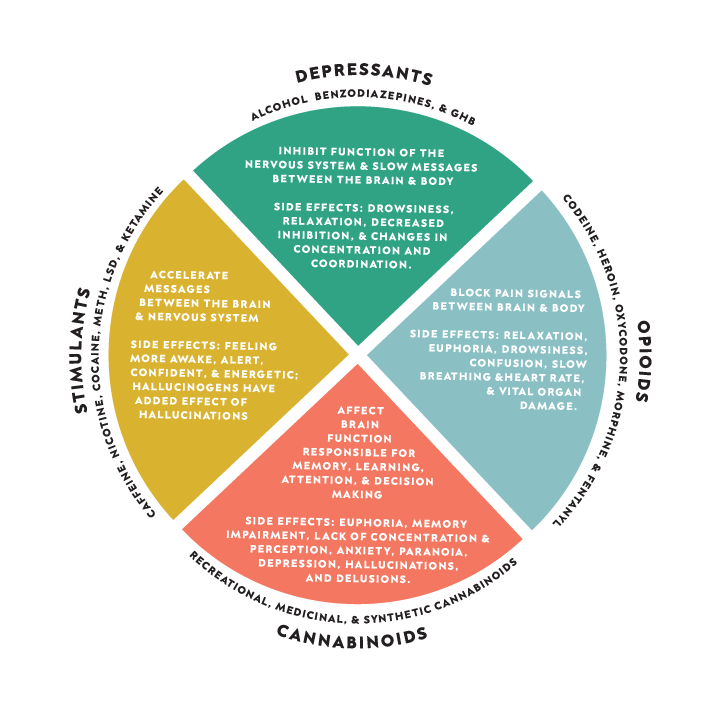 Stimulants are a class of drug that excite the brain and central nervous system. Stimulants accelerate messages between the brain and central nervous system1 and can cause someone to feel more awake, alert, confident, and energetic; because of this increase in mental functioning, stimulants are often called "uppers." Stimulants can include caffeine and nicotine and illicit substances like cocaine, ecstasy, and methamphetamines.
Depressants are drugs that inhibit the function of the central nervous system and slow down the messages between the brain and the body. Depressants are some of the most widely used drugs in the world. Some side effects of depressants are drowsiness, relaxation, decreased inhibition, and changes in concentration and coordination. Due to these side effects, depressants are often called "downers." Depressants include opioids and fentanyl, barbiturates, benzodiazepines (e.g., Xanax), and alcohol.
Hallucinogens are a group of drugs that alter a person's awareness of their surroundings, thoughts, and feelings. Hallucinogens disrupt neurotransmitters in the brain and can cause a person to see images, hear sounds, or feel sensations that seem to be real but are not.
Hallucinogens can be manufactured or derived from plants. They are divided into two types: Psychedelics and dissociative drugs. Psychedelics include psilocybin, LSD, ayahuasca, and DMT. Dissociative drugs include PCP, ketamine, DXM, and salvia.
Risk Intervention & Safety Education