The 2019 Thomas Jay Harris Distinguished Lecture Series featured Angharad N. Valdivia, Ph.D., a professor in the College of Media at the University of Illinois at Urbana-Champaign on March 28.
Hosted annually by the Thomas Jay Harris Institute for Hispanic & International Communication, the Harris Distinguished Lecture Series is an annual event that invites national and international leaders to Texas Tech campus to serve as speakers and to lead seminars and discussion groups on current issues of global relevance.
Valdivia is a transdisciplinary scholar with research that combines gender studies with ethnic and Latin-American studies. She is affiliated with both the Women and Gender in Global Perspectives Program, along with the Center for Latin American and Caribbean Studies at the University of Illinois.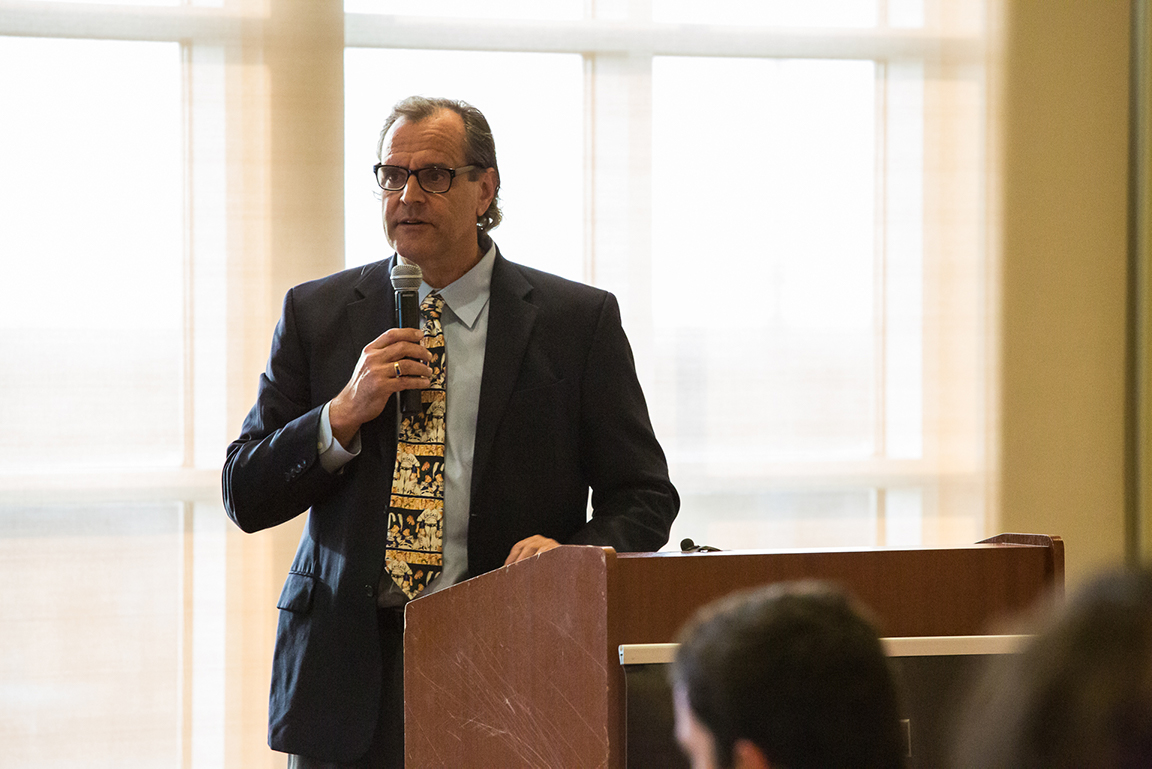 (Kent Wilkinson, Ph.D., director of the Harris Institute, welcomes guests to the 2019 Harris Distinguished Lecture.)
"It was a pleasure visiting Texas Tech for the first time," Valdivia said. "Meeting the many faculty, students and staff was definitely the highlight of my visit, and I was highly impressed to find a vibrant and excellent community of interdisciplinary scholars whose research promises to enrich a wide range of fields."
Valdivia is the editor of "The International Encyclopedia of Media Studies," a work of seven volumes (Wiley-Blackwell, 2012). Additionally, she has authored several influential books, including "A Latina in the Land of Hollywood and Other Essays on Media Culture" (University of Arizona Press, 2000). Her most recent published book is "The Gender of Latinidad: Uses and Abuses of Hybridity" (Wiley-Blackwell, 2016).

(Jerry Hudson, Ph.D., dean emeritus of the Texas Tech College of Media & Communication, at the 2019 Harris Distinguished Lecture.)
Established in 2006, the Thomas Jay Harris Institute for Hispanic & International Communication promotes a better understanding of Hispanic-related and international media communication through research, teaching and community outreach. It is named after Thomas Jay Harris, a former editor of the Lubbock Avalanche-Journal, who was an advocate of international and cross-cultural education.
Read more college news.