Anwen Pope, a senior majoring in creative media industries from Austin, was one of this year's recipients of the Student Academic Leadership Awards from the Texas Tech Parents Association's annual Faculty & Student Awards Breakfast Reception.
"It's definitely something I'm honored to have received. Not every student can say that they have this in their pile of accomplishments. It's something I'm proud to have in my bank of accolades," Pope said.
"These students are the future of the world. You have to take this brain that you have and do something really good with it," said Joyce Zachman, chief executive officer of the Texas Tech Parents Association. "Don't ever think that you can't accomplish something."
While at TTU, Pope has put a lot of time and energy into pursuing a career in the movie industry and is the president of the Tech Creative Media Association, a student-run media production club. A few of her video projects have gone on to compete in competitions.
"I worked with three students on a documentary called Texas Snow about West Texas cotton farmers. The documentary was the winner of the JCMI Fest in 2019 for best video piece and played at the 2019 Flatland Film Festival," she said.
"I worked with another group of students on a short film called HATE for the Campus Movie Fest Competition which is where students have one week to make a film," continued Pope. "Our film was selected as one of four finalists from TTU and is going to a national competition in Hollywood over the summer."
Pope has taken an internship position on campus trying to get as much hands-on experience as possible completing work to build a stronger professional portfolio.
"I do videography and photography for the Department of Transition and Engagement here at Texas Tech," Pope said. "I've gone to several of their events and retreats to take videos or pictures for marketing purposes."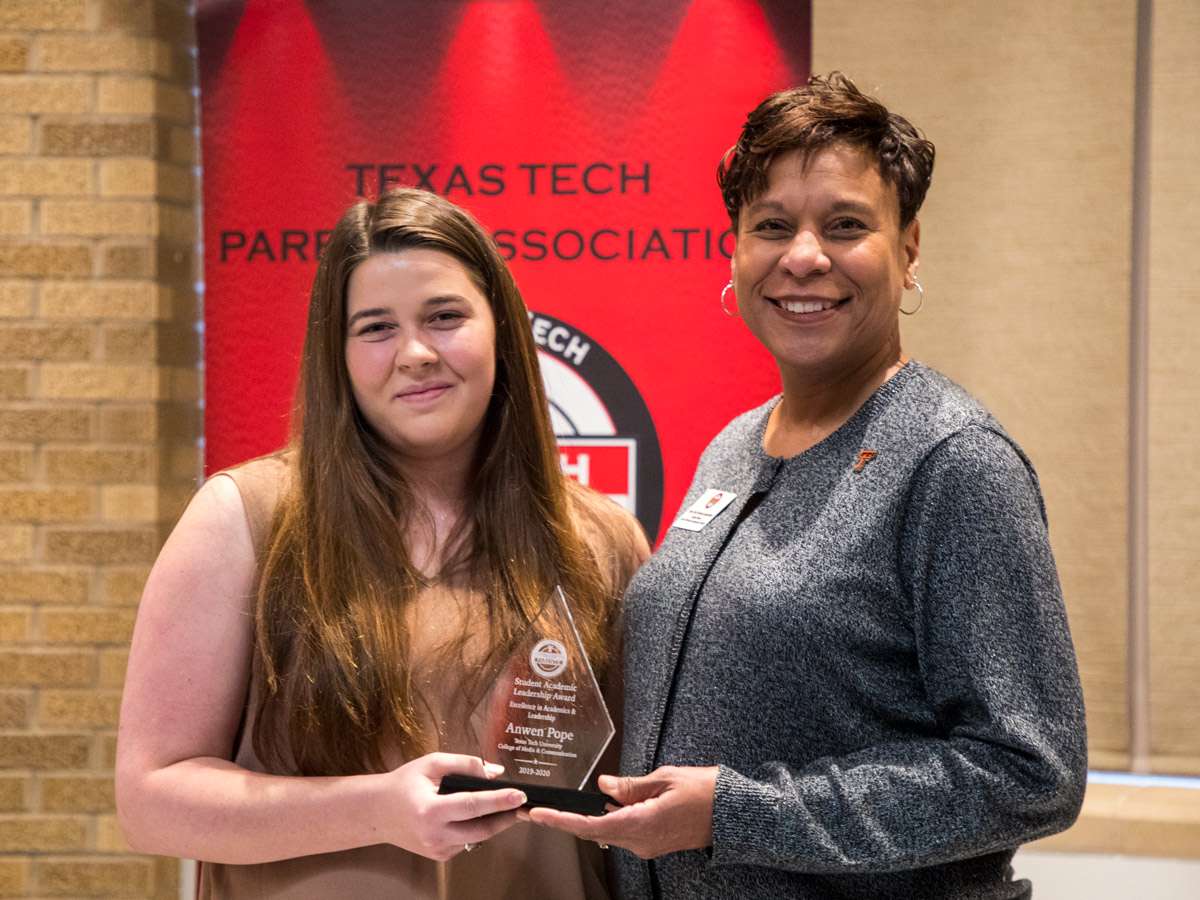 Coming to the end of her undergraduate career, Pope recalled the friends and professors who have made a difference in her life and highlighted the impact Texas Tech has had on her as well as what her plans are after graduation.
"My current plan is to get a job," she said. "I'm looking into different places and hopefully will start sending out applications and resumes soon. I like video editing and producing video, so I'd be good with a position related to one of those."
To her fellow students within the College of Media & Communication, she offers some advice for success:
"Get involved with an organization or just other people," she said. "Take one of the more hands-on classes like Adventure Media or maybe a Study Abroad trip if you can afford it. Just take opportunities when they're presented to you."
The TTPA has offered resources, information, and services to the parents of Texas Tech students since 1956. In 1974, they began awarding the Student Academic Leadership Award to noteworthy undergraduates.
Read more college news!