Charlotte Notzon, a senior Advertising major with a minor in Public Relations & Strategic Communication Management from San Antonio, Texas, has been named the Banner Bearer for the College of Media & Communication Spring 2023 commencement ceremony. Although Notzon plans on gaining more professional experience after graduating, she is also considering pursuing a graduate degree in the future.
Banner Bearers are individuals who are chosen to represent the college based on professionalism, academic merit, extracurricular involvement, and leadership. Of the 330 CoMC graduates for the Spring 2023 commencement ceremony, Notzon possessed each quality while also being one of the few to maintain a perfect GPA.
The College of Media & Communication's halls are filled with students who thrive to be the best academically and professionally. However, only one is selected each semester to lead CoMC on graduation day. Despite being chosen to lead this spring, Notzon praises everyone else who has gotten her to this point.
There are many people in this college who have contributed to my academic success," said Notzon.
"Dawn Zuerker is currently one of my campaign professors and she has been one of the best mentors during my time here. Lindsay Grannan has also been a huge inspiration to me. Within CoMC, I was able to meet a great eclectic group of students who offered a sense of community. Everyone I have crossed paths with here is more than helpful and strive to get you where you're aiming to go."
Notzon began her academic career as a Sociology major, but had a change of heart after spending her first year in the College of Arts & Sciences. She began to look up to her mother's advertising career in London, and through connecting with faculty and staff in the College of Media & Communication, she discovered her true passion was in being a professional communicator.
"After I realized I was no longer eager enough to pursue Sociology as a major, I did some digging and started talking to a lot of people who were involved with both marketing and communications on campus," said Notzon. "These conversations helped me conclude I wanted to do more of the creative side than the business side of things, which is where studying advertising came from. Even with this being my third year in this college and fourth year on campus, I could not be more thankful I made the switch."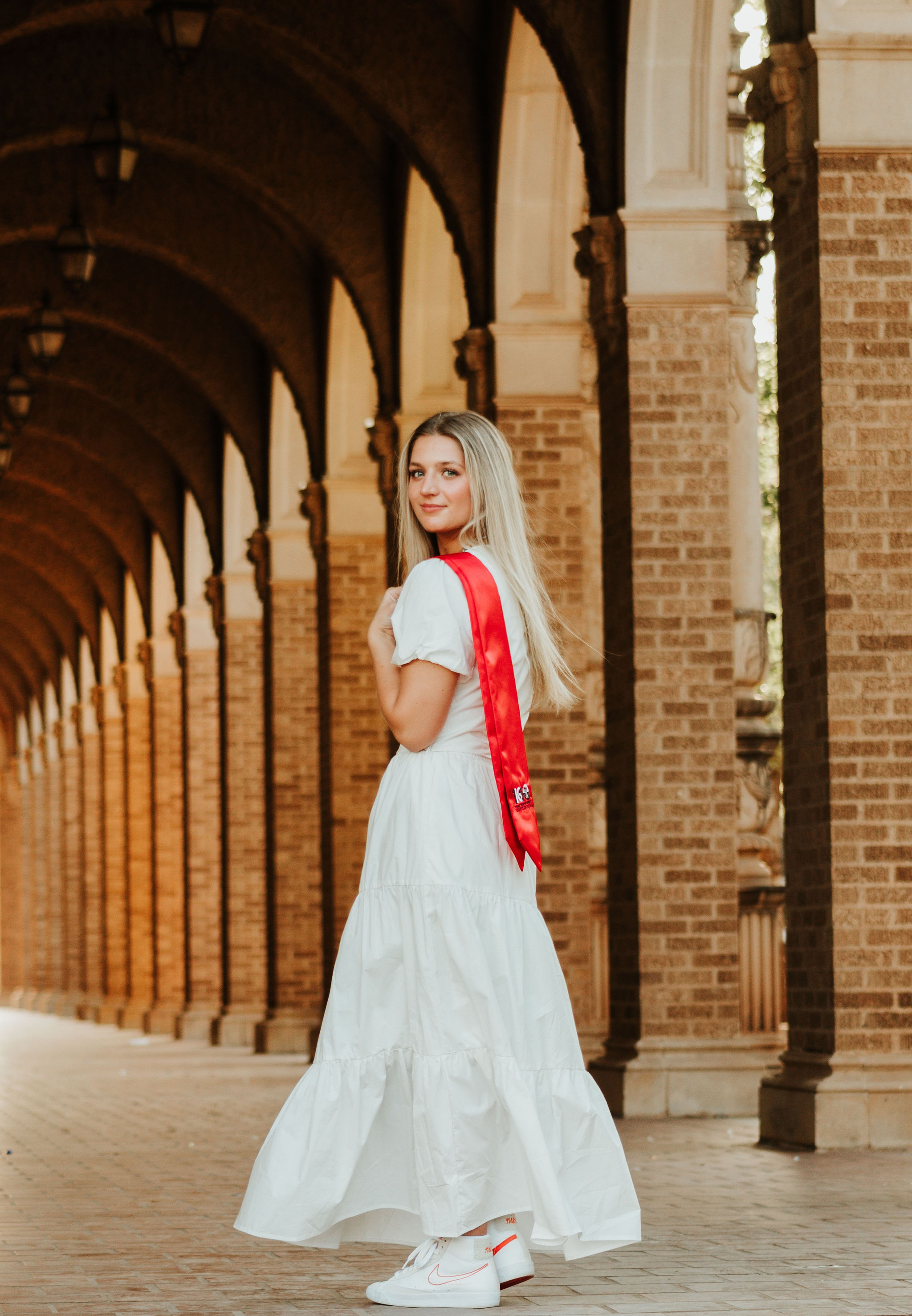 Once Notzon officially became part of the CoMC family, she knew getting involved in different clubs and student organizations would be beneficial for her long-term goals.
"The College of Media & Communication offers countless ways for students to gain exposure, one of which being Tech Advertising Federation (TAF) that I became a member of," said Notzon. "With organizations such as TAF, students are not only able to make lifelong friends, but we gain real-world experiences that we will take with us as professionals in the industry."
In the short three years Notzon has been a student in the college, she wanted to leave her mark in some way but never knew what this entailed. Being named Banner Bearer has made her appreciate her journey over the years much more.
"I just want to send the biggest thank you to everyone in the College of Media & Communication," said Notzon. "This is one of the best opportunities and an honor for me to now have this title. I never thought someone like myself would be capable of leading in this way and I am very grateful for our faculty, staff, and students for believing in me. This journey would not have been possible without everyone here and all they have done."