Converging News
In this issue of Converging News:
PR CAMPAIGNS TEAM FINDS REAL-WORLD SUCCESS
By Kara Waggoner, photos by Riannon Rowley, artwork courtesy Liz Gardner, Ph.D.
Paramount PR, a student team created last semester for a PR 4312 course, successfully ended the fall by creating a campaign for the Cure Cancer Foundation and is seeing its ideas being utilized by the organization today.

Chief Executive Officer for CURE, Donald L. Curry, said Paramount PR did the best job in creating a campaign for the organization because the team understood the direction the organization wanted to go.

"We felt Paramount PR did an excellent job of creating a unique theme called 'That'll be the Day.' They were creative in creation of proposed logos and other visual media, and they made a very professional presentation," Curry said. "We have actually adopted a new logo similar to the one developed by this team, and we have adopted the 'That'll be the Day' theme for a local 18-month campaign."


Liz Gardner, Ph.D., assistant professor of public relations and instructor of the PR 4312 course, said nothing is more rewarding to her than to see her students' work being used by actual clients. Gardner said she thinks all four teams that worked on the project were strong and dedicated to the cause, but Paramount PR really connected to the client.

"Their pitch felt genuinely meaningful to me," Gardner said. "They were incredibly warm, approachable, and believed in those concepts, which sold the client."

Gardner said winning moments like this make her believe the course is beneficial for public relations students. She said she thinks the course is tough but is mostly rewarding because the class allows students to be proud of their work.

"This course is the last set of training wheels for PR majors," Gardner said. "It is a unique opportunity for students to work in a not-so-safe environment, to try new things, to make mistakes, and to learn to rely on other team members. A lot of it is actually putting into practice what students have been preparing for."

Amy Ashby, a recent Texas Tech public relations graduate from Lubbock, Texas, was the account manager for Paramount PR. She said she thinks her team was victorious in creating a campaign for CURE because of team members' communication among each other.

"Our team worked extremely well together," Ashby said. "I believe that is one of the major reasons we had such success with our campaign. When working with a team, communication is always an important factor. We struggled at first with keeping everyone on the same page, but we quickly learned the importance of effective communication."

Ashby said she learned many important skills from taking the course and thinks the experience will benefit her in future endeavors.

"I learned more from this course than I learned in all my other courses combined," Ashby said. "This course prepared me for real-world work, and because of this experience, I know I have the confidence to succeed in whatever career path I choose."



FOUR PROFESSORS CREATE A CLEAR CAMPAIGN
By Kara Waggoner, Photos by Melissa Wofford and Riannon Rowley
What do professors do with their time when they are not instructing a classroom full of college students?

For the past two years, four faculty members from the College of Media & Communication have worked together to develop an effective communication plan to promote a training program at Brown University's Alpert Medicine School.
Shannon Bichard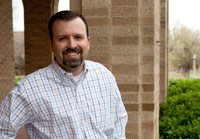 Coy Callison
Liz Gardner
Trent Seltzer
Coy Callison, Ph.D., professor and associate dean for graduate studies, said the sponsored research project known as "Project CLEAR!" aims to improve the emergency room patient experience through better communication.

Callison said he first heard of the project through Associate Dean for Faculty Affairs Kevin Stoker. He was the first to be made aware of the project, and he recommended that Callison should contact Dr. Brian Zink, Ph.D., professor and department chairperson of emergency medicine at the Alpert School of Medicine. After visiting the medical staff in Rhode Island, Callison said he knew this was an amazing opportunity that he wanted to be a part of, but he needed to put together a strong team to assist him.

"I knew this task was something more than I could do on my own," Callison said, "so I got hold of Dr. Shannon Bichard, who is really bright in terms of branding, logo and commitment creation. I then got in contact with Dr. Trent Seltzer, who has vast experience with organizational communications. Lastly, I talked with Dr. Liz Gardner, who has a background in persuasion theory as well as in working with hospitals and I knew she would understand the structure."

Once the team was assembled, the faculty researchers began working on the project immediately. The four traveled to Rhode Island to conduct research using focus groups, surveys and interviews. Although the project is still early in the effort, Callison said all indicators show that patient satisfaction at the hospital is currently the highest it has been in the last eight quarters, and job satisfaction among the nurses and physicians is very high.

"We don't want to say mission accomplished yet because we are only into the first year of the effort," Callison said, "but at this point, it's been very well-received, and the hospital is so excited about the progress that it looks like they are going to now expand the project to other hospitals within the system. This is a textbook case of how to improve customer satisfaction."

Although the project has seen early success, the project did not always seem easy to the team. Callison said he thinks one of the greatest challenges of the process was establishing meeting times around both the physicians' and professors' busy schedules.

"All four of us have worked on this around our own schedules, and so there have been some long nights and weekends working on this project," Callison said. "Lots of effort has been put into this by everyone involved. Melissa Wofford and Andrew Byrne also have helped us with some of the design aspects and deserve recognition as well."

Bichard, advertising assistant professor and graduate faculty, is one of the researchers on the team. Bichard said she thinks the hard work and early recognition given by the media will assist in promoting the College of Media & Communication at Texas Tech in a positive way.

"My hope is for other venues to see that our college has skills beyond academics," Bichard said, "and that we are able to apply academic research in helping people communicate better, whether that's from an internal PR perspective, organizational communication, or branding. This is an opportunity for others to see what we are capable of."

Through this experience, Bichard said she has learned that internal and external collaboration is a challenge, but it is also rewarding. Although she admits that the task was not easy, she thinks it was something worth doing and was helpful to others. Bichard also said she believes she will utilize her knowledge from this endeavor to improve her teaching skills within the classroom.

"We are now able to use our skills and things that we teach in the classroom in a real-world scenario," Bichard said. "I think this experience has made my teaching better because I can give my students a real-world application."


STUDENT TELLS HER STORY THROUGH A LENS
By Kara Waggoner, photo by Melissa Wofford
The opportunity was one of a lifetime. This would be her first time to work at a Texas Tech University football game with the worldwide leader in sports communication, Entertainment and Sports Programming Network (ESPN). The call time was 5 a.m. She did not have a parking pass, so she left her college home at 4:30 a.m. to ride her bike to the stadium, giving her plenty of time to get there. It was early and it was cold, but to senior electronic media and communications student, Riannon Rowely, the effort was completely worth the energy.

This particular opportunity is just one of many experiences the El Paso, Texas, native has accomplished during her years as a Texas Tech student. Rowley's credentials include having worked at the Daily Toreador as a photographer, now working as a student intern for the production team for RaiderVision, and currently working as the photography intern for the design team in the College of Media & Communication.

Melissa Wofford, college design specialist for the College of Media & Communication, is Rowley's supervisor for her design team internship. Wofford said she was very impressed when she first met Rowley in an employment interview.

"When I met Riannon," Wofford said, "I was impressed by her enthusiasm, the quality of her work that she showed me, and her experience working at the Daily Toreador and with the Athletic Department. Overall, her work is at a higher level than I have seen in students. Her images are diverse. They aren't all portraits or landscapes; there is a variety to her work and they are all very good."

Rowley said when working at her internships, she gets clarification that photography is exactly what she is supposed to be doing. She hopes one day to work with ESPN as a graphics employee playback producer. Rowley said, however, she could not have accomplished all she has done without her support system.

"I have an incredible support team consisting of my family and the professors here at the college," Rowley said. "They have helped me with contacts and have given me many leads to opportunities. Dr. Chambers, Aleesa Ross and Patrick Merle are some of the people who have significantly helped me. It's comforting to know that you have people who are willing to put your name out there and support you."

Associate Professor and Department Chairperson for the Department of Electronic Media & Communication, Todd Chambers, Ph.D., said he met Rowley a year ago when she came to him for advice about an opportunity to work with ESPN. Chambers says Rowley is genuine and represents the majority of the students in the college.

"If you were to peel back the layer of all of us, I think everyone has the desire to succeed," Chambers said. "What Riannon is able to do is to be very sincere and honest. She has developed relationships with producers and people that are in the know of how to make things happen. I am so proud of her because she saw an opening for an opportunity and she took the initiative to walk right on through it."

Chambers said he has seen many students leave the college and go on to accomplish wonderful achievements. He said he has no doubt Rowley will do the same.

"When it comes to her future, the sky's the limit," Chambers said. "If she continues to do well and continues to be honest and sincere with a strong work ethic and the will to ride a bicycle at 5 o'clock in the morning to volunteer for an opportunity, the sky's the limit."



PROFESSOR RECEIVES TWO WELL-DESERVED HONORS
By Kara Waggoner, Photos by Riannon Rowley
For the past 18 years, students who have taken the News Writing course in the College of Media & Communication at Texas Tech University have had the opportunity to learn under a man who is being recognized as a recipient for two awards in honor of his excellence in teaching. This well-deserving instructor is Robert Wernsman, M.A.

Wernsman, full-time instructor of journalism, was one of 10 recipients recognized on March 26 by University Student Housing for the 2011-2012 Professing Excellence Award for Outstanding Instructors. He also will be recognized April 24 at the Faculty Honors Convocation for the President's Excellence in Teaching Award for 2012.

Wernsman has a family background that consists of 22 teachers within four generations. He said he thinks his chosen profession becomes a huge responsibility when he has a tremendous legacy in his family to follow because everyone is on the exceptional level. When he discovered he would be recognized for the two awards, his initial reaction was one of modesty.

"I was a little subdued," Wernsman said, "remembering that my father would have said, 'Really?' Not that he would doubt it, but that he would fear I would take myself too seriously. I try to take my responsibilities seriously and myself a little less so."

According to the College of Media & Communication' Facebook page, http://www.facebook.com/TTUMCOM, a post was written Feb. 22 to announce Wernsman's upcoming awards. The post received 71 "Likes" and 21 "Comments." One comment was, "I would have never made it as a writer without Mr. Wernsman. This is well-deserved and overdue. Congrats!"

When Wernsman learned of the positive Facebook comments, he said the statements confirmed his passion for both journalism and teaching at the college level.

"It really validates what my life has been devoted to for almost 20 years," Wernsman said. "It makes me realize how lucky I am in this situation that I have the chance to hear this kind of feedback. Writing is something about which we lack confidence. My experiences with the students give them that confidence so that they can become even better. That empowering aspect helps perpetuate me."


Aleesa Ross, director of the Career Center, first met Wernsman when she was an undergraduate student in his first News Writing course as an instructor at Texas Tech. Ross is now a colleague of Wernsman, and she also instructs one of the labs assigned for the course. Ross said Wernsman is serious and very passionate about his work; however, he is also very humorous.

"He is very passionate without a doubt," Ross said. "He is extremely knowledgeable about the field of journalism and is extremely committed to the ethics, principles, skills and tactics he teaches. In the classroom, he is very lively and engaging. He also has a wonderful sense of humor."

Ross said she thinks Wernsman is much deserving of the awards because he truly cares about his work and the students. She said his passion for journalism encourages students to want to learn and to become better writers.

"He is very much deserving of these awards," Ross said. "He works so hard for the students and everything he does or talks about is always in mind for them. I really admire that about him. The students are his focus and why he teaches. He is able to use his passion for journalism to help encourage and inspire our students."



Previous Issues
Click here to subscribe
to our newsletter
College of Media & Communication
Address

Texas Tech University, Box 43082, Lubbock, TX 79409

Phone

806.742.6500