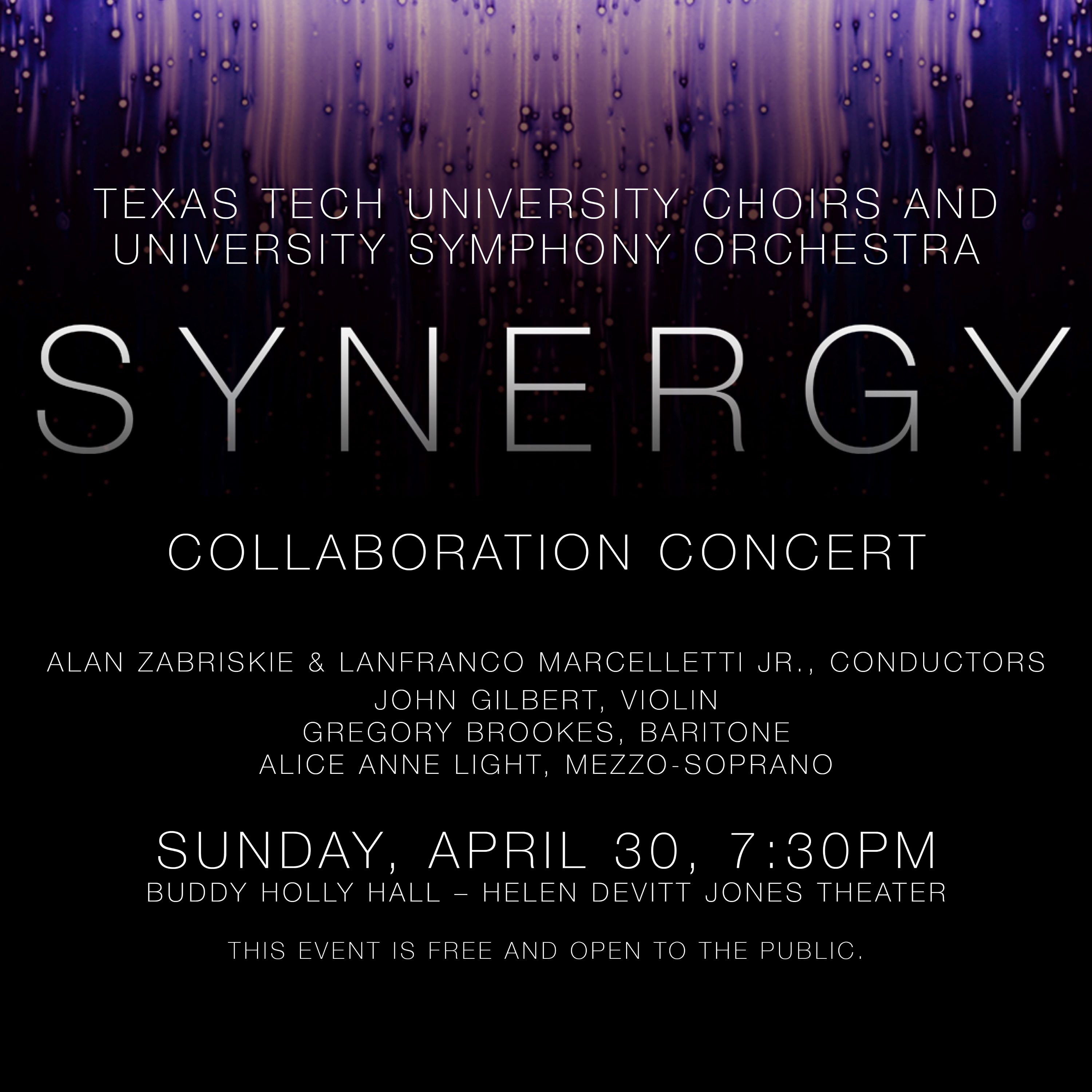 Get ready for a synergy of sound from winds, brass, percussion, strings, and voice in the upcoming concert, Synergy. Pieces from Berg, Villa Lobos, and Duruflé, the Texas Tech University Choirs and Symphony Orchestra will take you through a performance of 20th-century neoclassical music!
On April 30 at 7:30 PM, the Texas Tech University Choirs and Symphony Orchestra will be collaborating for their final performance of the year under the batons of Dr. Alan Zabriskie and Maestro Lanfranco Marcelletti Jr. Not only will the students from the ensembles be performing, but also several faculty members will be featured in the performance: Doctors John Gilbert (violin), Alice Anne Light (mezzo-soprano), and Gregory Brookes (baritone).
In preparation for this event, the University Choir, Scarlet Voce, Matador Singers, and University Singers have rehearsed Duruflé's requiem separately at their own rehearsal times. With all choirs combined, they will have only sung with each other three times until the actual performance; two of those times with the orchestra. For the requiem, Dr. Alan Zabriskie will be leading the orchestra and choirs. Zabriskie shares with us more about his rehearsals with the orchestra and the choirs.
On Sunday, April 23, the choirs had their first combined rehearsal. "This past Sunday evening – it was a lot of fun to put everyone together and hear what it is really going to sound like!" The "rehearsals with the orchestra have been awesome. I have enjoyed the easy, collaborative spirit of the musicians and have appreciated their willingness to work together with me. This piece has so many contrasts and is full of expressive playing – the musicians are playing beautifully."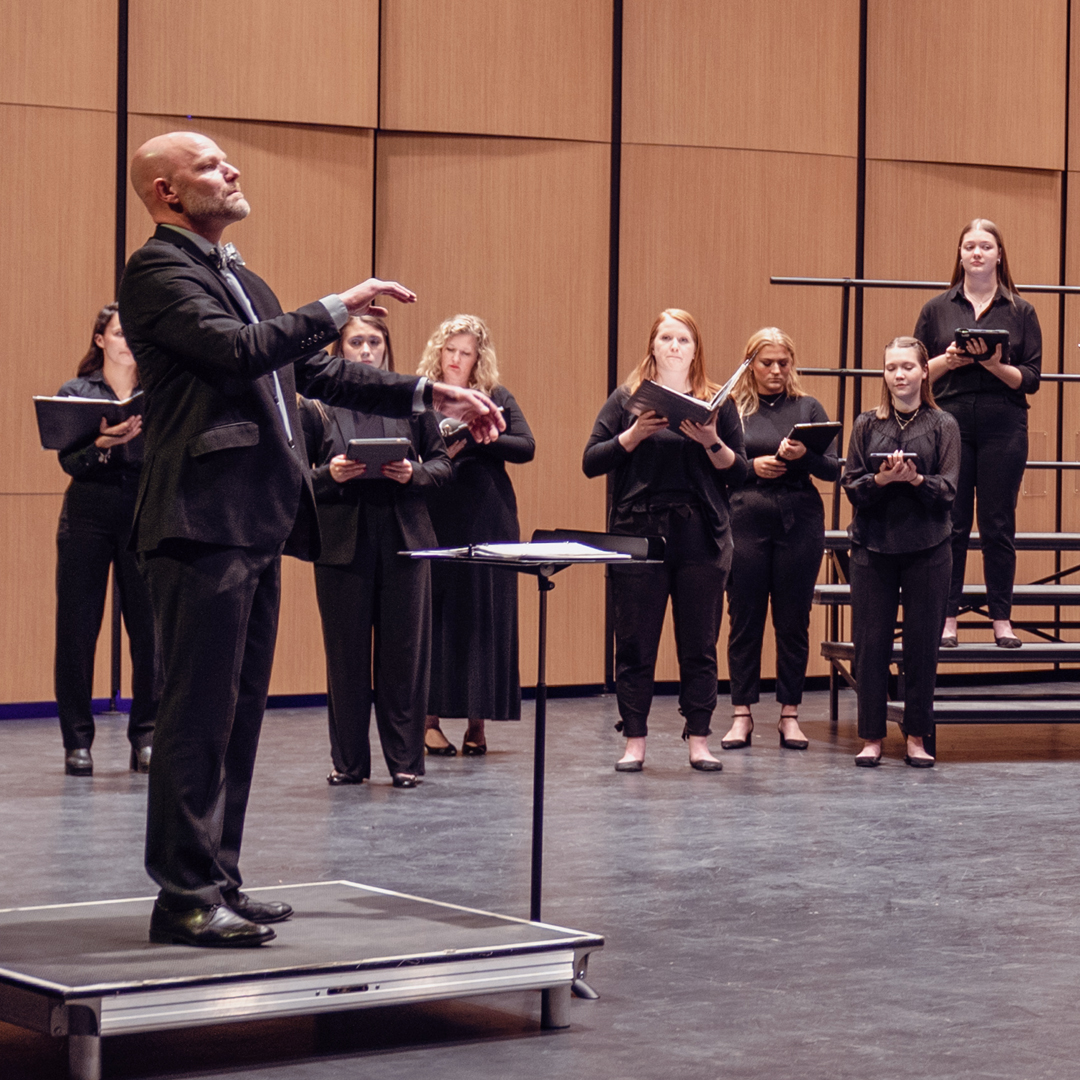 Photo Credit: Eric Stoklossa
For the choirs, this collaboration is essential. This collaboration is valuable for many of these singers, as these collaboration concerts may be the only chance they will ever get to perform with a full orchestra. Zabriskie also says that, "additionally, the repertoire (for the collaborations) is always very different than what choirs usually perform. It is a fantastic opportunity for the singers to gain experience in music of different genres, time periods, and styles."
As theme of this concert is, "Synergy," students have been learning the true meaning of collaboration! For this program orchestra students have been learning how to balance and blend their sound with each other. Villa Lobos has brought the string students a realization that a fugue is not just counterpoint, but it is a conversation and a build of emotions put into one whole place. In the rehearsals for the Berg Concerto, Gilbert shares his vast knowledge with the orchestra. Gilbert statedthis piece is not just a violin concerto and that everyone's part is not just harmony to the solo violin. It may sound atonal and serial, but the music has more to it than its being as a solo for violin; this piece is a statement and remembrance of "spirituality" and diverse portrayal of emotions.
Photo Credit: Karina Dozal
The diverse knowledge of the orchestra's balance with a piece for only strings, versus full orchestra and solo violin, versus full orchestra and full choir has allowed students to grow into versatile musicians.
Marcelletti shares with us that each of these works in the program demonstrates how collaboration between different musical forces can create something truly unique and beautiful!
You can see more of the behind-the-scenes of the orchestra's and choirs' preparation for this concert by following them on their Facebooks!
https://www.facebook.com/orchestrasttu
https://www.facebook.com/ttuchoir
The concert is open to the public, with free admission. The performance will be held in the Buddy Holly Hall – Helen Devitt Jones Theater on Sunday, April 30 at 7:30 PM. Don't miss this unforgettable performance of "Synergy" by the Texas Tech University Choirs and University Symphony Orchestra!