We want to showcase the students who have crossed paths in the Texas Tech University School of Music; past, present, and FUTURE! In this story, we are celebrating the musical journey of current voice graduate student, Karina Lago.
Ever since she can remember, Karina has always liked music. She was in church choir up until she was in college and joined the Texas Tech University School of Music, University Singers. During this time, Karina was a history major, with an interest in the classics, but once she joined choir, her heart and mind solely belonged to music. After her first semester with University Singers, she started taking voice lessons and auditioned into the School of Music. There was one factor that concerned Karina with her music learning. Once she went blind, she thought that she would have to drop out of music. Yes, there is a concern of reading the music to learn for her repertoire, but there was the concern of learning music theory. However, the music advisor at the time, Ms. Linda Gregston, helped find Karina a solution to her concern and consulted with Dr. Matthew Santa (Professor and Chair of Music Theory). Dr. Santa confirmed that Karina could continue learning theory as a blind student, and she met her "version of Anne Sullivan, Dr. David Forrest" (Associate Professor of Music Theory and Associate Director for Academic Programs). Thanks to the support and accommodations her professors provided to her, Karina was able to learn music and graduate her bachelor's degree from Texas Tech University.
After her undergraduate studies, it wasn't until after she graduated that she realized she needed to keep music in her life. In our interview with Karina, she shares in depth with us on her music journey:
"I had heard about music therapy and thought it might be a good fit for me. I was accepted to a graduate program for music therapy but was disappointed to find that they were not willing to work with or accommodate a blind student. I had, at that time, also sent an application to another university to get a master's in creative writing. I thought it would be a good fall back in case I didn't get into the music therapy program. While I did get into the therapy program, there was no way I could go to that university, so when I received my acceptance for the creative writing program it was like an explosion went off in my head. I did NOT want to teach English, it would have been like cutting off my right hand, this was the moment I knew music was what I wanted to do forever. I applied to and was accepted to the University of the Incarnate Word Bachelor's of Music Therapy program, graduated, sat and passed my board examinations, and then the pandemic hit. There was no funding for arts therapies, all the funding was to treat Covid, so I started to look for the next step. I had already been considering continuing a degree in Vocal Performance, I felt like I had something to offer with my music therapy background."
Photo Credit: Eric Stoklossa
On her search back to academia, Karina applied to several places, and one of those places was Texas Tech University. She wanted to come back because she knew the faulty "would not be scared by the prospect of teaching a blind student" and trusted that she "would be able to grow as a musician." She never dreamed that she would actually be accepted into the program as a graduate student. After graduating from her master's degree in vocal performance in Spring 2022, Karina came back for her doctorate degree in vocal performance. She is currently receiving lessons from Dr. Gregory Brookes (Associate Professor of Voice and Chair of Voice Area) and coachings from Dr. William Averill (Associate Professor of Practice in Vocal Coaching).
"I decided to come back here because of a few reasons. First, I felt that there was no other place where I could grow as much as I can here. I taught a music theory class last semester to a cohort of music theater students, and it was a BLAST! The fact that my personal hero, Dr. Forrest, had the faith in me to let me teach his class is an experience and an honor that I would not have had anywhere else. Second reason, I felt that Dr. Brookes, and in fact the entire voice faculty, had things that I needed to learn in order to become a good singer and teacher. My voice has changed over the past 2 years and I am excited to see where it will go. Third, my other personal hero, Dr. Brookes, is definitely carrying a torch for me to be able to perform, which I am grateful for. Fourth, I saw the class listings the past 2 semesters and there was no way I could take all those classes during a master's degree, I would need to add 3 extra years in order to take all the cool classes! Lastly, I started a journey with Texas Tech when I went blind, I feel like I need to finish it here and prove to my wonderful teachers that their faith in me was not in vain."
Photo Credit: Eric Stoklossa
To study music, and especially learning the lyrics of her repertoire, Karina was granted a fellowship in order to help with the paying of a repetitor. "A repetitor works as a reader, only instead of reading books to me, my repetitor, Dr. Xin Wu, read to me my music. I spent about 6 weeks with her over the summer, sometimes daily and sometimes 3 times a week for at least 2 hours every time we met, just drilling the music. I would look at the words the night before, and then the next day we would either continue with where we had left off or start a new section. She would start by telling me the time signature and on what beat the section started on. Then I would tap the beat while she played, I would repeat the beat while tapping. Then she would play the notes in the right rhythm while I tapped the beat, we would repeat the process of me singing the notes back with the right rhythm. Once the notes and rhythm were lined up correctly we would start to add words. It was a long process because, as a blind student, if I am not completely memorized when I meet with the teachers then the lesson or coaching is useless and frustrating for everyone. I am very grateful to the School of Music and Dr. Brookes for having helped me to get the fellowship; without it I would not have been able to pay Dr. Wu so that I could have the roles (for opera) learned by the time school started in Fall 2022."
For the Spring 2023 TTU Opera Theater production, Karina held one of the lead roles as Donna Anna, in Mozart's Don Giovanni. She shares with us that the learning process was "intense, but the faculty was very patient" and everyone was able to understand each other. "I was blessed in that I had a fabulous cast, there were rough moments where I was nervous, terrified, that things would not come together and I would end up in the orchestra pit, but I think all the struggle that my cast went through actually made us stronger as a cast. We had to struggle together through absences, a new cast member playing the title role, late practices, language barriers, and blindness. I think that these struggles, and the fact that we needed to keep these things in mind, made us more aware of each other, our tendencies, and our movements. I think that this awareness made us more believable as a cast, we were focused on the show as a whole and not just on our own performance, and I think that's a beautiful thing for a cast to have."
"I was truly honored to be able to play Donna Anna, I miss her already! The most difficult thing to learn was the recitative portions. I, not knowing anything about this particular art form, learned them with perfect rhythm. Breaking the perfect rhythms and allowing them to be free and more speechlike was a challenge and a process that took all the way up to the dress rehearsal, they had to be free and speechlike and well-acted, but also well sung!" In one of the rehearsals for the opera, Maestro Lanfranco Marcelletti shared that although Karina cannot see the conducting cues, her sense of music is wonderful. "Her sense of music is beautiful and comes in and out, especially with the recitatives, so well that you can see and hear the emotion."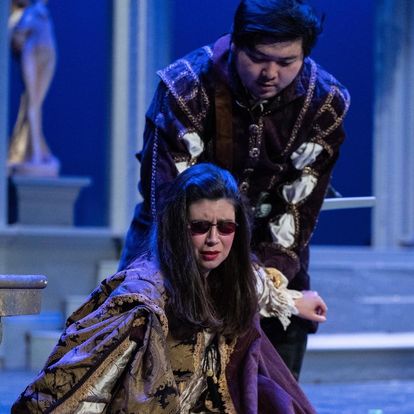 Photo Credit: Eric Stoklossa
After her DMA, Karina hopes to find a full time position at a college or university. She loves experiencing when "a student unlocks a new aspect of their voice, or when they hit a note that they just knew was out of their range." The moments when her music theory students understood a concept because of something she said was the "coolest thing." In her observation of Don Giovanni rehearsals, the vocal growth, especially in the younger students, had her in awe. The progress made by everyone and the encouragement on both casts "in these moments of glorious vocal pyrotechnics," fascinated Karina.
Don Giovanni has been one of the greatest memories she has made so far at Texas Tech. "I don't know if anyone else will ever have the guts to put a blind singer on stage again, so, while some moments are stand-out memories, I wouldn't trade a second of this experience for the world. I will forever be grateful to Texas Tech, Professor Dolter, my teachers, Maestro, and especially my cast for allowing me to come along for this wonderful ride!" Karina shares with us, if she has the chance to not only teach but to also perform, she would definitely like to perform on the side of teaching!
Congratulations Karina and her teachers on her musical journey!