What a day with musicians, Teletubbies, princesses, ghosts, and many more characters! This past Sunday, October 29, the University Symphony Orchestra (USO) collaborated with the Texas Tech University String Project, Hutchinson Middle School Orchestras, and Lubbock High School Mariachi in their annual Hauntcert!
Every year, the University Symphony Orchestra presents its Hauntcert, a Halloween-themed concert. This year's Hauntcert was hosted in the School of Music with performances held in the Allen Theater. In addition to the Hauntcert, there were festivities for the entire family to enjoy, including an Instrument Petting Zoo and a costume contest! The Texas Tech University Student Chapter of American String Teachers Association (ASTA) also participated in this year's event with their own booth. ASTA@TTU raffled gift cards for the Holly Hop Ice Cream Shoppe and Alamo Drafthouse Cinema and hosted a fun activity to "Punch a Pumpkin!" for small prizes of fidgets, bubbles, sticky hands, and candy.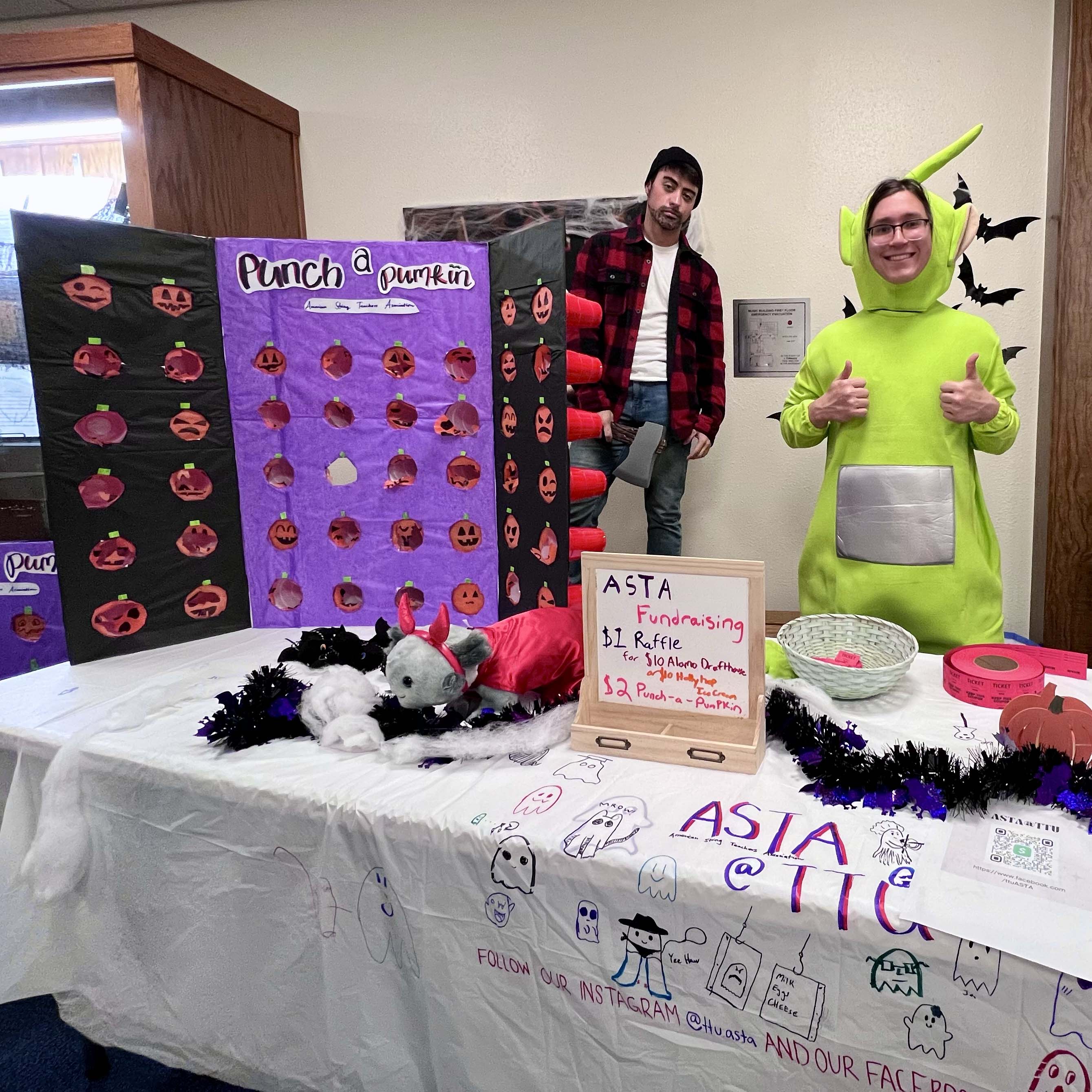 To make this event extra special, music student volunteers braved the chilly morning, arriving at 9 am to decorate the School of Music and Allen Theater. By the time they finished, ghosts, bats, Greg the Grim Reaper, and spider webs infested the halls and a pumpkin photo booth ready for families to snap pictures of their little ones. One visiting family said, "My favorite part was being able to take a picture with Greg the Grim Reaper and my viola teacher!"
Music student volunteers also coordinated the Instrument Petting Zoo, which encouraged families to explore playing the many instruments. They tried flute, clarinet, bassoon, horn, trombone, trumpet, violin, viola, cello, double bass, percussion, harp, and piano! We hope that one of these instruments lit a spark in a future musician's heart!
To begin the Hauntcert's performances, the TTU String Project started their portion at 3:15 PM in the Allen Theater, performing "Halloween Tale," a story with special sound effects, and several pieces the students had been diligently working on since September. The Hauntcert's main performance began at 4 PM. For this particular event, the USO learned and rehearsed its repertoire in only five rehearsals with the Lubbock High Mariachi and Hutchinson Middle School Advanced and Varsity Orchestras joining in for even fewer rehearsals.
After the concert, Hutchinson Middle School Orchestra Director Mrs. Catherine Olivier sent the orchestra an email sharing her appreciation to the USO for providing her students with a wonderful experience. Mrs. Olivier wrote, "I know how busy and tiring it was for students and staff alike, but every interaction I witnessed with the USO string players and my students was so sweet and supportive. I know it might not seem like much, but to these middle schoolers (who have shared with me that they view these college students as "real-life professionals") that goes a very, very long way in making them feel cool with an instrument in their hands." USO members also shared that the younger students expressed feeling "powerful" when making music with them.
This event could not have been accomplished without all the student volunteers, staff, ensemble directors, and performers' dedication. Thank you to all who helped make this event SPOOKTACULAR! If you missed attending this year's Hauntcert, we look forward to seeing you at next year's 2024 event. HAPPY HALLOWEEN!!