David Shea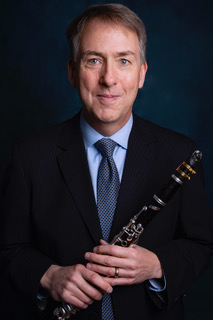 David Shea serves as Professor of Clarinet at Texas Tech University. He also serves as Principal Clarinetist for the Lubbock Symphony and Abilene Philharmonic Orchestras, and is on the summer music faculty at Rocky Ridge Summer Music in Estes Park, CO. Shea has performed as a soloist and chamber musician throughout the United States, France, Belgium, Germany, Brazil, Venezuela and Chile.
As a member of Trio Montecino, he has toured extensively and recorded two critically acclaimed CDs, Trio Montecino and Nuevo Sonido: Latin- American Trios. These recordings are available on the Eroica Classical Recordings label. The Trio performed and coach chamber music at the world renown Il Sisteme Youth Orchestra Program in Caracas, Venezuela along with concerts in Chile for the United States Embassy. They have also performed concerts and given master classes in France, Belgium and Germany as well as many chamber music series and universities throughout the United States.
Shea has performed on a number of conferences for the International Clarinet Association in Chicago, Columbus, Salt Lake City, Atlanta, Kansas City, Austin and Lawrence (KS), as well as the Oklahoma Clarinet Symposium, Klarinetstage, Belgium and Vale Venito festival in Brazil. He has performed solo recitals and given master classes throughout the United States and South America. In addition to his solo and chamber music performances, Shea has played with the Indianapolis Symphony, Fort Wayne Symphony, Columbus Philharmonic, Champaign-Urbana Symphony and the Sinfonia de Camera. He has also been involved in numerous CD recording projects for Eroica Classical Recordings, Crystal, Naxos, Delos, Opus One, Indiana University Recordings and Hal Leonard Productions where he worked with such artists as Eugene Rousseau and the Indiana Clarinet Trio.
As a teacher, Shea has been invited to do master classes throughout the United States, South America and Europe. He has been invited on three different occasions to teach as a sabbatical replacement at the Jacobs School of Music at Indiana University, and most recently did a mini-residency at the University of Santiago in Chile. He has earned the Texas Tech President's Excellence in Teaching Award and is a member of the Teaching Academy. Shea was a Creative and Performing Arts Fellow at the University of Illinois, an Indiana University Academic Fellow.
David Shea is a Buffet Crampon USA Performing Artist.