Strings
String Area
Exciting things are happening in the area of string studies at Texas Tech University. A distinguished and experienced faculty of artist-teachers has been assembled, each of whom is committed to the highest professional standards in solo and chamber performance, education, and orchestral studies.
The Texas Tech University School of Music is an Institutional Member of the American String Teachers Association.
Strings Faculty
| Name | Area |
| --- | --- |
| | Violin |
| | Guitar |
| | Violin |
| | Cello |
| | Bass |
| | Viola |
| | String Music Education, String Project |
| | Violin |
Performance
String performance studies at the School of Music emphasize preparation for careers in professional orchestra, chamber music, and solo engagements. Students from across Texas, the United States, and abroad choose Texas Tech for the artistic and pedagogical strength of its faculty as well as its performance opportunities.
Faculty Quartet
String Music Education
Music education is a traditional strength of the TTU School of Music. More than 70% of the TTU undergraduate music student population has a declared music education major. The J.T. & Margaret Talkington College of Visual and Performing Arts and the School of Music are dedicated to the promotion of music education and string teachers. String music education is the fastest growing music discipline in the State of Texas. Texas Tech University recognizes the unique need for training highly qualified string music educators for both classroom and studio teaching. Fewer than 80 colleges and universities across the country offer instruction by a string music education specialist and Texas Tech University has long supported a faculty member in this capacity. Students are cultivated in forward-thinking teaching, assessment, and organizational/administrative strategies and afforded diverse opportunities to implement and build on those foundations to further create imaginative and creative new futures in our profession.
We are incredibly proud of our TTU alumni! They are influential mentors, leaders, and teachers in string/orchestra classrooms and applied studios around the world! Our alumni lead superior model orchestra programs across the country and have performed regionally, nationally, internationally in a variety of venues. Their students and ensembles have achieved the highest performance honors including invitations and performances at: Texas Honor Orchestras, the Midwest Clinic, the National Orchestra Festival (ASTA), and in collaborative projects domestically and abroad. These directors have been recognized for their exceptional teaching on national, regional, state, and local levels. Texas Tech University string music education graduates are a part of a long legacy of influential string music educators!
Undergraduate Opportunities
Our undergraduate students are highly involved both on and off campus!
On campus, students take instrumental lessons from our world-renowned string studio faculty, perform in the orchestras, perform on personal and peer recitals, collaborate in chamber music, participate in additional instrumental and vocal ensembles performing in the School of Music and in the School of Theatre and Dance, observe and assist in the teaching and operation of the TTU String Project, and are leaders and members of many School of Music and other campus organizations. Many seek out additional performing opportunities in the professional and regional orchestras in the area as well. And of course, they attend classes with award-winning faculty in music theory, musicology, instrumental and vocal methods, instrumental and vocal techniques, conducting, technology, and many others!
Off campus, students volunteer in school orchestra programs, teach private lessons and sectionals, prepare students for All-Region and All-State Orchestra auditions, assist with Solo-Ensemble instruction, provide service to local youth orchestras, perform in churches and other places of worship, participate in community events, and present the string instruments to local elementary students.
Graduate Opportunities
The Master of Music Education degree may be attained with a 30-hour program that includes a thesis or a 36-hour program without a thesis. All MMED degree programs include 5 required courses (3 specified music education courses; 1 choice in musicology; 1 choice in music theory). All other hours are elective based on the interests of the student and advice of the major professor. Elective hours may be selected to emphasize: Best Practices in Band/Orchestra/Choir/Elementary, Conducting, Kodaly Certification, Music Technology, Music Research, Applied Lessons, Ensembles, additional Musicology or Music Theory, other topics of interest.
Masters in Music Education
We offer the following MMED options:
Full-time campus residency. In-residence students experience and contribute to the community of scholars that includes music education faculty and other graduate students at Texas Tech. The Full-time option generally takes four semesters or two semesters plus two summers to complete. Competitive teaching assistantships are available. Students looking to apply for a Teaching Assistantship will have the opportunity to assist in the coordination and teaching of the Texas Tech University String Project and assist in the teaching of several undergraduate string music education courses. Collaborative research and performance/lesson opportunities are also highly encouraged.

Summers Only. We offer summer graduate courses in two-week intensive blocks. The summer course listing is usually released in the early spring and will offer several course options for each two-week period. These are not workshops; they are full graduate courses. You are in class for two intense weeks, and then larger course projects are generally due the first week of August. Summer students participate, share, and engage with fantastic cohorts of teachers from across Texas and the region and take incredible knowledge directly back into the classroom.

Combination of Summer + Long Term (semesters). Some summer students enroll in core courses during the long term typically offered on Thursday evenings from 5:00-8:00 p.m. for practicing educators. Enrollment is available in two formats: face-to-face and video-conferencing. Summer students who select this option may graduate a bit sooner.

Distance Only. It is possible to complete the entire MMED program at a distance via video-conferencing and online coursework if you choose electives carefully. All required coursework is offered with distance options.
We purposefully design an individualized program based on your particular interests and career goals, so there are many electives to choose from within our program. Additionally, many of our students find they take a mixture of videoconferencing and face-to-face courses.
More information about Graduate Degree Programs at the School of Music can be found here.
PhD in Fine Arts - Music
The music field of specialization in the Ph.D. in Fine Arts consists of a minimum of 60 semester hours, which includes fine arts requirements and electives, an individualized music curriculum, and a dissertation. Concentrations are available in musicology, music theory, music education, and arts administration. The residence requirement for the fine arts doctoral program is fulfilled by satisfactory completion of 18 semester hours of graduate coursework during one 12-month period.
More information about the PhD in Fine Arts - Music can be found here.
American String Teachers Association Student Chapter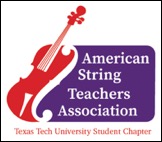 We believe playing a string instrument can change a life. Founded in 1946, the American String Teachers Association exists to help string and orchestra teachers and players. Our members range from budding student teachers to artist-status performers. We provide a vast array of services including our National Orchestra Festival, an award-winning scholarly journal, job postings, local and national events, and access to a vibrant and sharing string community.
The American String Teachers Association website can be found here.
The ASTA Student Chapter at Texas Tech University was established in Fall 2017. The chapter is open to all TTU students interested in strings. The chapter is a recognized TTU Student Organization and participates in campus, college, and school events. Membership also provides service to our local school string programs.
Follow the TTU ASTA Student Chapter on Facebook!
Texas Tech University String Project
Purpose
At The Texas Tech University String Project was founded in January 2001 with two purposes. One, to provide low cost beginning string instruction to children in the Lubbock area and two, to provide intensive, guided teaching experience to undergraduate and graduate music students who plan to make string education a part of their career.
The TTU String Project takes a laboratory school approach for elementary children (typically entering the 4th grade) interested in playing one of the five orchestral instruments – violin, viola, cello, double bass and harp. Children attend group classes twice each week at the School of Music on the Texas Tech campus and receive one or three private lessons per semester. Additionally, the TTU String Project began offering Adult String Instrument Classes in Spring 2017.
Instruction is provided by a team of undergraduate and graduate music majors and by master teachers who supervise the entire curriculum. Dr. Blair Williams, assistant professor of string music education, serves as the director of the program. Professor Clara Zahler, professor of practice at Texas Tech University, serves as master teacher. Professor Rachel Mazzucco, instructor of harp, serves as harp master teacher.
Support
Our program supports the mission of the Texas Tech University School of Music and Texas Tech University by offering opportunities for string teacher-training and accessibility to string music education for Lubbock-area youth.
The Texas Tech University String Project is a proud member of the National String Project Consortium (NSPC), a coalition of college and university string project programs across the United States. The NSPC is dedicated to increasing the number of school-aged children learning to play stringed instruments and addressing the great need of continuing the education of string teachers in teacher-training institutions across the country.
The Texas Tech University String Project faculty and staff are avid supporters of all school orchestra programs. Students who graduate from the TTUSP are strongly encouraged to join their school orchestra programs in 6th grade and to further supplement their string learning in programs like the Suzuki Talent Education of the Lubbock Region and the Youth Orchestras of Lubbock.
Find the TTU String Project on their website here!
Find the TTU String Project on Facebook here.