School of Art
Landmark Arts
Exhibitions
BELONGING: Contemporary Native Ceramics from the Southern Plains
Curated by Klinton Burgio-Ericson, Ph.D.
Presented by Landmark Arts at the
Louise Hopkins Underwood Center for the Arts
February 02 - March 23, 2024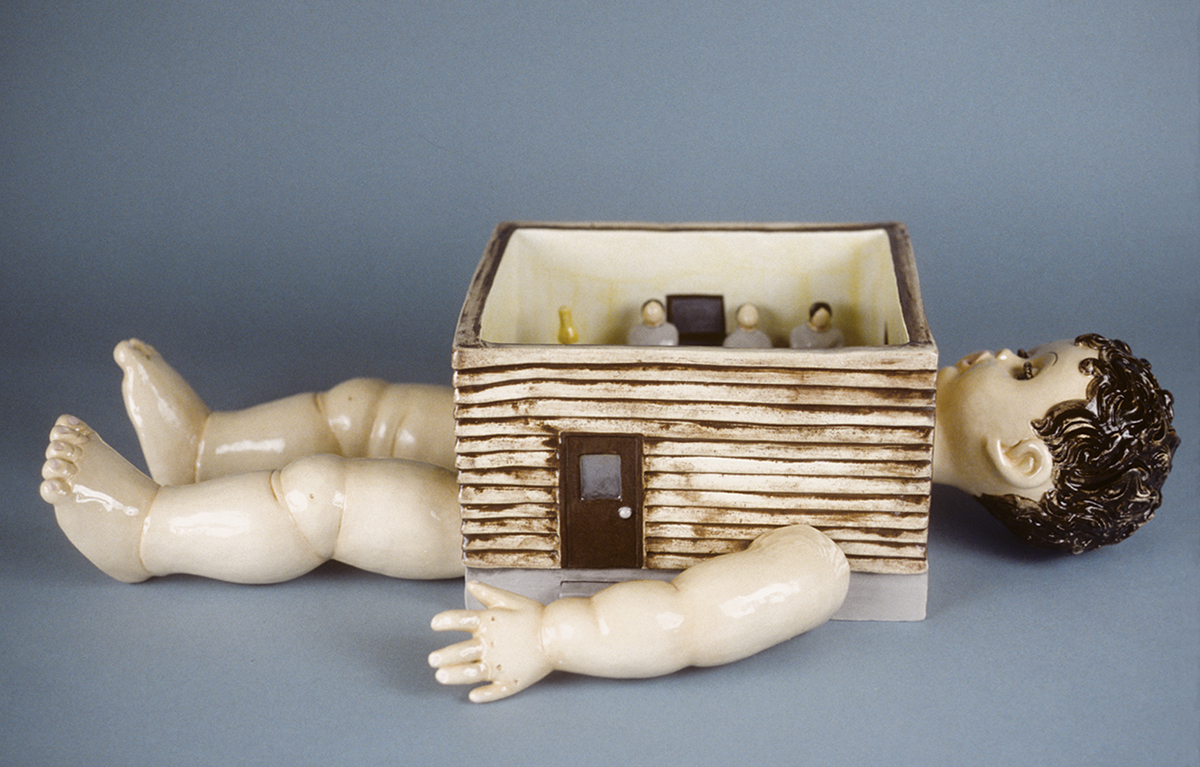 Karita Coffey (Comanche), My First Memory #2. On loan courtesy of the artist.
At Top: Cortney YellowHorse-Metzger (Osage), Tho-dah-they (To Live in Friendship), 2023, glazed stoneware. On loan courtesy of the artist.
Belonging describes myriad relations among people, places, materials, and the other inhabitants of our world; it is a richness of mutual obligation and reciprocity beyond strident assertions of "identity." Belonging is about caring, responsibility, and appreciation. It expresses the complexity and interrelatedness of being together: "[…] it is not simply who you claim to be, but also who claims you." Out of the earth and cultural milieu of the Plains, Native ceramics comprise a diverse and vibrant artistic discourse that embraces a breadth of formal solutions from vessel-based artworks to wildly experimental multimedia installations and performance. Artists come from cultural backgrounds with deep ancestral ties to the southern plains, and from communities displaced through histories of settler colonialism and genocide. Their work speaks to varied strategies of intervention in the art world and different stories of training, preparation, and process. Belonging is not simply about possession or the bonds of a nuclear family; belonging means all the complex ways in which we are dependent upon and generous with one another.
With its many and diverse entanglements, the concept of belonging grounds a fresh exploration of contemporary Native art in clay from the Southern Plains. Hosted at the Louise Hopkins Underwood Center for the Arts (LHUCA) and curated through a collaboration of Texas Tech University's School of Art faculty, this exhibit spotlights the diversity of contemporary ceramics practices among Native American artists in the region, and their reflections on belonging based in particular cultural roots, ancestral connections, personal insights, and individual experiences. Curating selected works from eight Native artists, this show incorporates a range of artistic practices from futuristic and customary works based on vessel forms, to more experimental practices that push clay in new directions through multi-media installation and performance.
The following artists will be participating in this exhibition:
Karita Coffey (Comanche)
Chase Kawinhut Earles (Caddo)
Anita Fields (Osage/Muscogee)
Raven Halfmoon (Caddo/Choctaw/Delaware)
Cannupa Hanska Luger (Mandan/Hidatsa/Arikara/Lakota)
Jane Osti (Cherokee Nation)
Cortney YellowHorse-Metzger (Osage)
Major support for this exhibition comes from the Still Water Foundation, Austin, Texas. Additional support is made possible, in part, with a grant from the City of Lubbock as recommended by Civic Lubbock, Inc., the Ryla T. & John F. Lott Endowment for Excellence in the Visual Arts administered through the School of Art, and from Cultural Activities Fees administered through the J.T. & Margaret Talkington College of Visual & Performing Arts.