School of Art
Faculty Research
Faculty

Research
Summer-Fall 2023
Faculty at the Texas Tech School of Art are engaged in a vast variety of research projects. Research helps faculty members stay abreast of their fields, keeps them at the forefront as leaders in their disciplines, and helps them to better prepare students with up-to-date techniques and concepts. Faculty research trajectories often include personal explorations on topics developed over many years. Additionally, faculty have been engaging in interdisciplinary research such as arts in medicine and arts in engineering. Some of those collaborative projects are reported on the Art Making Connections webpage.
Cody Arnall Exhibits and Presents at Notre Dame
Cody Arnall, associate professor of sculpture, has a solo exhibition at the University of Notre Dame that continues through November 10th. Arnall was invited to exhibit by Nooshin Hakim Javadi, Assistant Professor of Sculpture and Sculpture Area Head at Notre Dame. Arnall presented an exhibition talk on Wednesday October 4th, in advance of the Opening Reception for the exhibition.
Titled When You're Done Dying, the exhibition consists of two large installations, one with the same name as the title of the exhibition. The second work, titled, Losing Landscape is a video and sound installation. Both installations address human intervention in environments and impending doom. When You're Done Dying consists of a store front awning and parking lot sign. The awning has no cover and marks no entrance as it hangs on the gallery wall. The sign appears to have been pulled from the ground by indiscernible forces. Both light up while advertising nothing. The piece is made of cheap building materials found at DIY mega stores, not what an actual store sign is made from, foam, plywood, window screen and paint mimic steel and concrete. Losing Landscape consists of 4 overlaid landscape scenes that fade in and out of visibility by translucency adjustment. Sites include: Outside Marfa, TX; outside Johnson, VT; outside San Felipe, MX-BC; outside Las Vega, NV.
Arnall's research interests include traditional and nontraditional sculpture approaches, installation, and interdisciplinary approaches in visual art. Through material selection and manipulation, his work addresses human intervention in environments and impending doom. Some recent exhibitions are those at Axis Gallery, Sacramento, CA; K Space Contemporary, Corpus Christi, TX; CICA Museum, Gimpo, SKR; Site:Brooklyn, Brooklyn, NY; Barrister's Gallery, New Orleans, LA; Durango Arts Center, Durango, CO; Pump Project, Austin, TX; Terminal 136, San Antonio, TX; Herron School of Art and Design, Indianapolis, IN; Brigham Young University, Provo, UT; DEMO Project, Springfield, IL; Living Arts, Tulsa, OK; the American University Museum, Washington, DC; and The Shed, Galway, IE. He has also participated in residencies at Sculpture Space in Utica, NY and at Vermont Studio Center in Johnson VT.
Arnall was born and raised in Tulsa, OK; he received a B.F.A. degree in Studio Art from Oklahoma State University, Stillwater; and an M.F.A. in Studio Art from Louisiana State University, Baton Rouge. Prior to his appointment at TTU, Arnall spent two years as a Full-Time Instructor at the Paducah School of Art & Design in Paducah, KY. He is also a member of the international artists' collective, Expanded Draught and a founding member of the artist run gallery and studio space, CO-OPt in Lubbock, TX.
[30 October 2023]
Dr. Katharine Scherff - Two Recent Books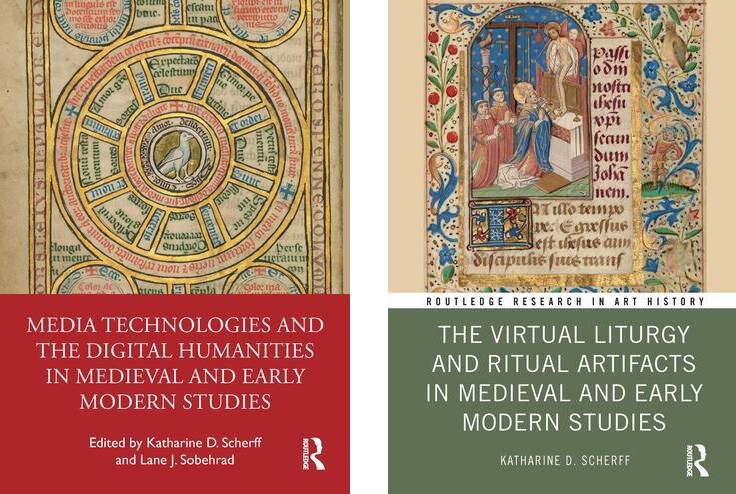 Dr Katharine D Scherff, lecturer in Art History, is a scholar of Medieval European Art History and Visual Culture. Dr. Scherff's research interests center on art of the 14th and 15th centuries with an emphasis in materiality, liturgical ritual, interdisciplinarity, and media technology. Her recent book, The Virtual Liturgy: An Examination of Ritual Objects as Media Technology in the Middle Age (2023), fills in a major gap in Medieval art history by addressing the problem of mediation. Dr. Scherff contextualizes mediation as that which generates and modulates the individual and collective structure of sacredness among assemblages of humans and non-humans. The edited volume, Media Technologies and the Digital Humanities (2023) was co-edited by Dr Scherff with Dr Lane Sobehrad and broaches the theoretical, practical, and pedagogical applications of media and digital humanities in Medieval and Early Modern studies.
A short article samples Dr Scherff's mediation framework centering an early medieval reliquary box was published in the Winter 2022 issue of Biblical Archaeology Review. Dr Scherff is also interested in feminist and gender theory as well as historic heroines. She is the author of the monograph Saint Quiteria: Virgin and Martyr: An Analysis of Her Cult Veneration and Iconography in France and The Iberian Peninsula (2012) which is the most complete hagiography of the libber martyr.
[07 September 2023]
Dr. Rina Little - Two Recent Publications
Dr. Rina Little, associate professor in Art Education, believes practices of knowing are specific material engagements that participate in reconfiguring the world. Her article "Emergent Bodies: Rethinking Race and Racialization Through Materialities" (2023) published in Studies in Art Education rethinks race and racialization through materialities, shifting us away from false binaries of language-based racial discourse to explore new materialist race studies wherein "what is to be known does not precede" the action or process of coming to know it. Race is thus recast "as an emergent ontological encounter" that can be remade and reimagined with each encounter. She investigates how an artwork by Folayemi Wilson who recreates spatial configurations in response to erasure and offers a way of seeing and imagining the various ways in which Black lives are lived and can be lived. This presencing interrupts marginalization where the potential of stories and other creative acts refigures a presence that always already existed and attends to tensions and relationalities of particular spaces. It offers a way of seeing and imagining Black futurities in response to settler colonialism, anti-Blackness, and Black erasure. Furthermore, her article "Building Place-Consciousness: An Art Museum and Its Entangled Relations" (2023), published in the International Journal of the Inclusive Museum discusses how artists and educators who work at the intersection of art and nature support the museum's interest in place-conscious art education. This type of place-based education helps to build a conceptual framework that articulates an ability to engage socially with the politics of place. The investigation examines aspects of the museum's capacity to act as a shifting node in a network of relations and spaces and as a communicator of cultural knowledge. Both articles came out of research conducted at her engaged research site of the Lynden Sculpture Garden in Milwaukee, Wisconsin.
[25 August 2023]
Robin Germany Collects Fungus at Washington State Artist Residency
In June Robin Germany, professor of Photography, participated in a three week summer residency at the Bloedel Reserve Creative Residency on Bainbridge Island, just a short ferry ride north of Seattle. Their residency program hosts 12 resident artists per year dividing the time between artists (visual artists and musicians), writers, and scientists. The artist's applications are juried by a panel of three artists from around the country and they review a statement of purpose, portfolio and CV. The residents are awarded a $1000 honorarium, a beautiful house to stay in for the duration of the residency, and a car to use. The artist's only obligation was to provide a presentation or workshop to the public. Residents have full access to the 150 acre property, the house, and the extensive natural history library. The reserve has two miles of paths through a moss garden, a rhododendron garden, birch trees, lakes and ponds, marshes and meadows, a Japanese garden, and lots of enormous alders, cedars, fir, and hemlock.
The facilities have no equipment or designated studio space so artists have to bring all their own tools and orient their work to be occurring out in the reserve or using the desk or dining table in the house. Germany brought studio lights, light stands, a camera, tripod and computer with the idea that she would make a few different types of images and be open to new ideas. The reserve has seven gardeners and she met with them to request that they share with any fungus they found as they maintained the gardens. She says, "In one thread of my work I made still lifes of mushrooms, using the house and the gardens as a backdrop, continuing work I had begun the previous summer." Because she had complete access to the grounds, she went out a handful of evenings and photographed the woods in the dark. The night was particularly dark under the dense tree cover and resulted in some unusual colors in the photographs. The third thread is still undefined but was a series of experiments with fungus on or incorporated into the body.
The residency allowed for ample time to read and walk on the trails. Germany elaborated, "No one pressed me to be doing anything in particular, in fact, no one came to the house the entire time I was there. The house is secluded from the rest of the reserve so unless you want to, there is no need to see people at all. The most amazing aspect was being able to think of an idea and execute that idea, in a preliminary form, all in same day. The residency provided a level of intellectual and creative continuity I haven't experienced since graduate school. I would highly encourage anyone interested to apply, with the parameter that your work have some connection to the natural world."
[21 July 2023]
Ghi Fremaux and partner Lando Valdez Exhibit at Arts Fort Worth.
Ghi Fremaux-Valdez, associate professor of painting at School of Art, and her art and life partner Lando Fremaux-Valdez were in attendance at the reception for the "solo exhibition" of their collaborative art project titled Corpus Secretum (body secret). Exhibited at Arts Fort Worth, the exhibition includes eleven large scale works (as tall as 11 feet and as wide as 8 feet) executed in chalk pastel and gouache on paper. Noting that this was their "first solo exhibition, Ghi clarified that, "We characterize the exhibition as a "solo exhibition" to convey the total integration of two voices into each work, rather that the typically understood two-person exhibition in which two artists present their respective works together." Corpus Secretum continues through August 19th. More about the exhibition can be read on SOA News Stories. A review of the exhibit by Sophia Del Rio can be read on Glasstire.com.
[07 July 2023]
Boryana Rusenova-Ina Exhibits at Arts Fort Worth.
Boryana Rusenova-Ina, assistant professor of painting, has a solo exhibition of a group of paintings from her current series titled You Speak English Too Well at Arts Fort Worth. Says Boryana about this body of work, "The project is grounded in my formative experiences of learning English as a second language in post-communist Bulgaria. Back then writing was drawing and drawing was writing, and now they both have also become painting." The exhibition is on view June 30th-August 19th. Read more about the work on the Arts Fort Worth website.
[30 June 2023]
Travis Neel and Erin Charpentier at Tallgrass Artist Residency.
Travis Neel, Assistant Professor of Art, and his partner Erin Charpentier were artists-in-residence at the Tallgrass Artist Residency in the Flint Hills of Kansas in May, a veritable library of deep time. While in-residence—they observed, walked, and listened to the chatter of the prairie—the wind that gives voice to grass, the sermon of the stone, and the song of the yellow breasted meadowlark. The artists spent time looking for and learning from plant-partners: milkweed, field dodder, sensitive briar, wild indigo, and lichen. Erin and Travis spent their days (re)reading the works of Lynn Margulis, Robin Wall Kimmerer, Wiliam Least Heat-Moon, and others in an attempt to understand Chase County and their shared entanglements as a community of human and nonhuman symbionts. While in-residence Erin and Travis produced two new works—works that will be presented during the October Tallgrass Artist Residency Symposium and Exhibition.
In July Neel and Charpentier will be artists in residence at the Headlands Center for the Arts.
[30 May 2023]